It really is the season of the Super Bloom.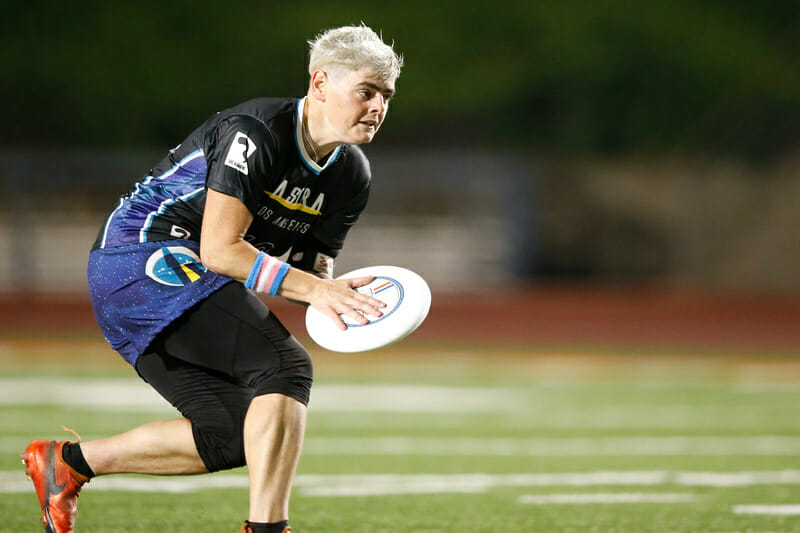 Weeks 5 and 6 Results
We'll just keep this headline in the "frequently used" files: "Kaela Helton Has a Dominant Performance."
Helton had four goals, five assists, 245 throwing yards, 351 receiving yards, one block, and just two turns in San Diego's Week 5 win over Arizona for a 5.63 EDGE, the second highest mark of the season after teammate's Avery Jones's 5.64 in Week 2. Then came Week 6, and Helton again had the highest single-game EDGE of the weekend, this time with a turnover-free 4.68, just slightly ahead of another teammate, Alex Diaz, who had the highest pure offensive output. Over the two games, Helton's combined 10.4 "goal equivalents" accounted for more than a fifth of Super Bloom's 48 goals.
It feels excessive to mention that, turning to defense, Helton also led Week 6 in EDGE-B (1.46). Her three blocks were not more than Melissa Dunn's (AZ) or Chip Yen's (LA) three blocks in the Sidewinder-Astra game, but the Super Bloom-Sidewinder game was the cleanest game of the WUL season, enhancing the "value" of Helton's D's. For the two weeks though, Rory Veldman of Colorado had the highest EDGE-B in this roundup, generating five blocks and a 1.59 EDGE-B in the win over Utah.
Sortable tables for Week 5 and 6 stats are at the bottom.
Better Box Score Metrics: WUL Weeks 5-6 Results and Midseason Awards is only available to Ultiworld Subscribers
Already have a subscription? Log in
Whether you visit Ultiworld for our reporting, our podcasts, or our video coverage, you can help us continue to provide high quality content with a subscription. By becoming a subscriber, not only do you receive benefits like exclusive articles and full article RSS feeds, you also help fund all of Ultiworld's coverage in general. We appreciate your support!