Setting the statistical baseline before the playoffs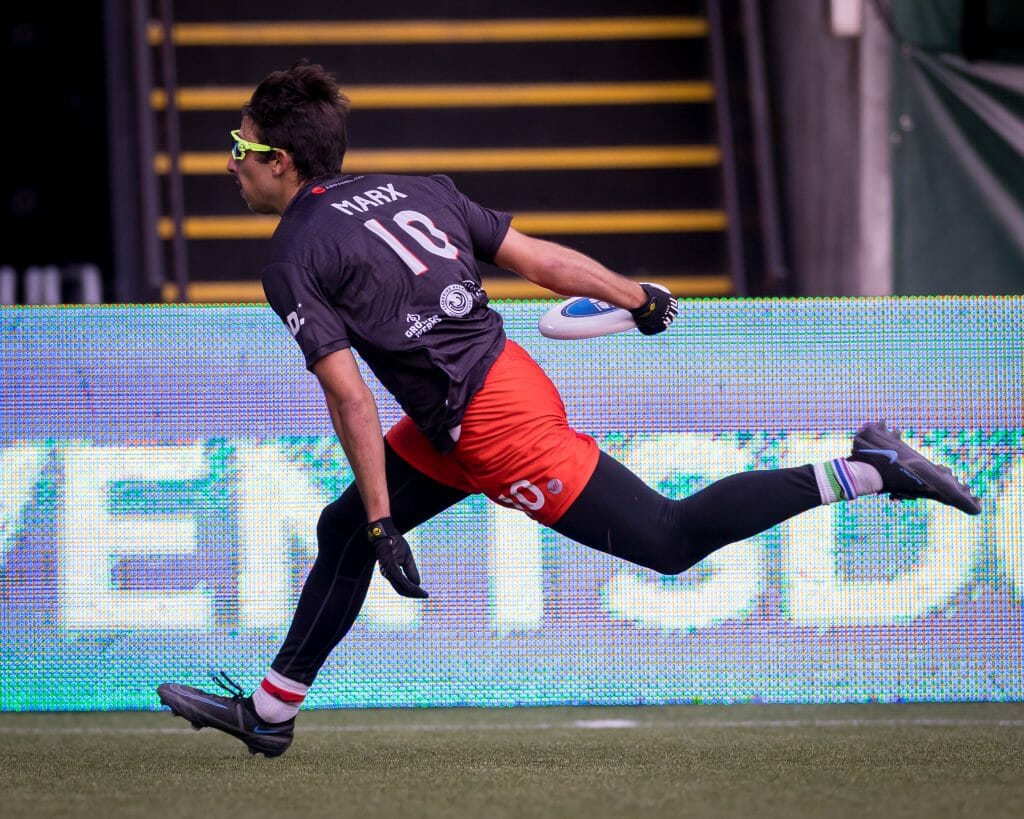 Like most leagues, the AUDL will wait to announce its player awards until after the season's championship game. Unlike most leagues, assuming it sticks with past practice, it will factor postseason performances into the selection.
That's fine; there's an argument for either approach, and there's even something intriguing about the way the AUDL combines regular season and postseason data for their All-AUDL team selections. For example, Ben Jagt's MVP-worthy 2021 "season" scoring total is listed at 118, which includes the 19 scores he registered in three playoff games. The AUDL is essentially saying, we will intentionally favor players on playoff teams in considering awards, because we think contributing to playoff wins is important.
However, players on playoff-bound teams already enjoy the benefit of being in high-production environments, where having many premier receivers makes a handler's life easier and vice-versa. In All-AUDL considerations, it doesn't seem necessary to juice the stats any further by including postseason totals.1
We should start with the apples-to-apples, regular-season-only comparisons. If one wants to then point to the postseason impact as additional criteria, or also include subjective criteria such as "leadership" or "makes the big plays"—great, but let's set the fair baseline first.
To this end, I have tweaked the methodology I introduced last year in comparing MVP candidacies, which sought to answer the question: how might we use EDGE and E100 metrics to help identify who is most MVP-worthy?2
---
Note that I am talking about counting stats here, where more playing time means higher totals. This is generally true for EDGE, but would not be the case for E100, for which playing games only against elite teams is more likely to decrease your regular season E100 efficiency rate. ↩

A quick summary of EDGE (Efficiency-Derived Goal Equivalents) for anyone just joining. Like Plus/Minus, EDGE incorporates the main box-score stats into a single value, with three main differences: 1) EDGE also includes throwing and receiving yardage; 2) the components are weighted and calibrated to produce an output that represents "goal equivalents," not a unitless index; and 3) while yardage and scores are weighted with a league-wide constant, turnovers (including blocks) have a value equivalent to the scoring efficiency of the game in which they were committed, on the theory that the value of turnovers depends on how scarce they are. Incorporating yardage provides for better resolution of offensive production and corrects the anti-handler bias of Plus/Minus. More details are found in the EDGE series. ↩
Better Box Score Metrics: Awards for the Regular Season is only available to Ultiworld Subscribers
Already have a subscription? Log in
Whether you visit Ultiworld for our reporting, our podcasts, or our video coverage, you can help us continue to provide high quality content with a subscription. By becoming a subscriber, not only do you receive benefits like exclusive articles and full article RSS feeds, you also help fund all of Ultiworld's coverage in general. We appreciate your support!