8 bids are on the line this weekend!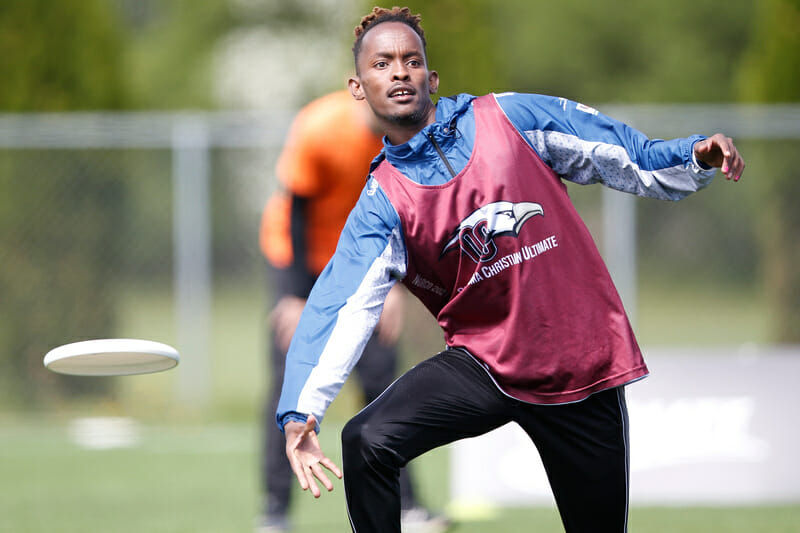 Ultiworld's coverage of the 2023 college ultimate season are presented by Spin Ultimate; all opinions are those of the author(s). Find out how Spin can get you, and your team, looking your best this season.
There are few more exciting portions of the ultimate calendar than spring College Regionals. For some, these events will be the culmination of a season — or even college career — while for others it's just another step on their path toward the D-III College Championships in three weeks. Count on plenty of dramatic action and unexpected results along the way as every team fights to ensure they fall into the latter group.
Five regions will take to the fields this weekend across the country to decide their representatives heading to Ohio. We've got you covered on the storylines to watch.
Metro East
Score Reporter
Location: Saratoga Springs, NY
Nationals Bids: 1
Excitement Level: 🔥🔥🔥🔥
It looked for a while like the Metro East might snag a second bid, but as the algorithm gathered more data, it became clear that the largest regional by participation would once again be left to scrap over a single spot at Nationals. 14 teams will be competing in Saratoga Springs this weekend for the region's lone spot in Ohio, with a large chunk of the field thinking they have a real chance.
The top seed is Connecticut College Dasein. Finishing 10th in the USAU rankings and 18th in our power rankings, Dasein have gone 3-for-3 on winning tournaments this year. CC's regular season took place entirely in February, but they picked up where they left off at Conferences, winning their two bracket games by a combined score of 30-10. As dominant as Dasein have been, they've proven to not be invincible. They lost to Ithaca earlier in the season and picked up a loss at Conferences against Army. It should be noted that both losses came in the fourth game of the day, and the most they'll have to play in one day this weekend is three.
The rest of the contenders in the field are teams that have shown the capability of an upset, but haven't displayed an ability to sustain that play over the course of a weekend. The second seeded College of New Jersey is relatively untested and went 1-2 on the second day of the only full tournament they played in. The third seed Rochester Piggies are flying high after a 6-0 performance at Conferences where no win was closer than 4 points, but they have two decisive losses to Connecticut College from earlier this season. Fourth seeded Wesleyan has three losses to Dasein this season by a combined 17 goals, as well as a 4 goal loss to TCNJ, but comfortably beat everyone else at Conferences.
The weather in Saratoga Springs this weekend is supposed to be rainy and decently windy, and with just one bid, the margins are thin. Expect chaos in the Metro East this weekend.
North Central
Score Reporter
Location: Appleton, WI
Nationals Bids: 2
Excitement Level: 🔥🔥🔥🔥
There's a certain degree of excitement that inherently comes with having more than one bid to Nationals. That excitement goes to a different level when the region feels as wide open as the North Central does this year.
It's been a weird season for the top seeded St. Olaf Berzerkers. Entering the season at the top of our power rankings, the Berzerkers quickly fell from their top spot with a blowout loss to Colorado College at Midwest Throwdown. Further questions were raised about St. Olaf's championship pedigree when they lost to Missouri S&T at Huck Finn and lost their D-line leader, Luke Bleers, to an ACL injury. But the Berzerkers made a statement at Conferences, going 6-0 with a point differential of +47 and establishing themselves as the favorites still at Regionals. There's still plenty of potential for St. Olaf to get upset at some point this weekend; in addition to the above missteps, they barely eked out a comeback win over Carthage earlier this year, a team they'll see in pool play. Even with those concerns, it will be a shocker if the Berzerkers don't leave this weekend with one of the two bids to Nationals.
Chasing down St. Olaf is a field of contenders more than capable of pulling off an upset. The leading challengers for the regional title are actually the 5th seed this weekend. The Grinnell Grinnellephants earned the other bid for the North Central, but an upset loss in a one-game Conference tournament to Luther resulted in their drop in seeding. Jacob Cowan and William Norry are a formidable combo, and over the course of the weekend, Grinnell are still favorites to land one of the bids. But the result from Conferences certainly shows they'll need to bring their A-game to avoid any costly upsets.
The teams most likely to pull off an upset of the top two teams are Michigan Tech, Carleton CHOP, Luther, and Carthage. Michigan Tech don't have much connectivity to notable opposition, an unfortunate consequence of their school's location, but they've played well in the tough games they've had. They split games this year with Truman State, as well as with Carthage, winning the most recent matchup at Conferences. Carleton CHOP have shown to be a ways off of St. Olaf's level, but they're undefeated against everyone else in the field this weekend, including a blowout win over Luther. Luther's season was defined by close losses up until Conferences, when they managed the double game point upset over Grinnell and showed they could finish off a close game against a quality opponent. Carthage might be one of the most underseeded teams competing this weekend; they have a one point loss to St. Olaf and split the season series with Michigan Tech. Describing them as a 7 seed is disrespectful to the ceiling they've shown this season.
In true North Central fashion, the weather this weekend is going to be ugly: 10-20 MPH winds both days, temperatures never getting above the 40s, and chances of rain and snow all weekend. These teams are used to playing in conditions like this, but don't be surprised if scores coming from this region are a bit lower than what you see elsewhere.
Ohio Valley
Score Reporter
Location: Columbus, OH
Nationals Bids: 1
Excitement Level: 🔥🔥🔥🔥🔥
Any discussion about the Ohio Valley has to begin with the unique circumstances challenging these teams. Late on Wednesday night, the teams were notified that due to inclement weather, the tournament was being moved from Bethlehem, PA, to Columbus, OH, about a 7 hour drive away. Many teams faced logistical challenges that put their attendance in peril, causing the schedule to release after 5 PM on Friday. But despite all of that, we have four teams in the top 25 of Ultiworld's power rankings, as well as a strong late season addition, competing for one bid from the Ohio Valley.
The top seed of the tournament is Kenyon SERF. It hasn't always been pretty, but Kenyon have done a lot of winning this season. They're led by Owen Hevly, and he sets the tone for the team both with his style of play and personality. SERF are a confident group that, despite playing a lot of close games, never seem concerned about the outcome. 9 of their 12 wins this year have come by 3 goals or less; these reps in close games could pay off when things get tight on Sunday.
Chasing Kenyon are two teams trending in different directions. Franciscan Fatal started their season with a good bit of losing, going 6-6 in the first 12 games they played. However, they then went on an 8 game win streak before falling to Kenyon in their conference championship game. Fatal are a young team, and the crescendo of their season aligns with their youth gaining experience and confidence.
Trending the opposite direction are the Oberlin Flying Horsecows. After starting their season with an impressive 6-1 showing at FCS, including two wins over teams that have already qualified for Nationals in Whitman and Lewis & Clark, the Horsecows have wobbled a bit. Yes, they're still winning games, compiling a 7-2 record, but several of those wins have come by close margins against weaker competition, and the loss to Franciscan at Conferences was an upset nobody saw coming. We've seen the Oberlin O-line perform at an extremely high level; they'll need to find that level again this weekend if they want to keep their season going.
The last two teams with a chance at contending for the region's one spot at Nationals are Cedarville Swarm and Scranton Electric City. Cedarville's season is one defined by close losses to elite teams: in their three matches against teams in our top 25 (Middlebury, Oberlin, and Kenyon), Swarm are 0-3 with a point differential of -5. They've shown they can hang with the best, but can they actually beat them, and enough times to earn the region's bid? Scranton didn't play any regular season tournaments. As a co-ed team, they choose to prioritize finding opportunities to play mixed tournaments until the series. Matt Pindilli has the widest array of throws in the region, if not the whole country; he led Nationals last spring in assists and was second in turnovers. He returns with his two favorite targets in Michael Kane and Michael Radzwilka, and Scranton wiped the floor with everyone in their conference. Could they make another Cinderella run to Nationals?
South Central
Score Reporter
Location: Tulsa, OK
Nationals Bids: 3
Excitement Level: 🔥🔥🔥🔥
The start of the season pitted two D-III Men's reporters against one another in a battle of words, wits, and walks down memory lane when discussing the South Central. After a full regular season, a mea culpa is in order: the South Central is now the powerhouse region in this division. The excitement level for this region centers less on who is going to qualify (with the exception of that third bid), and more on who wins the regional tournament. The South Central regional final will be a preview of a late-bracket game at Nationals next month, perhaps even the national final.
Oklahoma Christian Eagles enter the tournament as the one seed. In the regular season, they are undefeated against D-III competition and put up a respectable result against top D-I programs at Centex in March. The back-to-back national champions have a deep roster that can put teams on the ropes in the first half of games and keep them there until the end. OC have a revolving door of talent that is unmatched by other teams in this division. Couper Kerns and Ryan Loui-Ying are two of these new additions and frustrate teams with both their offensive IQ and defensive athleticism. They join a talented group of 2022 returners including Sammy Roberts, Thomas Preston, Emmanuel Bilolo, and Emmanuel Kameri, who have continued to step up throughout the season into larger roles. OC is the favorite to win the region, unquestionably. However, it wouldn't be surprising to see them drop a random game on the first day of regionals; last season they came out flat on Saturday and dropped a should-win game against Missouri S&T. But the biggest challenge for OC should be the regional final where, if all goes to seed, they will face Colorado College Wasabi.
Colorado College enters South Central Regionals as both the second seed in the tournament and #2 in our most recent D-III Power Rankings. They, too, are undefeated in D-III competition and, like the Eagles, had a respectable performance against D-I teams at Centex. Lincoln Grench is the standout player for Wasabi, but they're supported by a cast of athletic, tall cutters who will frustrate any defense. While Wasabi came up short against Oklahoma Christian at Centex, it wasn't by much. They lost on universe point after not being able to notch a break. If all goes to seed, the regional final will be a very tight and entertaining game. The goal for Wasabi is going to be to keep composure against the Eagles and use the momentum from qualifying to jumpstart a successful run at Nationals in May. Wasabi has underperformed compared to their expectations in seasons' past, so it will be interesting to see if this iteration of the team is any different.
The third bid for this region is likely a two-horse race between John Brown Ironfist and Missouri S&T Miner Threat. Both of these teams have been working their way back into national relevance after some unsuccessful seasons. Ironfist is the three seed in the region and enters the tournament with a 13-8 record. They have two key wins against two in-region teams (Miner Threat and Truman State JujiTSU), but have two losses against the Oklahoma Christian Eagles both early and late in the season. It's clear that they and Miner Threat are at a similar level, which makes this third-bid discussion all the more exciting. Missouri S&T Miner Threat are the four-seed in this tournament and enter with an overall record of 16-9. Last season, Miner Threat missed nationals after beating Oklahoma Christian on day one of the regional tournament. This season they have a renewed confidence to make nationals. And, they likely have the grit to make it possible.
The bottom half of the table for the South Central could make some noise and mess with the seeding entering regionals Sunday. Truman State JujiTSU is the best bet for an upset over the top four teams, but given past results it looks like this tournament will be a four-horse race. It's worth turning on Twitter notifications this weekend for this tournament, as it's sure to be a good series of battles between the top teams in the division.
Southwest
Score Reporter
Location: Pasadena, CA
Nationals Bids: 1
Excitement Level: 🔥🔥
Perennially the smallest region in the division, this year is no different for the Southwest, as four teams will be fighting to represent the region in Ohio.
The annual matchup to decide this bid is typically Claremont vs Occidental, and this season is shaping up to be exactly that. Each have similar scorelines against common opponents and have won one regular season tournament. Typically the two might square off at some point in the regular season to give an indication of how the postseason matchup might go, but this year they successfully avoided the matchup, leaving little indication which way this one might go.
The two-time defending regional champion Claremont Braineaters enter as the one seed and presumptive favorite. With only one returning offensive starter, the Brains look to their defense to set the tone for the team, and there may be no better matchup defender in the region than Ty Rocker, who will look to impose his will on opponent's top matchup. Veterans Ezra Marcus-Tyler, August Cosinuke, and Andrew Baxter will all take on important roles and the growth from rookies Isaiah Curtis and Arenaria Cramer will be a fun story line to keep an eye on.
Occidental counters with a stellar hub handler in Cole Lewis. Historically, Claremont has struggled to contain him, but was able to win other matchups that gave the Brains an advantage. Claremont has won the last three sanctioned meetings between the schools and Lewis will need to have a big day if that record is going to change.
While everyone expects Claremont and Occidental's last round game to effectively decide the champion, it's possible that there is a shake-up elsewhere in the region. CalTech brings back two top performers in Lorenzo Shaikewitz and Maxwell Vale. With a roster nearly double the size of last year's, perhaps they will have the depth necessary to compete with Oxy and Claremont. San Diego is a new team and will look to gain experience this year and potentially threaten to move on to subsequent postseason rounds in future seasons.
Bonus Content for D-III College Men's Regionals 2023: Weekend 2 Preview is only available to Ultiworld Subscribers
Already have a subscription? Log in
Whether you visit Ultiworld for our reporting, our podcasts, or our video coverage, you can help us continue to provide high quality content with a subscription. By becoming a subscriber, not only do you receive benefits like bonus content and full article RSS feeds, you also help fund all of Ultiworld's coverage in general. We appreciate your support!