Getting you up-to-date on what happened around Europe in the new Spring series!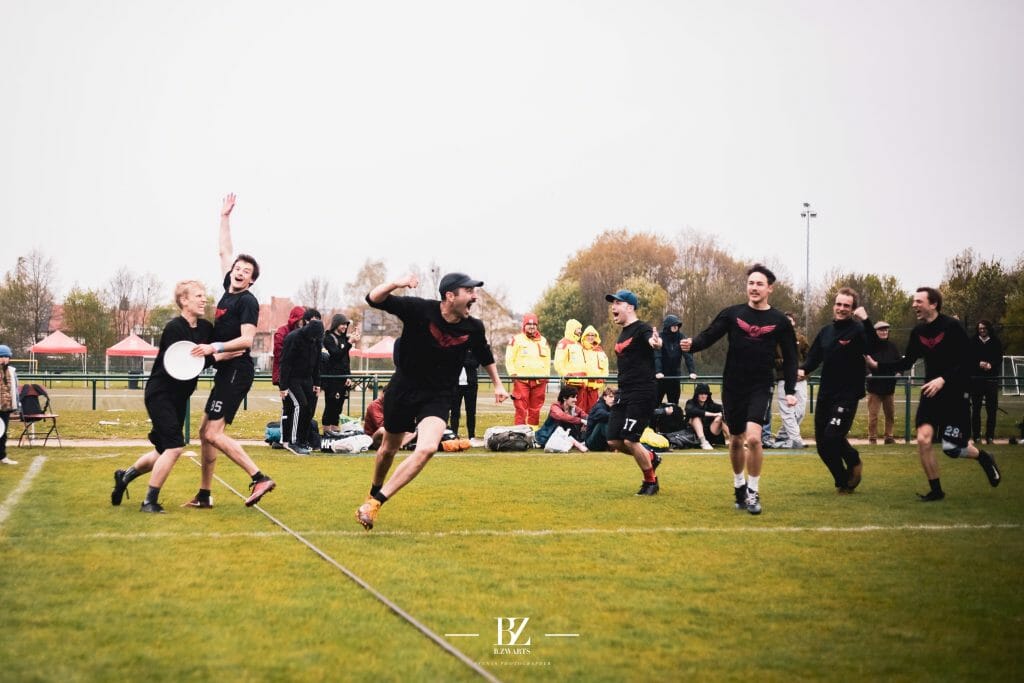 This season there have been significant changes to the European Ultimate Championships Finals qualification model. Not only can teams qualify for the finals by attending regionals, as has always been the case, but through two new routes. The Elite Invite will feature eight of the best teams on the continent, with the finalists in each division qualifying for the event in Wroclaw, Poland, in September. The other new route was the recently held Spring Invite series.
Four tournaments were held across Europe, with two opportunities in each division to reach EUCF. Many of the top teams in Europe were absent from the series; of the 24 teams that finished in the top eight of EUCF last season in each division, only six played in the Spring series despite the lucrative prize on offer. Two of the tournaments – in Padova and Leuven – were streamed, but those in London and Wroclaw were not.
Three winners in Italy
The tournament in Padova, Italy, was the biggest and featured all three divisions. The women's division was by far the strongest on paper of any series tournament, featuring reigning European champions BFD Shout (Bologna), as well as EUCF teams box (Vienna), 3SB (České Budějovice), DiscoBolo (Bologna), East Block (Eastern Bohemia), Cheetahs (Bologna), Panthers (Wroclaw) and home team CUS Padova.
Shout were the overwhelming favorites but were pushed hard by young Poles East Block in pool A, escaping with a 15-14 win. Another universe point game settled the second pool, with Tequila Boom Boom (Rimini) upsetting Czechs 3SB 13-12 to take the top spot. Both teams in pool A won to set up a rematch in the final, but Shout won much more comfortably, 15-11, to take the first spot at EUCF.
3SB's open team was also in Padova and, outside of a narrow 12-10 win over Alligators (Parma) in the quarter-final, took the title with room to spare. The Czech ultimate scene has been improving quickly in recent years and a strong season for 3SB's open and women's teams last year looks to be continuing into 2023. They will return to EUCF looking to improve on last year's ninth-place finish.
The mixed division had two outstanding teams; Disconnection (Freiburg) and Lemmings (Leamington) both ran roughshod over the division, amassing plus-36 and plus-50 goal differentials respectively on their way to the final. Fittingly, the final was a see-saw classic that saw an early Lemmings advantage erased by their German opponents, only for it to be re-established at 8-11. Disconnection, though, kept fighting and eventually pushed the game to a 12-12 universe point. After several turns, the Germans took advantage of a short field and punched in the winning score.
An upset in Belgium
The Belgian open tournament in Leuven featured EUCF teams Gentle (Ghent) and Bad Skid (Heilbronn), as well as some other strong teams from northern Europe. The story of the tournament, though, was home team JetSet. JetSet played at xEUCF in 2021 when the tournament expanded and finished a creditable 13th, but were not expected to contend ahead of the tournament. However, the inclusion of Mooncatchers D-line rock Daan De Marrée, who travels to play with Moon but counts JetSet as his home team, changed things considerably. JetSet beat Gentle 13-12 in the semis on an absolutely ridiculous flick huck by Brecht Heymans that looped out of bounds only to drop into the back corner of the endzone for the score, and then repeated the trick by beating Bad Skid 15-14 in another excellent contest in the final. Whether JetSet will feature a couple of their strongest players1 once they get to Wrocaw remains to be seen.
Dublin delight in London
Dublin Gravity (Dublin) won EUCF bronze in 2021 but faltered in 2022, finishing 12th. They made an excellent start to the 2023 season, though, winning the London edition of the series. The Irish team was pushed hard in pools by reigning EUCF bronze medalists Bristol, and gained revenge by beating LMU (London) 14-10 in the final, a reverse of the result from the final of UK Nationals last year2. Bristol will have another chance to nab a bid at the Elite Invite later this month.
FRuBB triumph in Wroclaw
It was a slightly odd mix of teams at the mixed event in Wroclaw. Teams like Flow (Wroclaw), Hässliche Erdferkel (Marburg) and Left Overs (Brno) have recently achieved significant success at EUCF but are in rebuilding phases, while many others have not had the same kind of success on a European level – Zoom (Istanbul) and Transylvania (Brasov) are from countries with very young ultimate scenes. In the end, it was a team that's been around for a while but hasn't reached EUCF since 2013 that came away with the win. FRuBB (Frankfurt) defeated Erdferkel in the final, 11-5, after recovering from a defeat in their first game against Left Overs. The Germans changed their name from Frau Rauscher & the Bembelboys because no one could pronounce it. Commentators at EUCF will thank them for that choice.
So what next?
The Spring Invite series is over, with six teams punching a ticket to Poland. Six more will join them after the Elite Invite in Bern in a few weeks, and then 44 will qualify through the usual regional process. Tom's Tourney this weekend will give us an indication of how all the stronger open and women's teams in Europe are looking in the early part of the calendar.
---
Aside from De Marree, Tom Blasman is a GRUT player who will likely return to mixed. ↩

UK Nationals doubles as the EUCF regional for the West division, which includes Ireland. ↩