The Class of 2016 includes ten players and two contributors.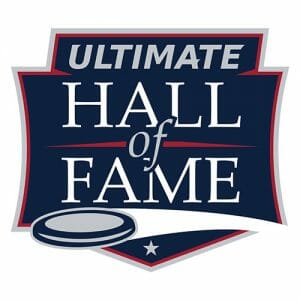 Last week, twelve new members were inducted to the Ultimate Hall of Fame, including ten players and two contributors.
Nicole "Sprout" Beck – 7-time national champion with the Bay Area's Maineiacs, Felix, and Fury, a program she helped found
Stu Downs – long-time face of Atlanta's Chain Lightning
Paul Greff – standout in Detroit and later on Boston's DoG; known during his career as "TGPITG" (The Greatest Player in the Game)
Pat "Bagger" Lee – one of the fathers of the Austin ultimate community, also played in Chicago, San Diego, and Houston later in his career
Andrew Lugsdin – led Vancouver Furious George to three UPA titles in early 2000s; first Canadian elected to Hall
Cat Pittack – defensive standout for Seattle's Women on the Verge and a national champion with Riot
Randy Ricks – co-founder of St. Louis Tunas, a dominant team in the 80s
Christine "Wags" Wagner – 3-time national champion with the San Francisco Maineiacs, also played in San Diego and Los Angeles
Jackie Watson Pierce – won seven national titles with five different teams in California in the late 80s and early 90s
Amy Wilbur – a mainstay of New York ultimate through the 80s, later a national champion with Boston's Lady Godiva
Tiina Booth and Cindy Fisher were also inducted as contributors. Booth was recognized for her work in developing youth ultimate in Amherst, MA where she has been a long-time high school coach and founded the National Ultimate Training Camp, as well as her influence on youth ultimate across the country. Fisher served as an Executive Director for the UPA, shepherding the organization through a relocation to Colorado and transitioning it to more of a corporate structure.
All inductees were selected by the current USA Ultimate Hall of Fame voting members via a three-step process. An initial peer review nominates and ranks potential candidates; from there, a slate of finalists is selected by a vetting subcommittee and input is sought from the broader ultimate community; finally, an election by current USA Ultimate Hall of Fame voting members chooses up to 10 players and two contributors as inductees, needing to be supported by at least two-thirds of voters.
The twelve new inductees join 50 individuals as well as four "special merit" members in the Ultimate Hall of Fame. Currently, the Hall exists only on the USA Ultimate website, with a goal of establishing a physical site by the sport's 50th anniversary in 2018.