Say what you will about the Southeast's depth, but there is no doubt that some of the country's most talented players are plying their trade for Southeast schools. Many of them are rising stars, with only four of last year's selections returning (Emory's Abbey Hewitt makes five, but has not been active in enough games to merit inclusion), so we'll be evaluating and inducting a lot of fresh blood.
The Locks

Sunny Harris (Central Florida), Lane Siedor (Georgia), Mariel Hammond (Central Florida), Hannah Leathers (Georgia), Sarah Gardiner (Florida) 
I consider this group the no-brainers. Comprised of the reigning Southeast Player of the Year (Harris), her faithful ward (just kidding, Hammond is a total badass in her own right), Georgia's high powered duo, and Florida's multi-faceted centerpiece, they should easily occupy five of the 1st Team spots.Let's talk Leathers and Gardiner. As returning 1st teamers, Harris, Siedor, and Hammond aren't surprises. Leathers, coming off a rookie year with Ozone, has continued her ascension to an elite player after last year's breakout. She's had to take on a dominant role for Dawgma, rarely even seeing points with Siedor. Likewise, Gardiner's also having to captain the ship, with her role increasing even more than Leathers's has. Fortunately, Gardiner's broad shoulders are able to bear the load; she's a five tool player.
The Next Tier
Megan Reeves (Florida State), Caroline Marsh (Alabama), Kristin Lloyd (Florida State),  Emily Witt (Florida), Erin Goding (Central Florida), Alexa Wood (Central Florida)
Two first team spots remain, and there are a bevy of worthy candidates.
Megan Reeves, some would argue, belongs in the locks. She's a difference making thrower who is seeking an incredible fourth straight year All-Region. I remember her sophomore year, when she won 1st Team honors, when Florida State's gameplan was mostly "Megan hucks it to all the tall girls." Florida State's talent and strategy has certainly advanced, and it is intriguing that Megan went from back to back 1st Team selections to 2nd Team in 2013.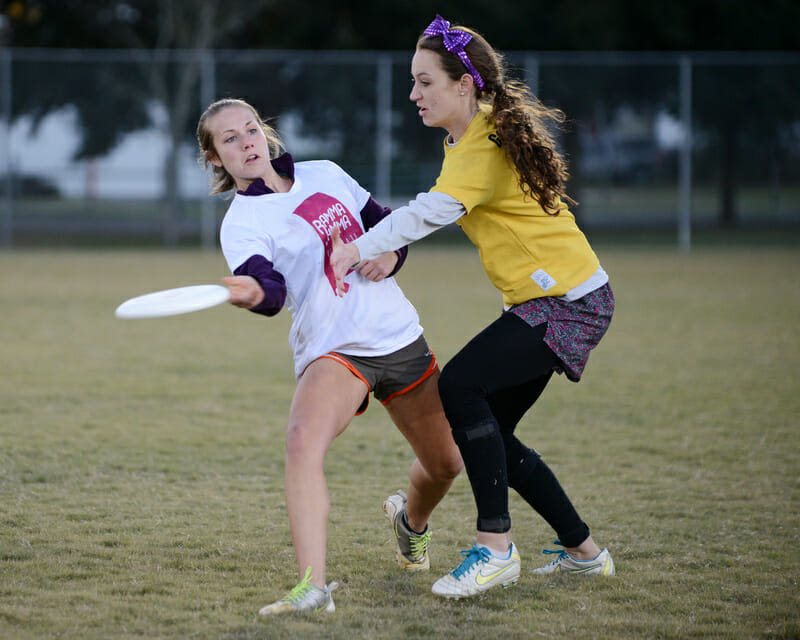 Alabama's Caroline Marsh has been a buzzy name in the region this year. She's piloted Alabama Ramma Jamma to a Gulf Coast Championship and the strongest season in team history; they'll be rewarded with a top four seed at Regionals. Marsh, fresh off a year with DeSoto, is a tireless workhorse, taking on the toughest matchups on both sides of the disc, and sometimes getting it every other throw on offense.
The fact that Kristin Lloyd remains in the conversation is a testament to her talent. Lloyd unfortunately suffered a season ending ACL injury prior to the series. However, her contributions did not go unnoticed. Few players in the region offer the combination of size, speed, and skill in the volumes Lloyd does. It'll be interesting to see if the region's voters go this way.
I pegged Emily Witt for a breakout season before the year started. She's been capable of filling a highlight reel with her inhuman layouts. What the FUEL captain has added is stronger fundamental downfield defense and marking and more developed offensive skills. Witt has delivered all season for Florida and will be a big part of their Series performance.
Erin Goding is another player breaking through, really forming the third piece of the Sirens' power offense. "Bigs", as they call her, is able to use her size and power to fill in for Harris and Hammond in their dink-and-dunk-then-huck sets. She's strong up the line, helping her set up to gain a lot of yardage for UCF.
Another key support piece for Central Florida – and she won't be the last we discuss – is Alexa Wood, but she fulfills different duties than her aforementioned teammates. Wood has gone from just a downfield speedster to an intelligent defender. I was extremely impressed with the type of matchups Coach Tilley was sending her down on at Stanford Invite, and freeing up some of their top offensive weapons from those battles is a pretty huge element of UCF's success.
Best of the Rest
Stephanie "Eli" Williams (Central Florida), Kyra Catabay (Florida), Kira Lou (Emory), Teal Dabney (South Florida), Jin-Mi Matsunaga (Vanderbilt), Skylar Taggert (Florida State), Sarah Espinoza (Florida), Kalah St. Pierre (Central Florida), Jodi Dearing (Central Florida), Joanna Vogt (Auburn), Lily Ponitz (Georgia Tech)
Central Florida is the region's dominant team, which usually entitles you to a number of All-Region slots, but this is also a team notorious for running through a couple of individuals. They are deeper than ever, though. Williams is very likely to get a nod, following up her All-Freshman selection last year.
Florida's has a few other senior leaders who contribute significantly. Catabay is one of the team's most grinding defenders and can offer really heady play to their offense. Espinoza's biggest asset is still her athleticism, but she absorbs Ultimate knowledge like a sponge, helping power her rapid improvement.
Matsunaga, Lou, Dabney, Vogt, and Ponitz aren't playing for top ranked teams, but have all been very impactful this season on Regionals rosters. Any one of them could make a splash with their impressive performances this season; each has all around capabilities needed to lead the way for their squads and all likely to draw a lot of voters from their respective Conferences.
The Verdict

So after a season of watching and studying the Southeast Region in the Women's division, who would I pick? Your breath no longer need be bated.
1st Team: Sunny Harris (Central Florida), Lane Siedor (Georgia), Mariel Hammond (Central Florida), Hannah Leathers (Georgia), Sarah Gardiner (Florida), Erin Goding (Central Florida), Caroline Marsh (Alabama)
2nd Team: Emily Witt (Florida), Megan Reeves (Florida State), Alexa Wood (Central Florida), Stephanie Williams (Central Florida), Kira Lou (Emory), Jin-Mi Matsunaga (Vanderbilt)
I think Reeves could definitely wind up first team, and Witt could as well, but went with Marsh and Goding. Kristin Lloyd is definitely one of the region's best players, but missing the Series is kind of a big deal (wish her the best in her recovery!) and so I left her off.
It seems strange for Florida State to land just a single player between the teams, and is perhaps unlikely. But I don't think they are winning games through a couple of players.
If I had to rank the top Player of the Year candidates, you're looking at:
Sunny Harris (Central Florida)
Mariel Hammond (Central Florida)
Hannah Leathers (Georgia)
Sarah Gardiner (Florida)
All-Freshmen: Charlotte Doran (Vanderbilt), Lucy Berman (Florida), Kristine Fedorenko (Auburn), Alyx Paisner (Georgia Tech), Erin Chun (Georgia)
This should be taken with a grain of salt, as I can't say I can name every freshman in the region. It would surprise me if the region's top two seeds were without notable candidates for these positions. Doran and Fedorenko should be definites – we all messed up if they don't make that list, and they are likely to make All-Region teams in the near future – and Berman has also been impressive. There's only five listed here, and plenty of worthy candidates that could snag that spot or push others out.
Coach of the Year: Joe Tilley (Central Florida). Tilley's built something very special at Central Florida and has a unique way of influencing his team, but his strategies and teachings are obviously a huge part of turning a bunch of big fast athletes into an Ultimate team.
It is just one man's opinion, so make of it what you will. But do go out and vote.