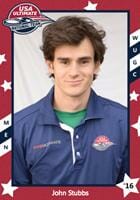 The United States Men's National Team set to compete at WUGC 2016 next month announced the addition of Harvard's John Stubbs (also of Boston Ironside) to the roster this morning.
The recent knee injury to Beau Kittredge was not mentioned in the press release, but surely was a driving force behind the decision to bring the roster to 24 (the WFDF roster limit is 28). Kittredge may not be able to play at Worlds and almost certainly won't be at 100% after sustaining an MCL tear and damage to his ACL and meniscus.
Stubbs had a strong tryout earlier this year and has played an exceptional season with Harvard, leading them back to Nationals. He becomes the youngest player on the roster at 21 and the third active Men's college player (after Pitt's Trent Dillon and Washington's Khalif El-Salaam).