It wasn't exactly pretty, but Boston's Ironside did what they came to do at the Northeast Regionals, winning the tournament and ensuring they will get the top seed at the USA Ultimate Club Championships later this month.
In an up-and-down, classic finals game, Ironside took down Toronto's GOAT 16-14 with a big comeback finish that will be remembered for a pivotal foul call that snatched the game out of GOAT's hands.
The story of this game can be told in three parts: the first half, the second half before the foul call, and the meltdown.
It was all Ironside early. Their offense was running on all cylinders in the first half, easily scoring against GOAT's defense and looking like the strong team we've seen all season. Their offense didn't have a single turnover in the first half.
GOAT would keep it close, despite a handful of offensive line turnovers, until 3-2, when their offense had four chances to score but couldn't punch it in. Ironside got the first break of the game to go ahead by two. They would tack on a second after a big endzone D by Jamie Quella to take command up 5-2.
GOAT's offense settled down after that and both sides traded turnover-free points into half with a confident Ironside leading 8-5.
What looked to be yet another easy win for Ironside changed dramatically in the second half. GOAT came out on offense and put up a big huck to playmaker Jeff Lindquist for a score. GOAT's defense then got a break back after a huge layout D from Geoff Powell handed Ironside's offense their first turnover.
Ironside worked it smoothly down the field on the next point, but a lazy high release backhand got blocked by Adrian Yearwood right at the goal line and GOAT would take advantage to tie the game at eights.
After a sloppy Ironside turnover, a high stall floaty backhand into the endzone stack would bounce around before Inian Moorthy reeled it in to give GOAT their first lead of the game.
GOAT would make it five in a row after another poor Ironside turnover to take the 10-8 lead.
Frustrated, Ironside put out a defensive unit for the next offensive point. The move paid off and they stopped the bleeding to stay within one.
The sides then traded points, punctuated by a huge Lindquist endzone sky over three defenders to put GOAT back up two at 13-11.
GOAT's defense would break again, this time with some luck. A floating throw looked ripe for an Ironside block, but Alex Kapinos didn't intercept the disc, instead tipping it to space, allowing Powell to grab it on the edge of the endzone. The score, putting GOAT on the doorstep to a Regionals victory and a bid to Sarasota, was the defense's fifth of the game on five Ironside turnovers — perfect efficiency for the Canadians.
After Ironside scored to make it 14-12, GOAT had a chance to win the game on offense. A huge backhand huck to Lindquist looked right on target. LIndquist and his defender, Jack Hatchett, battled for position shoulder-to-shoulder as they sprinted down the field. Lindquist, using his forearm to fend off Hatchett, went up in the endzone and grabbed the disc, yelling as his teammates stormed the field, thinking they had just won.
Everyone watching thought the same. Ironside defensive handler Brandon "Muffin" Malacek said on the sideline, "Well, there goes our number one seed."
Not so fast. Hatchett called a foul on Lindquist for obstruction, a call you might not see without a game on the line. The two argued at length before veteran observer Wally Kwong made his ruling: foul upheld. GOAT turnover.

Lindquist spiked the disc in anger, picking up a team misconduct foul, before play continued. But, despite getting the disc back just three throws later, GOAT never recovered from the observer ruling. Will Neff kicked things off with a huge catch block to set up an Ironside break.
GOAT proceeded to turn the disc over on offense on each of the next three possessions, mostly on poor throwing mistakes, allowing Ironside to run off five straight points to grab the 16-14 win.
GOAT was left reeling after watching their win slip between their fingers. "The game is done. The game is not done," said Anatoly Vasilyev, a GOAT defensive handler, in the huddle after the game. "I saw 26 or 27 dudes grinding that wanted to win this game. It's just unfortunate."
Kwong told Ultiworld after the game that his crucial decision was straightforward since he saw a clear foul — Lindquist was pushing Hatchett from behind, obstructing his path to the disc. The video evidence — available here in the full game footage — shows that it was a very close call.
With the win, Ironside extended their win streak to 23, which started after their August 11th loss to Portland's Rhino in the first round of Seattle's Emerald City Classic. They went on to beat Rhino the next day in the finals. Ironside's performance at ECC earned them the number one spot in that week's USA Ultimate Club rankings, which they have held since then. They have played and beaten ten of the top sixteen teams in the country.
UPDATE: Here's the Jeff Lindquist foul: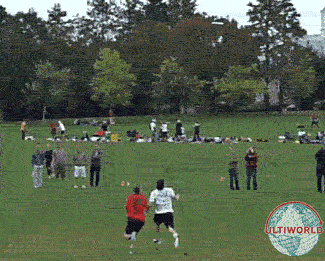 Photos courtesy of Burt Granofsky of Ultiphotos. Check out more Northeast Regionals action.