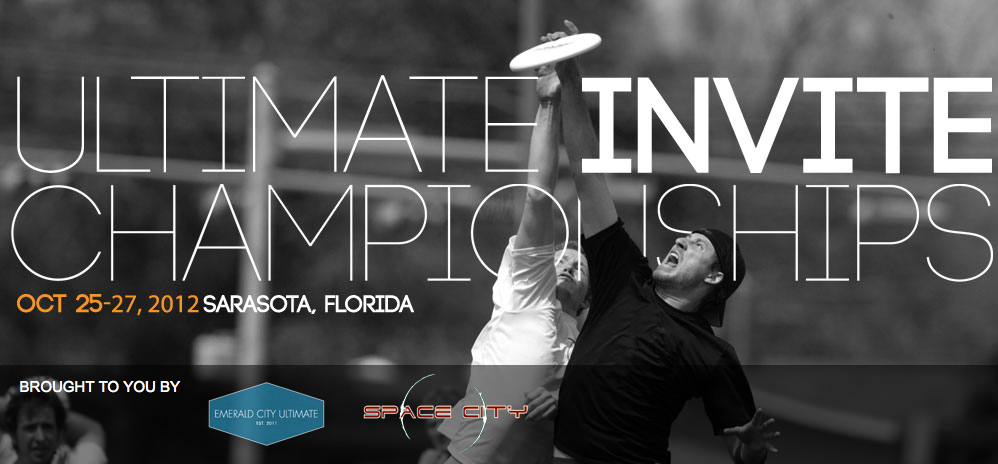 Even though everyone's eyes were squarely focused on the Club Championships, there was another important tournament that same weekend: the Ultimate Invite Championships. The UIC, designed to give good teams that didn't qualify for the Club Championships a challenging postseason option, hosted eleven teams just minutes from the high-level action in Sarasota.
Most of the participants were among the top fifty ranked teams in the country, meaning that most will be competing in the Select Flight of next year's Triple Crown Tour. This was the first ever effort to give such teams an opportunity to play against other good teams in the postseason but after Regionals, the typical final tournament for such teams.
Boston's Garuda edged out Houston's Space City Ignite in the finals to take home the inaugural title.
"it was a great experience," said Ryan Vance, captain of Baltimore's Medicine Men. "Fields were fantastic (from what I saw, better than at the [Club Championships'] polo fields), teams fought like crazy, the schedule worked out really well to give us time at the fields. It was a great event and I hope something like it continues."
The tournament was designed so that teams played in the morning, giving them time to watch the nation's best at the Club Championships in the afternoon. "The two most exciting things for us were that people really loved Florida and people really loved to be able to watch the Club Championships," said Skip Sewell, one of the UIC's primary organizers and a captain of Seattle's Sockeye. "Because people are always looking up – looking up at players, looking up at teams."
Ben Dieter, Captain of North Carolina's Cash Crop, also praised the tournament for its format and the chance it gave Cash Crop to play together as a team for an extra month, calling that "helpful for an up and coming team."
The tournament went off well, but did face its share of challenges. Many teams, due to the expense of traveling to Florida, had short rosters. It was also difficult to get teams to commit to coming in the first place.
"Having a first year tournament that doesn't have a reputation or, generally, a draw was challenging," said Sewell. "But people seemed generally excited…I can't tell you how many teams were just on the cusp of coming."
Some teams weren't thrilled about paying $35 per player to attend, but all praised the quality of the tournament and the fields. Sewell, who is also a top organizer of Major League Ultimate, added that it was an expensive tournament to run. "I think we cleared $5," he said.
Despite the small problems, the UIC was popular and looks poised to return next year and expand.
"It seems like USA Ultimate is not interested in all in developing a championship for lower tier teams," said Sewell. "I think the UIC will continue to grow and be the service provider for those teams. We would love to expand to all divisions, certainly women's and mixed, and maybe masters."
The tournament will likely follow the Club Championships out of Sarasota to wherever it ends up next year, allowing UIC teams, as they did this year, to watch much of the action.