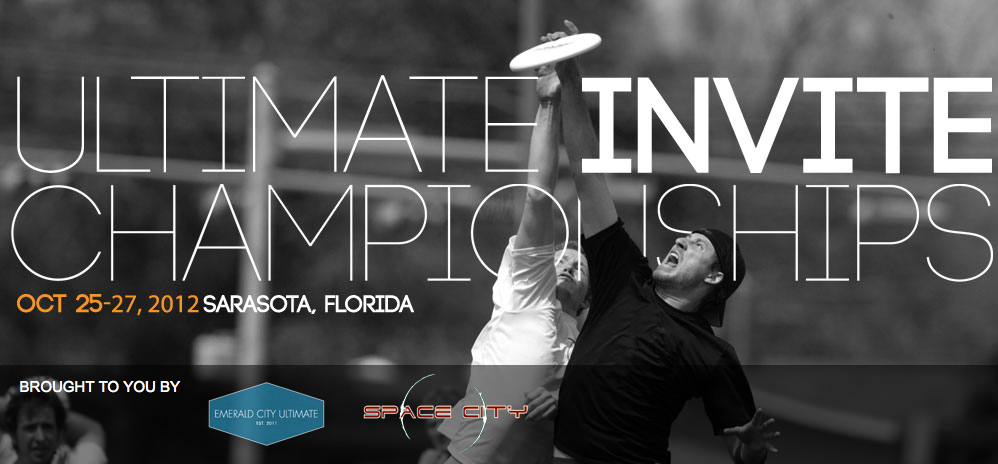 NCAA Basketball has the NIT. Baseball holds a playoffs for AAA and the other farm teams. Soccer organizations run second tier leagues and tournaments. In fact, most sports offer teams and players a variety of postseason options depending on their level, since not every good team can qualify for the top national tournaments.
Yet, somehow, Ultimate has never made that a serious option for its second tier teams. For the most part, big cities have one — sometimes two — established club teams that make it to the Club Championships every year, leaving the remaining teams left to focus their postseason efforts on their placement at Regionals. But there is a sizable group of teams that finishes on the bubble at Regionals that could play — and wants to play — a competitive tournament in October.
This year, that will become a reality for the Open Division.
The Ultimate Invite Championships will host, by invitation, teams that finish in the top 40 in the USA Ultimate rankings (which will be finalized today) but don't make it to Nationals, effectively creating a second tier playoff tournament.
Matthew 'Skip' Sewell, the organizer of the UIC and a captain of Seattle's Sockeye, told Ultiworld, "We felt like there was a gap between the elite teams that make Nationals and the rest of the club teams that has continued to grow. For most teams, it's been very difficult to get out of the region and have that experience of peaking in late October…It seems like the top teams are able to bank on the experience from the year previous and edge out other local teams."
So Emerald City Ultimate — his Seattle organization — and Houston's Space City Ultimate have collaborated to put together the UIC, held in the same city and at the same time as the Club Championships. The reasoning? "We wanted to make sure that bubble teams — say teams 17-30 — could make plans to go to Sarasota knowing they would be playing in one tournament or the other," said Sewell.
Both Emerald City and Space City have their own reasons for wanting such a tournament — both cities have a large community of Ultimate players but have teams that can't break out of Regionals. Sewell even called his efforts to start the UIC "a little bit selfish," since Seattle teams will benefit (and, last year, Sockeye, which missed Nationals, would have as well.)
But the tournament — which sent out some early invites based on previous years' performance — has already attracted a number of other teams. Boston's Garuda (#19 in last week's rankings), Florida United (#27), and Baltimore's Medicine Men (#30) are among those already committed to going, if they don't make it to Nationals. Sewell added, "We're looking to put out all our official invites this week with the final USA Ultimate rankings."
Ryan Vance, the captain of Medicine Men, said, "I think [the UIC] is a long overdue idea, first of all, and I'm glad to see someone taking the initiative. We'll be heading there to get 3 more weeks of work in a focused setting, play some great competition, and close some of the experience gap the elite teams widen every year at the Club Championships.
"Plus," he added, "it's a week in Florida instead of Maryland in late October."
It is possible that in the USA Ultimate Club restructuring something like the UIC will be created and run through their organization. But Sewell said that it was time to make this happen. "We want to plant a flag in the ground," he explained. "We're ambitious enough and concerned enough about this to put in our lot and make this happen…If, after the major club restructuring later this year, [USA Ultimate] builds in a second tier championship, then they'll take it over."
There was an attempt last season to hold the UIC, but it fell through because of a late start and an attempt to invite teams after Sectionals and Regionals. This year, Sewell said, "We wanted to start early."
Like most tournaments, teams will have to pay. But Sewell stressed that they want a "zero-sum budget" and are looking just to break even. This contrasts with Sewell's efforts with Cultimate, a now-defunct national tournament organizing company that was controversial — and profitable.
This is designed to be an affordable option for good teams looking to play a late-October, national tournament. The final schedule and list of teams competing won't be known until after Regionals.
"We think it's time for this and we're excited to see it get off the ground," said Sewell.
***
If you want more information about the Ultimate Invite Championships, visit their website.