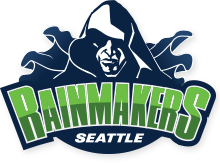 Today, Major League Ultimate announced that Ben Wiggins — Callahan award winner, founder of The Huddle, and three-time National Champion — will be the head coach of the Seattle Rainmakers.
The cachet Wiggins brings to the MLU — much like what Brodie Smith brings to the AUDL — shouldn't be overlooked. He is one of the most widely respected ultimate coaches in the world, and served as the coach of the first two seasons of the Rise Up instructional videos.
However, it is a surprise that Wiggins has decided to join one of the professional leagues. In an AMA on Reddit last year, he explained why he chose not to coach an AUDL team:
[quote]I am hugely pro-AUDL. I was asked to coach/play on a team [and asked to keep it quiet, so I won't be saying which one] and I told them I would do it in a heartbeat if they used Observers and not refs. I told them Ultimate has, among other great things, this amazing and unique part that is good for all sorts of reasons…if you were an investment banker, would you ask a company to throw away a unique and proven aspect of their product just to be more similar to other products on the market? Does that sound crazy?
Love the AUDL. We don't need the refs, but the people/organization/ideas/presentation are where we need to go.[/quote]
In a recent article, he further outlined his vision for why the professional leagues should use observers and not referees.
Despite that sentiment, he has agreed to coach in the MLU. According to Skip Sewell, the MLU's Creative Director, Wiggins had input into the formation of the rules, and was satisfied with the "Spirit of Sportsmanship" clause.
Wiggins will both coach — and, according to the press release, may even play for the team. "I love the game, and I am just lucky to still have a tiny bit of career left while this is starting," said Wiggins in a statement. "I want to be part of the next step, but the biggest reason to do this is one more chance to take the field in front of fans and test myself and my team."
We hope to speak with Wiggins soon about his decision.