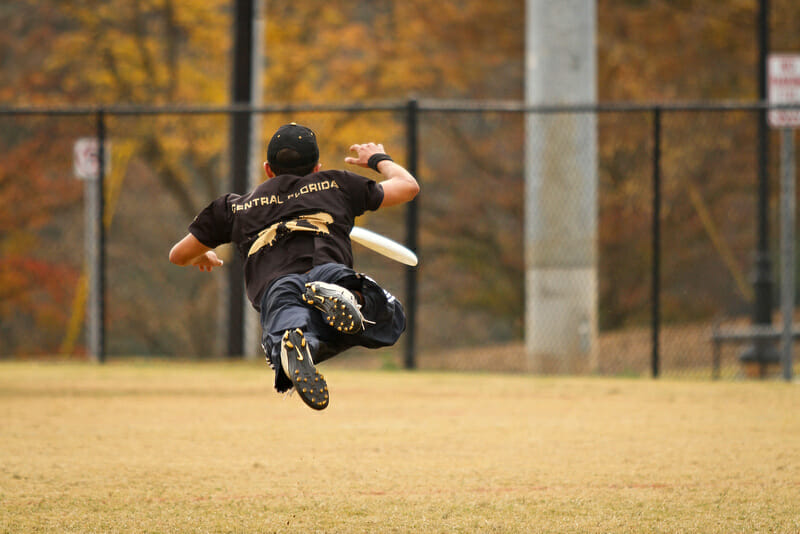 It may be snowing in New York, but spring time is here when the college season starts. This weekend kicked off the regular season in a big way, with important tournaments across the country. Here's a look at what happened this weekend:
ACCUC 2013 — Chapel Hill, NC [Open – S]

Check out our tournament recap.
Santa Barbara Invite 2013 — Santa Barbara, CA [Open/Women's – S]

Open
Arizona takes the title with an 8-7 universe point victory over Florida State. We will have a full tournament recap up later today, with video coverage extending throughout the week.
Women's
Victoria-us! Victoria, the large Canadian research university in British Colombia, came flying out of the 8th seed with the biggest upset of the weekend, taking down 2012 College Championship squad Sonoma State on universe point in the finals 7-6.
They had an impressive road to the tournament victory, taking down the #1 seed UC Santa Barbara on Saturday, before knocking out Stanford in the quarters and San Diego State in the semis.
Victoria did not even get a mention in our SBI preview — we're paying attention now! Of course, there are all the normal caveats. It's early in the season, it was windy, players were out for U23 tryouts in Los Angeles, and it doesn't mean much yet. But these are big wins for a team interested in making it to Nationals out of the super-strong Northwest Region. Sanctioned wins are sanctioned wins — and these teams will prove to be strong later this season. That will help a lot when it comes to bid allocation time.
Big D In Little D 2013 — Austin, TX [Open – S]
Texas A&M dominated the competition en route to a 15-7 finals victory over Kansas State. We will have a full tournament recap, along with video coverage, out soon. Texas A&M continues to impress, coming off of a fall season where they notched big upsets over Pittsburgh, the defending College Champions; Luther; and Michigan State.
T-Town Throwdown — Tuscaloosa, AL [Open – S]
Coming off of a quarterfinals appearance at the College Championships, the Central Florida Dogs of War showed they deserved the one seed this weekend with a dominant performance. They rolled over the two seed Alabama in the finals 15-4 and won their second consecutive T-Town Throwdown title. Their only close game was against LSU in the semis, a game they won 15-12.
Alabama made the finals the hard way, with tight games against LSU on Saturday in pool play (13-11), Harding in the quarters (17-15), and Tennessee in the semis (16-14).
Tennessee made an impressive run from the 8th seed, with two upsets in pool play, a crossover win over LSU on universe point (14-13), and a strong game against Alabama in semis.
Here's some video from the weekend, including interviews with UCF and Alabama:
[youtube ph2pj-CO8OA 600 377]
Florida Winter Classic 2013 — Gainesville, FL [Women's – S]
Even if it's early spring, revenge is still sweet. After falling to Florida in the game-to-go last year at Southeast Regionals, Georgia came out strong this weekend and dominated strong Southeast competition, including two wins over Florida (10-7 in pool play and 13-3 in semifinals). Georgia went on to take down Florida State in the finals 10-5.
With wins over all of the top Southeast teams, Georgia set themselves as the clear frontrunner going forward after an undefeated fall season. Florida State had a strong tournament as well, with just two losses (both to Georgia).
The real challenge for these teams will be to beat out-of-region competition to earn more than one bid to the College Championships.
Houston Antifreeze 2013 — Houston, TX [Women's – S]
Texas Melee stormed out of the two seed spot with an undefeated weekend and the Houston Antifreeze title. They are coming off of a quarterfinals appearance at the College Championships after winning the South Central region last year. They came in seeded behind Texas A&M, but eked out the 9-8 win on Saturday. They went on to beat a surprising Oklahoma team in the finals.
Winta Binta Vinta Fest 2013 — Charlottesville, VA [Women's – S]
Virginia Hydra defended their 2012 WBVF title with an undefeated performance this weekend. They really outmatched everyone at the tournament, allowing only seven points against them (in games to 15) in three games on Sunday.
Like many of these early Spring tournaments, Hydra, the one seed, stood well above the competition, facing mostly conference foes and no major regional contenders.
Virginia is looking to repeat as Atlantic Coast champions this year and improve on their 17th place finish at the College Championships.