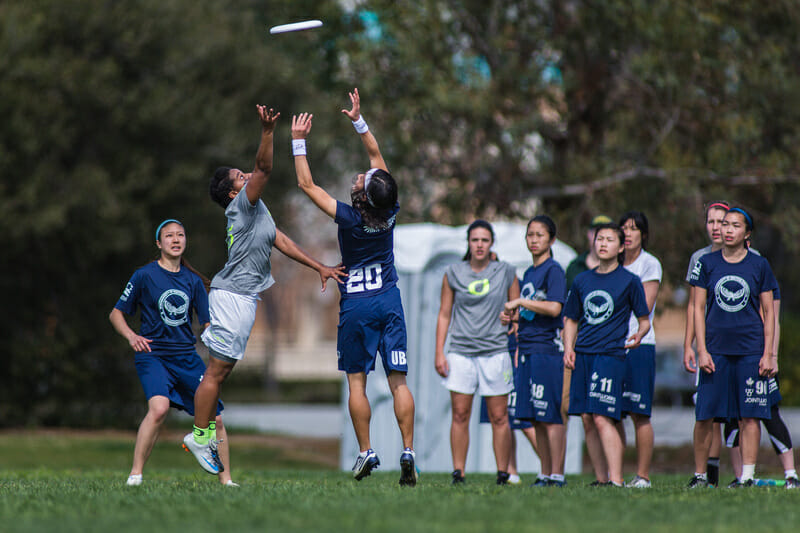 Most conference tournaments feature a large number of one-sided games with little at stake for the top teams, who are all but guaranteed bids to Regionals. The Women's Pacific Coast Women's Conference does not fit that category. In what is essentially a Regionals preview, the top Northwestern teams get a final look at each other before heading into Regionals with Nationals bids on the line just next week.
On a glorious Northwest morning of overcast skies and the classic drizzle-rain-drizzle-rain pattern, Sunday at the Pacific Coast Conferences was a showcase of some of the best women's ultimate in the country. Quarters been held the previous day, setting up an Oregon v. Victoria and Washington v. UBC matchup semifinal round.
#1 Oregon vs. #24 Victoria
The difference maker in this game was Oregon's infamous zone that makes throwing passes through the middle incredibly difficult. Victoria took a few different approaches, like over the top and loopy inside-out throws, to try to beat it, but a few too many execution errors of overthrown hucks, dropped discs, and not-on-the-money throws allowed Oregon to take and keep control of the game. They would take it 13-7.
Sophie Darch and Bailey Zahniser, the usual suspects, were helping to pace Oregon's offense at a quick tempo. They were not afraid to throw hammers off of stopped discs, which opened up the offense to strike quickly as the defense scrambled to recover. Even when Oregon was set to win this game, coach Lou Burruss was adamant in a timeout about how to properly set their zone and play defense. Maintaining focus throughout games is a skill that has to be developed even in wide-margin victories.
#4 Washington vs. #2 British Columbia
This game, the better of the two semifinals, was full of big hucks, sick bids, back-and-forth runs, and terrific defense. The UBC Thunderbirds' coach was very vocal about winning the game to three. UBC was focused on these short moments throughout the game as opposed to seeing the whole game at once, which proved useful for the team.
They came out strong with extremely tight handler defense, causing some miscues on Washington's O line. Washington would generate some turnovers too, but just couldn't quite work it up the field for a score, giving it right back to the Thunderbirds. In the first half of the game, UBC went on a three point run and were rolling; Crystal Koo's forehand hucks and hammers, especially to Ellen Schlew, were causing Washington some trouble. But after the half, Washington showed a zone that really slowed down the Thunderbirds.
Koo looked for the big hammer over the zone many times, despite it working only about 50-60% of the time. Washington made a late run to tie things up at 12-12 but then UBC, showing their depth, took the final two points to advance to the finals.
The two standout players in this game were Washington's Alysia Letourneau and UBC's Koo. Letourneau was Element's go-to receiver when the game was on the line cutting both deep and under. She always played many points and was instrumental in Element's zone defense. Koo was just putting up throws left and right after burning her defenders on a quick strike cut.
Oregon vs. UBC (Finals)
As the two teams were standing on their lines set to start the finals (and their fourth matchup of the season), they could not look more different. Oregon stood as a tall, confident, strong, glove-wearing team while UBC was shorter, smaller, and more timid. UBC proved to be anything but. The game was close throughout and at one point UBC had a real shot of upsetting #1 Oregon and taking first place in the Conference.
The Thunderbirds were swinging the disc quickly and effectively, hitting open receivers within the first two stall counts. Fugue could not contain UBC's offense and, at one point, you could hear Fugue's coach yelling, "WE NEED TO PLAY DEFENSE!" Additionally, they were playing extremely tight defense against the Oregon team. Oregon's throws had to be pinpoint, and, at the start of the game, they were not. They were overthrowing their receivers or missing just wide.
But as quickly as UBC was ahead, they were behind. Oregon poached in the open lane to take away upfield throws, resulting in a UBC turn. Fugue picked up and moved the disc into the middle of the field. Huck. Score. UBC gets flustered and puts up a forced huck that Oregon comes down with. Quick throw to a handler. Huck. Score. This repeated until Oregon was ahead and surging with momentum. If Oregon had not come down with some big athletic grabs in the endzone late, the game might have turned out differently. But UBC lost its quick movement across the width of the field and gave up their lead. Oregon held on until the end, winning the Conference with a score of 13-11, and continuing their march towards the top seed in Madison.


Washington vs. Victoria (Game To Go For 2nd/3rd Place Game)
After Washington and Victoria got easy wins over Oregon State and Western Washington, respectfully, they faced off in a game that sent the loser to 4th place and the winner into the 2/3 game. Washington's previous matchup ended sooner than Victoria's, so the Element girls got some much-needed rest, giving them an edge heading into their game.
Both teams played zone to slow down the hucks that were coming from both sides. Washington easily worked it through Victoria's zone but many times could not finish the point. It almost seemed like Victoria was waiting for Washington to make a mistake. Element was not afraid to do a quick over-the-top throw if the swings were not open. Victoria, on the other hand, looked to get the disc moving before the zone was set up, or to exploit the defense on transitions. The game was back and forth, with no team scoring more than 3 points in a row. But it felt like Element was in control during the entire game. Any time it looked like Victoria might seize the momentum, Element would come up with a big-time play, usually by Lucy Williams, to restore their position. Washington won it 13-10.
TOURNAMENT NOTES
– Each of the teams in attendance were impressive in at least one way. Portland State was relentless with bids in their games. Washington-B was fairly skilled at breaking the mark to surprise teams. Oregon State had a star who touched the disc almost every other throw and would put up big hucks or breakmark throws. Western Washington had a few stand out players making big grabs and big bids.
– Western Washington is going to be the team fighting to go to Nationals, as they will likely be seeded fifth going into Regionals. Their biggest issue is their lack of depth. They are a talented team with skilled players, but many of the other Northwest teams just have more playmakers. However, if a team discounts Chaos, they risk watching their bid get swooped out from underneath them.
– Victoria definitely earned a strength bid to Nationals for this region. They have not really been on the radar for most teams in North America, but they definitely should be there. They are a fundamentally strong team looking for the dump/swing if things aren't open downfield. Additionally, they have relentless receivers and throwers who can surprise unsuspecting teams. They are fast and athletic – without question, a complete team.
– Washington forfeited their game against UBC in the 2nd/3rd place game at the end of the day. Element was already without star Sarah "CO" Davis and Sarah Edwards, and had a handful of other players out with nagging injuries. Element's coach made sure to call USA Ultimate to make sure they would not be disqualified from Regionals if they did forfeit.
– UBC was also missing some players, and Callahan candidate Catherine Hui appeared to have a tweaked quad or hamstring. Because of this, she was not as dominant as one would expect, but she still was making big plays with her bids and throws. If UBC gets everyone at a tournament with everyone healthy, they have the potential to win games before their opponent even realizes what happened.
– My pick for Freshman of the Year in this region would be Soriya Ton of Washington Element. She played extremely well as both a handler and a downfield option in high-pressure situations. Her cheeky I/O forehands up the line were causing havoc against opposing teams and her quickness allowed her to get many D's and get open at will.