With Regional tournaments taking place across the country this weekend, teams have begun to earn spots in Wisconsin with exciting play across all divisions. Although games this weekend were often close, legacy programs came out on top with very few surprises.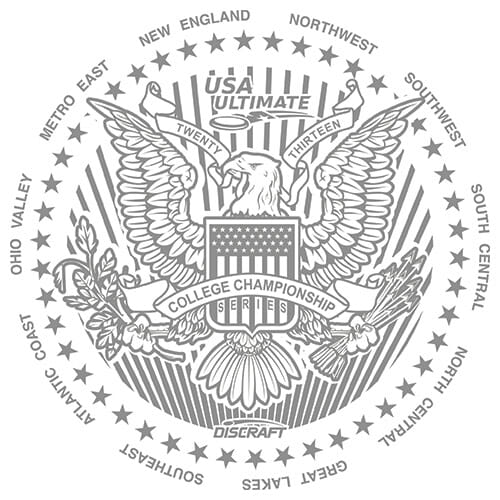 With Regional tournaments taking place across the country this weekend, teams have begun to earn spots in Wisconsin with exciting play across all divisions. Although games this weekend were often close, legacy programs came out on top with very few surprises. Although there were some technical "upsets," there is not a single team headed to the College Championships that you would consider an unlikely qualifier.
Next weekend, we will finalize the lineup in Madison with the conclusion of Regionals. Stay tuned for previews of the upcoming tournaments. But, first, let's see who's headed to the big show.
ATLANTIC COAST
Open
North Carolina did exactly what they set out to do: roll through Regionals without even giving the opposition a chance to believe they might get an upset. UNC's biggest wins came in semis and finals, and they never allowed more than 8 points against. UNC has just four losses this year; three of them came on universe point. When we saw this team play all the way back at Queen City, they had thoughts of semifinals at Nationals. That looks realistic.
In the backdoor, North Carolina-Wilmington came away with the bid, as expected, but they didn't make it look easy. After falling to a strong Virginia Tech team in the semifinals, they had to battle to even get to the game-to-go, playing in a tight game against JMU in a rematch of the Hellfish Bonanza finals. JMU couldn't quite stay with them and lost 15-13.  UNC-W was prepared for Virginia Tech the second time around, and battled back from an early deficit to take the lead at 6-5, extending that in cold, rainy weather to take the second bid with a 15-7 win.
Women's
As expected, the three top teams — Virginia, UNC, and UNC-W — all made it easily into the semifinals. UNC and UNC-Wilmington had an anticipated battle there after a close game in the Conference finals. This time, UNC came out on top, 15-13, setting up their first matchup against Virginia in the game-to-go.
Virginia, who had clearly earned the one seed, was the better team and grabbed the Regional title with a 15-12 win. A frustrating day for the Atlantic Coast, which had three very worthy teams and just a single bid.
D-III Open
Wake Forest did not make it easy, but they again return to the D-III College Championships after taking the region with a 15-13 win over Elon in the finals, avenging their pool play loss. Wake Forest allowed their opponents to score double digits against them in every one of their games, but did enough down the stretch to keep winning (and never face a double game point).
GREAT LAKES
Open
After a very close battle throughout, Illinois pulled away in the closing minutes of their finals matchup against Michigan to return to the top of the Great Lakes region. They had to face adversity throughout the weekend, needing a double game point win over Indiana to take the pool and then a furious comeback to beat Michigan State in the semifinals.
Michigan State came out hot and had a 10-6 lead, looking entirely in control. But Illinois went on a 5-0 run and scored 7 of the last 8 points to walk away with a 14-11 win, setting up a match against Michigan. The game was close until the very end, with seven ties and little runs by both teams. But a late break sealed the 15-12 win for Illinois. Michigan was without captain Yonatan Rafael (hamstring) for the finals.
Women's
Lien Hoffman had an All-Star performance to lead Northwestern to a Regional title over powerhouse Michigan, 15-12. Hoffman had seven assists, three scores, and two blocks to take down the defending Regional champions. The game was a battle for most of the first half of the game, and was even tied after half at 9-9. But Northwestern started to get some separation and put it away with two late breaks.
Northwestern returns to Nationals after missing the show last season after placing fifth at Regionals.
D-III Open
North Park returns to the D-III College Championships with a 15-13 victory over Knox in the finals. Knox had beaten North Park in the Illinois Conference Finals, but couldn't come away with another victory in the game-to-go. Knox may be a team that decides to play more sanctioned games next year to look for a second bid for the Great Lakes region, considering how evenly matched they are with the Lost Boys.
METRO EAST
Open
Another year, another Cornell title. With their fifth straight Regionals victory, Cornell has solidified themselves as one of the most dominant teams at the Regional level anywhere in the country. They took down an overmatched Connecticut team in the finals 15-6.
We will have a full writeup of the game — and its significance — later in the day. But, suffice it to say, Metro East contenders have a lot of work to do before calling any year 'their year' considering Cornell's continued consistency and strength.
Women's
Ottawa came away with yet another Metro East title, but not without a furious challenge from a talented NYU team that took the Gee Gees to 11-9. The anticipated finals matchup was as exciting as expected, but Ottawa's big-game experience may have been just enough to tip the balance in their favor.
D-III Open
Stevens Tech will continue their impressive one-loss season with a 13-10 victory over Wesleyan in the Metro East finals. That set up an anticipated back door matchup between Wesleyan and SUNY-Fredonia. Wesleyan came away with the bid in a 13-10 victory.
NEW ENGLAND
D-III Open
From the four seed, Amherst looked dominant, upsetting D-III #1 Bentley 13-11 in the final to take the first of four bids out of the New England Region.
Bentley took down Middlebury on double game point for the second spot, Middlebury taking third. And Brandeis easily beat Bowdoin in the backdoor game for the final spot in Milwaukee.
NORTH CENTRAL
D-III Open
Despite a lackluster season (for them), Carleton College-GOP took the North Central title again this year with an undefeated run through Regionals, including two 15-13 victories over St. Olaf, one of those coming in the finals. Despite having three of last year's top six finishers at the D-III College Championships, the North Central region only got a single bid.
Northwoods Open Conferences
Minnesota took down Carleton 13-8 in the Conference final as the teams got a final warmup before Regionals next weekend. #1 ranked Minnesota is now 19-1 on the season, their only loss coming to Arizona in the President's Day Invite finals.
NORTHWEST
Open
Oregon easily handled their business, rolling through the competition to another Regional title with a 13-3 win over Washington in the finals. No surprise there.
The drama came in the backdoor bracket, as Washington dropped down to face Whitman in the game-to-go. Washington, who had beaten Whitman on Saturday in pool play, showed they were the better team with another two point win over the Sweets to head back to Nationals for the third year in a row. A weak regular season did not stop the Sundodgers from peaking at the right time.
OHIO VALLEY
Open
Pittsburgh cruised undefeated through Regionals to a matchup with two seed Ohio in the finals. They trailed for much of the game before tying it at 9-9 and then pulling away late to win it 15-11.
Ohio had no trouble dispatching Penn State in the backdoor game 15-5. Good season for Penn State, who beat Carnegie-Mellon and Cincinnati on the road to the game-to-go, but they once again find themselves sitting just outside of a trip to the College Championships.
Women's
Ohio State put on a clinic at Regionals, allowing a total of 13 points to be scored against them across seven games on the weekend. On Sunday, they allowed one point in each game (quarters, semis, finals).
Pittsburgh, the runner-up, had a great season and was ranked in the Ultiworld Top 25 for much of it. But they simply could not match Fever's firepower; Ohio State has the pieces to make a deep run this year in Madison.
D-III Open
With Kenyon out of the picture, the Ohio Valley region was a tossup. Xavier earned the one seed with a strong regular season, but Ultiworld's D-III Editor Jesse Moskowitz put his money on Lehigh, a team with Nationals experience.
Lehigh proved him right. They rolled through the tournament undefeated, capped off by a 15-2 win over Ohio Wesleyan in the finals. Both top seeds lost in the quarterfinals.
SOUTH CENTRAL
Open
Texas TUFF handled their business this weekend with four straight wins to take the South Central title. They took down Regional powerhouse Colorado 15-12 in the finals. This was the first time Colorado has not won the region since 2004.
But Colorado will continue their streak of Nationals appearances (16); they took down Texas A&M in the game-to-go, 15-11. A&M also faced Mamabird in the semifinals on Saturday, where they lost 13-15.
A tough finish for Texas A&M, who had good reason to believe they had a shot at Madison. But they really needed a third bid for the Region and didn't quite earn it. Taking down legacy programs like Colorado is very hard to do.
Women's
Despite an uninspiring regular season, Texas returned to form at Regionals and dominated the competition to take the lone bid from the South Central. They ended Colorado's impressive season with a 15-9 win in the finals. Texas ultimate (in all divisions) is on a hot streak!
Next weekend, the Southeast, Southwest, North Central, New England, and Northwest (Women's only) Regionals will take place.