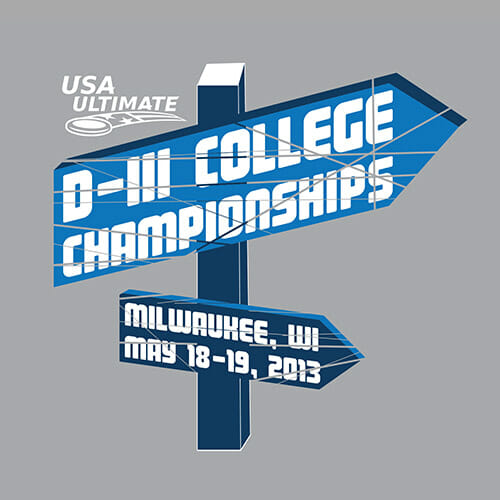 On the heels of the college series, everyone is abuzz with predictions about their favorite team's conference and region. Will Northern Iowa be able to play with the North Central powerhouses? Can Dartmouth steal one from Tufts or Harvard?
While you may not know it, the Division III college scene has been humming with similar bid battles, rivalries, and algorithm discussions. Here are some reflections and predictions on each and every DIII region.
ATLANTIC COAST [1 BID]
Anyone not named Wake Forest got hit hard by the news that the AC-III lost a strength bid in the final USAU rankings. WOMB is a perennial Nationals team and this year is no different. Led by Corey Casarella, one of the most well rounded DIII players in the country, this team has shown some of the strongest results of any DIII team. Universe losses to 25th ranked Carnegie Mellon and 38th ranked Delaware prove their ability to play with even the best DI teams in the country. They also posted 8 points on Florida State, a feat that Cornell, Dartmouth, Georgia, and Stanford all failed to do throughout the season.
Unfortunately for the Atlantic Coast, Navy and UNC-Asheville just missed the cut for bids, finishing the season 17th and 18th, respectively. Both teams were relative surprises in the DIII world this season; in 2012, Navy finished 6th at AC regionals while UNC-A finished 7th. However, both teams stormed onto the scene and should be fighting for a bid to the big show on Sunday. Navy posted impressive wins over Lehigh, Temple, and Millersville, while UNC-A has played close with quality teams like Princeton, Chicago, St. Olaf, and Fredonia. If anyone can dethrone WOMB, it'll be one of these two.
Don't sleep on Elon or Richmond to pull a Saturday upset, but if all goes as planned on Sunday, WOMB should come away with their third straight bid to Nationals.
1. Wake Forest
GREAT LAKES [1 BID]
North Park and Valparaiso are currently the only teams in the GL-III that have played ten sanctioned games. North Park sits at 21st in USAU's rankings while Valpo finds itself all the way down at 53. Yet there are 12 teams playing in three different conferences in the Great Lakes. Olivet Nazarene has played a couple of game but hasn't done anything impressive. Knox played at Kentucky Classic and lost to SUNY-Fredonia by only two, presenting an interesting wild-card for the North Park at conferences. Rose-Hulman is 10-3 on the season but haven't challenged themselves at all.
North Park is the clear favorite here. Coming off a semifinals exit at Nationals last season, Lost Boys had what some would consider a down season. They beat DIII opponents Missouri S&T and Grinnell at Midwest Throwdown and lost by two to Truman State. Additionally, they lost pretty handily to St. Johns and Michigan State at the Chicago Invite.
Last year this team flipped the switch come the series and they'll likely do the same this year. They play in a weak region but will probably play a few close games. Nonetheless, look for the Lost Boys to make a return trip to Nationals.
1. North Park
METRO EAST [2 BIDS]
The Metro East (aka Metro Least, Metro Beast) earned two bids to Nationals but not necessarily in the way many expected. Going into the season, Stevens Tech and SUNY Fredonia looked like two of the best DIII teams in the country. SUNY-Geneseo, on the other hand, was hardly a blip on the radar screen; in 2012, Geneseo finished 7th at conferences and missed Regionals entirely. The Ducks of SIT and Turtles of Fredonia held up their ends of the bargain, performing well all season and it seemed like with the aid of Geneseo's surprising performance at a snow-apocalyptic Uprising, the ME-III would steal a third bid. It was not until the last weekend of the season and a weak Saturday performance from Fredonia at Kentucky Classic that the ME likely lost their third bid.
Geneseo has been a team that has generated a great deal of contention this season. Their 7-0 performance at Uprising is tempered by horrible field conditions. Moreover, their insular schedule has been said to not reflect that of a top team in the country. If they want recognition, online commenters argue, they should have tested themselves against more DI talent and fewer Metro East teams. I don't necessarily agree with these arguments but I still question their ranking with respect to their results. One Metro East captain I spoke with mirrored these sentiments, saying that there are a number of other teams that scare him more than Geneseo come Regionals. Could a number of other ME-III teams beat Fredonia or play NYU to within 2? Time will tell.
The wrench in the equation here is Wesleyan, who will be taking the DIII route for the first time in a few seasons. Despite going 0-6 at the New England Open, there is no doubt that this is a talented team. Led by second team all-region cutter Mike Revelas and strong handler play, Nietszche Factor looks to assert themselves into the DIII scene. Regardless of their injuries or numbers, expect Wesleyan to be in contention.
Stevens is the safe bet to win the region. They're 13-1 on the season not counting the beating they put on High Tide Session II. I think the Ducks see Fredonia in the finals and handle their business as usual. SIT is disciplined and hard-working and they showed at Regionals last season that they can handle the wind. I like Fredonia to face Wesleyan in the backdoor game after Wesleyan fights off Geneseo. Dave Abbot will do what he can for Geneseo, but Nietszche will have too many weapons to compete with. A tired Wesleyan shouldn't stand a chance against Fredonia and they should come away with the win. Wind is always a frustrating wrinkle at tournaments at Saratoga Springs, so watch to see how Wesleyan handles conferences at the same fields. Throw a number of other underrated teams into the mix and ME-III Regionals should be a fun one.
1. Stevens Tech
2. SUNY Fredonia
NORTH CENTRAL [1 BID]
Poor North Central Region. Last year, three of the top six finishers at Nationals came out of this dominant region; this year we'll only get to see one even make the trip to Milwaukee.
St. John's earned the auto-bid for the region despite a disappointing start to their season. BAM finished 5th at DIII Warmup after coming in as the top seed, and followed it up with a strange 2-5 Huck Finn. They salvaged their season and played like the team we've come to know at Chicago Invite, going 6-2 with convincing wins over North Park, Northwestern, and Indiana.
Carleton GOP failed to earn a bid this season despite wins over three teams currently earning bids: St. John's, Pacific Lutheran, and Georgia College. Their close wins against Disconnected and Georgia B at Southerns certainly didn't help their cause and ultimately resulted in a 19th place ranking on the season. Still, I just get that bad taste in my mouth feeling that if the GOP plays Trinity or Xavier in a game-to-go, the North Central bubble team comes out on top.
The wild card here is St. Olaf, who finished tied for 5th at Nationals last season. The Berzerkers didn't play their first tournament until Southerns in late March where they lost three games on universe point. While these losses were disappointing, they came at the hands of three strong opponents in Towson, Oberlin, and GOP. Olaf will likely be the underdog coming into Regionals but don't count this experienced team out.
This region is a clear three horse race. GOP took it to BAM at DIII Warmup and I expect the same at Regionals. St. John's' inconsistency against Carleton's depth should ultimately result in a return trip for last year's National champs. This isn't to say that GOP has been a shining example of elite play this season, however they've been known to tighten their lines in the series. Moreover, whichever team has to grind out a win against St. Olaf in the semis will be at a stark disadvantage going into the final game. GOP takes it in one of the best regional games this season.
1. Carleton College GOP
NEW ENGLAND [4 BIDS]
This is one tough region. The NE-III remained consistent with one or two bids throughout the season due to the strong play of Bentley Icehouse and Brandeis Tron. It wasn't until late that Middlebury and Wentworth snagged two more bids. Bentley quickly established themselves as one of the best DIII teams in the country with tournament wins at UNH Spring Open and Awaken. They followed up these impressive results with a 5-2 New England Open with wins over Yale, Vermont, and SUNY Buffalo.
Brandeis had as impressive an 0-4 Spring Open as a team could have, losing four games to strong teams by a collective eight points. They would go on to lose in the finals of Woodside Invite to UMass-Amherst but play very well throughout the tournament.
Middlebury's path has been impressive, but interrupted by Bentley. The Pranksters' only loss of Spring Open was on universe to Bentley and their first game of New England Open was another tough notch in the L column to Icehouse. In both contests, Middlebury took half 7-5. Still, the Pranksters are confident that they'll win the rematch if the teams meet at Regionals. "We will not lose to Bentley again this season," said captain Davis Whitehead. Aside from these losses, Middlebury has played well, losing by only four to Tufts and beating Brandeis, Bowdoin, and UVM.
The final bid-earner for the region is Wentworth. Seemingly on no one's radar, Wentworth had a 3-5 Awaken but somehow finished 4th out of 24 teams. Their performance at Awaken is a good data point to use for examining the USAU ranking algorithm. While the team's record is unimpressive, their losses were quality losses, earning them points despite receiving Ls. Wins over UNH and BC certainly boosted their ranking, but close losses to Bentley, Bowdoin, Northeastern, and Queens-Kingston further bumped the team up in the rankings.
Rounding out a deep New England are teams like Amherst, Bowdoin, WPI, and Bates. Amherst showed strength out in California, losing to both GOP and Pacific Lutheran on double game point. If it wasn't for weak numbers and consequently weak results on Sunday, they could be earning a 5th bid for the region. Bowdoin has taken down Wentworth and they have an impressive four point loss to Michigan. WPI has beaten up lesser competition and played both Bentley and Wentworth close. All of this doesn't even account for the Bates debacle, which will surely be something to watch coming into conferences.
So, what do we make of four bids and a number of quality teams? I get the feeling that the three top teams should be able to hold onto their bids. Ranked #1, #5, and #6 respectively in USAU's rankings, Bentley, Middlebury, and Brandeis played at a different level than the rest of the region. I expect Bentley and Middlebury to face off in a final that matters only for Nationals seeding and for Bentley to take the game. Icehouse never takes their foot off of the gas and will be looking to firmly establish their dominance over the region. Brandeis should handle whoever they wind up with in a 2nd seed crossover game and meet Middlebury in a 2nd/3rd matchup. Middlebury, tired from their game against Bentley, fall and settle for third. I don't know if Bentley-Brandeis-Middlebury aptly reflects their talent in that order, but teams often play differently when they have bids locked up.
The fight for the fourth bid should be a good one. I don't think WPI's huck-heavy offense can sustain itself against top teams even with great play from Ryan Turner. They've lost to Wentworth and their schedule hasn't been tough. I'd say the same for Bates. As funny as it would be for them to roll the competition and affirm the wacky algorithm flaw, it just won't happen. I get the feeling that Wentworth is going to disappoint. Close losses don't cut it in games-to-go. Their win over BC is neutralized by a loss two weeks later and I get the feeling that they would lose to a more experienced team like Bowdoin. I'll take Bowdoin's ceiling over Amherst's lack of depth and take the Stoned Clown for the 4th bid.
1. Bentley
2. Brandeis
3. Middlebury
4. Bowdoin
NORTHWEST [1 BID]
The Northwest finishes the season with one bid to Nationals and one clear team to beat. Puget Sound finished the season 17-2 with their only two losses coming to UC-Santa Cruz and Western Washington. While they never got a chance to play Pacific Lutheran during the season, the two will meet at 12:30 on Saturday and sparks will surely fly.
Pacific Lutheran is likely the only team in the region that will be able to give UPS any trouble. Lewis and Clark and Reed both took big steps back from last season, more or less leaving the region with a two-horse race for one bid. Willamette posted eight points on UPS at PLU BBQ but showed average results otherwise. PLU, on the other hand, has performed impressively at times, going 6-1 at Trouble in Vegas and taking down Claremont at Warmup.
But I don't think Pacific Lutheran can play with Puget Sound. PLU does have a strong deep game and will perhaps have the most dangerous player in the contest in Mark Herzfeldt-Kamprath. The lefty has huge hucks and athletic receivers to throw to making him the player UPS must take away. They play with a ton of energy and they are as exciting to watch as any DIII team in the country.
However, UPS has intangibles. They are disciplined and well coached, they get contributions from their entire roster, and most importantly, they are unselfish. Each player knows his role and performs it to the best of his ability every time he gets on the field. That's tough to beat. Pacific Lutheran's O will keep it close but UPS will come away with the W and take the rest of their games comfortably.
1. Puget Sound
OHIO VALLEY [1 BID]
Kenyon College SERF, faced with the unfortunate dilemma of graduation falling on the same weekend as DIII Nationals, made the tough decision to go DI. While they don't stand much of a chance in a DI region that only has two bids, they had a legitimate shot at winning DIIIs. With SERF's departure, the region is left with a single auto bid, earned by Xavier BLOB. Xavier, a team I've personally overlooked this season, finds themselves with a lot of teams nipping at their heels. BLOB played a number of quality games this season, beating Mississippi, Vanderbilt, Eastern Michigan, and Tennessee. However, they've lost big to great teams. Six times this season, they've scored five or fewer points, all against top teams.
The rest of the OV-III is deep and tough to gauge. Denison, Wooster, Ohio Wesleyan, and Ohio Northern all faced off at the Firedogs Spring Invite where there was a ton of parity. Denison came away with the tourney win but everyone played each other within a few points each game. Oberlin had an impressive Southerns, beating St. Olaf and UNC-Asheville while losing close to Princeton and Rutgers. Denison lost by ten to UNC-A. Then there's Messiah who has beaten Navy en route to a Hucktastic Invitational tourney win.
Two other teams to keep an eye on are Lehigh and Dickinson. Lehigh has beaten Messiah and played within three points of Navy, Stevens Tech, and Dickinson. Still, they beat Dickinson along with UNH, Bowdoin and Ohio Wesleyan down at High Tide Session II. Yes, it's High Tide, but still impressive. Dickinson Jive Turkeys, on the other hand, have performed well for themselves, beating Temple and making quarters at Steakfest.
There's something about Xavier's results that are unsettling. The only tournament in which they've made quarters is Chicago Invite and it was only after a 1-2 finish in pool play. Their one win was against a severely underperforming EMU team and their prequarters matchup was an 8-6 win over Tennessee. They had two real wins at a windy Huck Finn and those were to Missouri State and a B-team. Their game with St. Johns got called at 5-0. Furthermore, two of their early season wins with Vanderbilt and Mississippi occurred on Sunday in loser's bracket play. I just don't buy that this is the 9th best DIII team in the country.
Call me crazy, but I'm in on Lehigh. This is a committed team who has been to Nationals before. They can hang with top DIII teams and they have the ability to score in spurts. Watching them beat up on Bowdoin and go on a 6-0 run to beat Yale 10-8 down in Georgia was no farce. The region is pretty open with Kenyon gone, but I'm going with my gut and picking Lehigh
1. Lehigh
SOUTH CENTRAL [3 BIDS]
"Who the hell is Trinity?" one of my teammates asked upon seeing the final USAU rankings. Trinity University finished 7th at Regionals last season but find themselves ranked 10th in the country right now. They earned a bid for the South Central with a 16-4 record and only one loss by greater than five points. They've beaten regional opponent John Brown as well as Missouri State, a team that took down both Harding and St. John's at Huck Finn. They also took down Texas-B, a team actually ranked higher than them in the final rankings, to win Heart of Texas Huckfest. The tourney win was the first in school history.
Luckily for the region, they picked up two bids from the preliminary results when the final rankings were released. Harding actually earned the auto-bid for the region with consistent play all season. They performed well against top competition at T-Town Throwdown then won HUX a month later. Despite going 3-5 and playing without many key players at Huck Finn, they lost close to Illinois and Iowa and beat regional opponent Missouri S&T. Harding is looking to get back to Nationals after being stunned by Rice in last year's conferences.
The third bid for the region was awarded for Truman State, who went 10-3 with quality wins over Illinois State, Missouri S&T and North Park. Truman will try to hold their bid and return to Nationals as they did in 2011. Unfortunately for TSU and the other bid-earners, a strong region awaits. Five of the top twenty DIII teams in the Nation come out of the South Central.
The first team that comes to mind is Rice. Rice performed fairly well at DIII Warmup, beating Pacific Lutheran and losing to UPS 8-10. They fell in the semis to UPS and only went 3-3 on the weekend, leaving a lot to be desired. While the rest of the top teams in the country traveled and earned bids for their regions, Rice was content to wait two months before logging another sanctioned game. They reached ten games with a local three-team round robin, but just missed the cut for earning their region a fourth bid. You can be sure Rice's coach, Drew Wendler, has had the team working hard in practice despite their lack of tournament play.
Upset-minded John Brown, Hendrix, and Air Force all wait in the wings as well, each showing that they can play well enough to steal the third bid. John Brown took Trinity to universe at HoTH, Hendrix is ranked 26th in the country, and Air Force dropped 10 on Oregon Ego at Colluvium.
With three bids, anything can happen. The South Central was home to last year's DIII shocker and I wouldn't be too surprised to see the third bid in the region go to any of a number of teams. Harding should play inspired ultimate all weekend and I don't see them dropping a game. I predict a rematch with Rice in the finals and while both the loser and winner will make Nationals, you can be sure both teams will be playing to win. This would leave a strong few teams fighting it out for the coveted third bid. Despite my soft spot for the up-and-coming Trinity team, I think Truman State pulls out the wins and takes the third bid. In Trinity's tourney win at HoTH, they barely squeaked by John Brown in quarters, beat a Tulsa team playing savage in the semis and a B-team in the finals. Those Sunday games look a lot tougher when the stakes are bids to Nationals.
1. Harding
2. Rice
3. Truman State
SOUTHEAST [1 BID]
Woof. Georgia College Disconnected is somehow one of only two SE-III teams to get to 10 sanctioned games this season, and in the process they've found themselves on the losing side of half of these contests. They're currently ranked 171st in the country and they're 6-5 against B teams on the season (though many of these games have been unsanctioned). Yet somehow they're the drastic favorite to win the region. In their defense they've gotten out to four tournaments this spring and found themselves in a tough pool at sanctioned Southerns. They performed impressively against GOP only losing by four, however there's not another especially notable game in their other 23.
Samford gave Georgia College a scare last season, beating GC by two in pool play before losing by three in the game to go. However, Samford has not played a game this season and isn't registered to play at conferences. Florida Tech and Armstrong Atlantic are the only two other registered teams and neither should give Georgia College a game. The SE-III is an unfortunate example of weak national DIII participation.
LATE UPDATE: All three teams were vacated to DI and Georgia College was simply awarded the bid to Nationals. That's rough news and frankly disappointing for a lot of more qualified teams in other regions. I'm not so concerned with the algorithm itself but you know you have a cracked bid allocation system when the 39th best DIII team is awarded a trip to Nationals before playing a game of the series. Despite the fact that no one has ever witnessed a player on GOP be upset, this has got to leave a sour taste in their mouth.
1. Georgia College
SOUTHWEST [1 BID]
Sitting at #17 in the country, Claremont earns the single automatic bid for this little region. Only five DIII teams participated at 2012 Southwest Regionals and of these five, only three have registered games this season: Claremont, Occidental, and Westmont. Throw in Cal-Tech and University of San Diego and the Southwest is complete.
The game-to-go will almost certainly be played between Claremont and Occidental. Westmont, who hasn't played since February, doesn't have any notable wins outside of B-teams and weaker Cal programs. They did lose to Occidental 11-8 at Warmup, but the game was played late on Sunday for third-to-last place and should be given little recognition.
The championship game between Claremont and Occidental will be interesting. The Braineaters had a fantastic Warmup, going 5-2 with two wins over GOP. They showed consistency and resilience, going down four breaks to start the finals but not giving up, making the game close in the second half. On the other hand, Detox had a weak Warmup, going 1-3 in pool play and giving up a huge second half lead to Connecticut College in their first game of loser's bracket play. At Trouble in Vegas, Occidental actually finished higher than Claremont, despite impressive showings from Claremont against Air Force and San Diego State.
I can try to hype this game up, but I believe Claremont will comfortably come out on top. Occidental's huck and pray offense can't keep pace with Claremont's disciplined unders and strong handler play. With so few games played, Braineaters Devin Drewry, Nathan Hall, and Abe McKay will have fresh legs and be able to run all over Detox. Last weekend Claremont took a scrimmage between the two teams 15-13 without four of their top players. Claremont's been in big games before. They should have no trouble returning to Nationals as an under-seeded sleeper.
1. Claremont College
Thoughts? Comments? Got a sleeper team that wasn't mentioned? Insider information on the top teams in your region? Active discussion keeps the DIII scene lively so let's hear it.