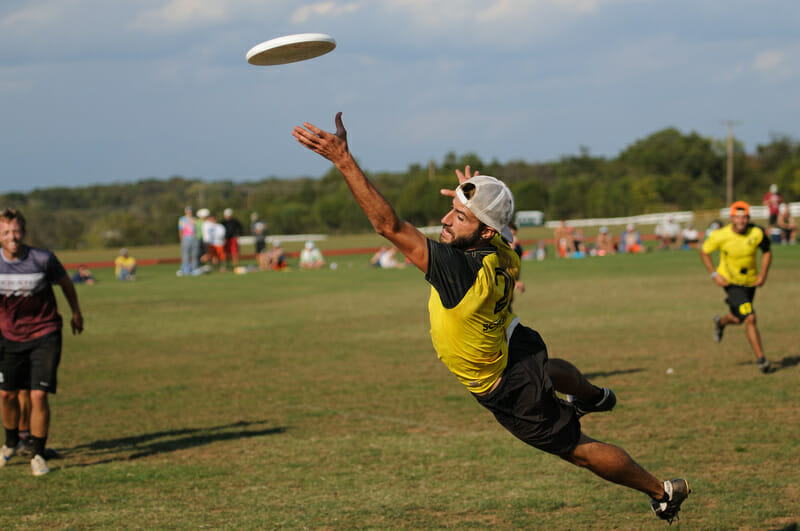 The Philadelphia area club team Southpaw will not return for 2013 after missing out on a bid to the Club Championships in 2012, Southpaw captain Trey Katzenbach told Ultiworld.
"We basically just came to the realization that we weren't going to be able to have enough guys to field a team that reaches the quality that Southpaw has had over the last three years," said Katzenbach.
Some of the teams stalwarts — Jake Rainwater, Greg Owens — had already expressed their decision to pass on returning this season, other players moved away, and still others — like out-of-towners Izzy Bryant and Lucas Murphy —   weren't likely to return.
Over the course of the last month, Southpaw core members met to discuss the state of the team and realized they just wouldn't be able to have a competitive team this season.
Last year, they struggled to have practices as a lot of players didn't fully commit and others were commuting into the city, typical problems for club teams around the country. Some players also felt that the team's stint playing as the Philadelphia Spinners in the AUDL hurt the team's chances in the USA Ultimate season, since they got a late start and had already physically worn themselves down.
"I personally don't think there's truth to that, but I think there are people out there that believe that," said Katzenbach. "We knew from the start that we were going to have to meld the two together, and I thought we did a good job…In many ways, I thought our 2012 team was better than our 2011 team." He did acknowledge that some players may have burned out after the extra long season, from April to October.
He said the issue was more that they didn't bring enough players to the Labor Day Championships, where they lost all of their games. They had just 16 guys fly out — and "not necessarily" their best sixteen. That performance left them just outside of earning the Atlantic Coast region an additional bid to Nationals, which likely would have gone to Southpaw. Instead, the Philly team lost to Truck Stop in a now-infamous game at Regionals.
"I guarantee you that with 27 guys we would have won some games out there and we would have earned a bid," said Katzenbach.
Now, the team's top players will splinter into different teams, as everyone makes a push for a bid to Worlds in this qualification year. Some will likely play on AMP, the top mixed team in the city.
But Katzenbach says he plans to try out for Truck Stop and take the best players with him. He's already talked with the Washington, D.C. team's leadership; they're on board.
"We're trying to put together a team that can win Nationals, not just make Nationals," he said. Last year, Truck Stop finished tied for 13th out of 16 at the Club Championships.
For now, the two teams continue to battle hard in Major League Ultimate — both the Philadelphia Spinners and DC Current rosters are home to many of the Southpaw and Truck Stop players, respectively.
As a side note, Katzenbach said that the decision to disassemble Southpaw was not due to the fact that they would have had to play in the Select Flight in the new USA Ultimate Triple Crown Tour.  "We were having a hard time last year getting guys out to practice, not knowing what [flight] we would be in," he said. "When I told USAU we would be declining our Select bid, I told them as such."
If a number of the best Philadelphia players decide to join Truck Stop, it would be another consolidation of talent in the club circuit, following in the footsteps of the hybrid Florida-Texas Doublewide team last season that won the National Championships.