The semifinals are set.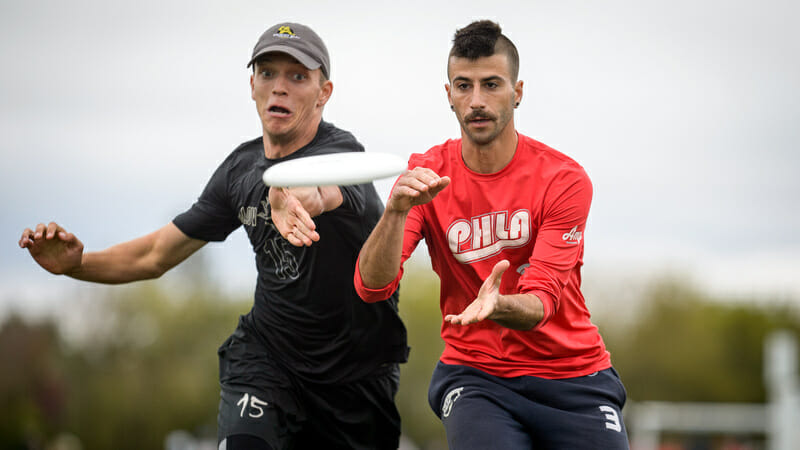 Ultiworld's coverage of the 2016 Club Championships is presented by Spin Ultimate; all opinions are those of the authors. Please support the brands that make Ultiworld possible and shop at Spin Ultimate!
Mischief Rallies Late Against Steamboat
In the best game of the Mixed quarterfinal round, San Francisco Mischief came back from a 9-8 deficit to score three in a row and earn a semifinals berth. Evan Boucher was unstoppable for them, contributing on seven of their 11 goals. Gina Schumacher, Devon Ray Williams, and Jackie Wang also played key roles for their offense.
Steamboat came out firing on all cylinders and marched to a 6-3 lead, but could not close out the half before letting Mischief back in it.  Mischief scored upwind out of half to tie the game at eight as Boucher found Williams. Steamboat held their ensuing upwind O point when Scott Schriner skied for a Nichole Kwee backhand, but Mischief followed suit as Boucher again threw the assist, this time to Wang. That made it 9-9, game to 11.
Cincinnati could not score their upwinder, with Mischief converting the downwind break on a Schumacher assist. On Mischief's first game point, Steamboat threw two hucks too far for their receivers to get, and on the second possession, Mischief works the disc with Williams and Jon Greenberg, who hit Brett Peterson for the goal and win.
San Francisco coach Tyler Grant made note of the intensity with which Steamboat opened the game. Mischief also had slow starts to their first two pool play games, and knew they needed to turn it on before Steamboat reached full speed. Strong handler defense from Williams helped earn turnovers that they converted into breaks. Grant noted the game was a team win, and they are playing as "one big family."
On Steamboat's end, Brittany Winner, Nancy Haskell, and Kwee all showed strong ability to break the mark and put the disc into space. Chris Powers and Joe Mozloom helped move the disc as well, with each throwing two assists.
Mischief will face a similarly veteran-laden Metro North in semi-finals tomorrow. Both teams have strong balance of height, throws, and chemistry, and should make for an interesting matchup.
Slow White Crushes AMP In Rematch
The division's top two seeds met in the quarterfinals today in a rematch of the Pro Flight Finale final. Slow White went 3-0 yesterday without facing much of a challenge, while AMP faltered in their game against Metro North and settled for second in their pool. AMP's strong suit of small ball offense proved difficult in the wind yesterday; today was no different. In contrast, Slow opened up the field with big hucks and long underneath cuts, and seemed less affected by the breezy conditions. Slow White went on to win 15-7
The Boston leadership mentioned before the game that they would focus on each and every point, never giving quarter regardless of the score. They knew Philly would look to use their handler corps to march down the field, and planned to bring extra pressure to the AMP backfield and force cutters to earn separation.  Slow also acknowledged their mental edge, having made semifinals last year while much of the Philly roster has yet to play in quarters. For this reason, Boston was especially eager to open up a lead early to see if Philly would let their nerves start kicking in.
Slow started on offense going downwind, and the teams traded holds through three points, though AMP had two upwind red zone possessions that they squandered on miscues. Slow's Lexi Zalk was able to find Tannor Johnson for upwind pay dirt; it proved to be just the start of a string of breaks. Boston's defensive strategy seemed to work, and Philly's usual quarterbacks were unable to connect with each other as often as they liked, and with cutters being fronted, they were forced to choose between narrow break windows and hucking, neither of which were working.  Slow White, on the other hand, couldn't seem to miss, and in a matter of minutes, it was 7-1 Boston.
If it ain't broke, don't fix it.  Slow White took this to heart in the second half and continued to fluster AMP handlers and resets, earning an upwind break right away and getting the downwinder two holds later.  With the score 11-3, the wind finally died down a bit, and allowed AMP to showcase their signature playstyle.  Their O line scored their last 4 points without a single turnover, but it was too little too late as Boston also tightened up their O lines and traded to the 15-7 win.
Several Slow White players contributed to their defensive success, but Shaun Doherty in particular stood out.  Todd Herman was unstoppable in the end zone and tallied four goals.  Jeff Smith moved the disc through the wind with ease and notched three assists.  Zalk, Johnson, and Vicki Chang all played key cogs for the Boston offense as well.
Slow White will face Minneapolis Drag'n Thrust in semi-finals tomorrow, a rematch of 2015 semi-finals.  These two teams have contrasting styles but have both demonstrated the ability to handle a variety of defensive looks, and should have a terrific battle to see who earns a spot in finals.
Drag'N Thrust Overshadows Mixtape Yet Again
Three-time defending champion Drag'n Thrust came out hot against a Mixtape team that just yesterday had proved themselves susceptible to giving up early leads.  Minneapolis broke four times to start the game and rode their experience throwing in Midwest winds to dominate Seattle up and down the field, 13-6.
Mixtape was actually able to twice earn upwind breaks during the game, but both times Drag'n demonstrated the mental fortitude that has been a hallmark of their program in recent seasons.  After Khalif El-Salaam scored twice to make the game 4-2, Brian Schoenrock threw a touch flick to the back of the upwind end zone intended for Sarah Anciaux but Mixtape's Jen Cogburn got up for the block…or so it seemed. Minneapolis captain and team USA member Sarah Meckstroth saw Cogburn tip the disc and, knowing there would be a second chance at it, laid out for the score.
The second Mixtape upwind break brought the game to 9-4, and it seemed like Seattle just might have a chance to flip the game's narrative on its head.  But again Drag'N responded with an upwind hold: Jeff Trosvig fired a massive upwind flick that Schoenrock was able to lay out to reel in. Drag'N broke downwind as soft cap went on, and four holds later, they were headed for their 5th consecutive National semifinal appearance.
Drag'N coach Tallis Boyd said before the game that their primary plan on offense would be to take care of the disc, but given the difficulty of the throws Minneapolis used, you would not know it. Trosvig along with brothers Austin and Jacob Lien threw one high release flick after another, sometimes as an attack into the end zone from the break side, sometimes to move the disc from the middle of the field to set up an easy break score.  Team USA member Erika Baken often seemed like she had no mark, putting throws into the break space at will, inside and around alike.  And Danny Collom was unstoppable in the red zone, tallying four assists, mostly on smooth throws to space for receivers to run on to.
Defensively, Minneapolis rotated matchups liberally, as teams often do in long strings of breaks.  They knew Mixtape would be focused on completing throws in the wind and giving receivers opportunities to make plays.  Their depth of athleticism allowed them to hone in on the Mixtape players running the offense, forcing some 50/50 discs that Drag'n was able to defend.
Drag'n will play undefeated Slow White in semi-finals tomorrow.  Slow White won their previous matchup at Pro Flight Finale, but Minneapolis has been looking quite sharp in this wind.  Boston will have to step up the defensive pressure to cool off this hot Minneapolis team.
Metro North Blasts NOISE To Reach Semis
After using their veteran throws and know-how en route to a 12-9 pool play win over tournament top seed Philadelphia AMP, Metro North used those same strengths against an outmatched NOISE and blew by them to a tune of 15-7. Andrew Bosco threw five assists and 12 different players scored, including Ben Ivers who snagged a Callahan in the rout.
Demonstrating their confidence in their offense's ability to move the disc against the wind, Metro North elected to receive going upwind to start the game.  That confidence paid off as they worked the disc for a score, opening the door for a downwind break to go up 2-0.  NOISE was shaken and Metro North took advantage with another pair of breaks.  Madison finally got on the board, but gave up yet another pair of breaks as Metro North took half 8-2. Connecticut started saving legs in the second half and the teams traded most points until Metro North broke once more upwind to close out the game.