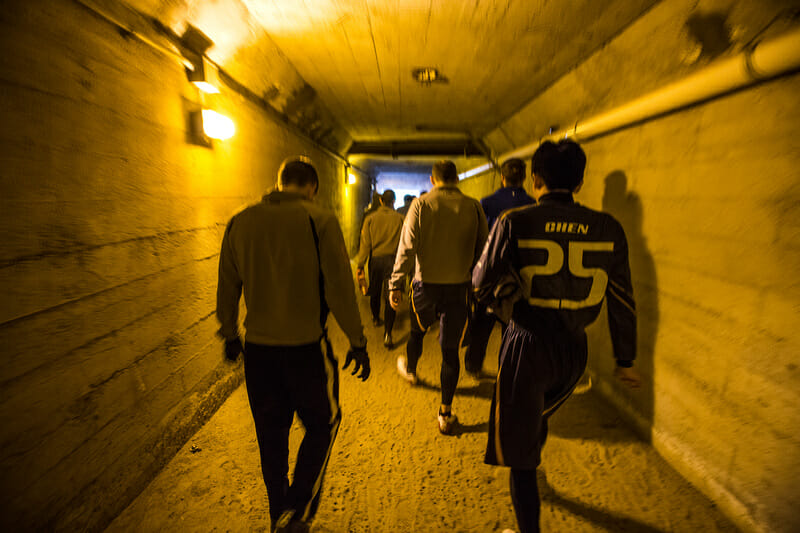 This is a pivotal week in Major League Ultimate, with a lot of action on the East Coast (two teams with a back-to-back) and a battle for 2nd place in the West between Vancouver and Seattle. With the playoffs looming not far in the distance, teams have to put it all on the line to get wins this week, or they could watch their postseason chances slip away.
Here's a preview of this week's matchups.
WESTERN CONFERENCE
San Francisco Dogfish @ Portland Stags
The Dogfish travel to Portland this week as they look to preserve their undefeated record in the Western Conference and move to 4-0. But this has all the makings of a trap game. Portland is 0-4, but has been playing much better ultimate in recent weeks. The Dogfish are coming off of a huge comeback win over the Rainmakers, the West's 2nd best team. Will they be mentally prepared to play the Stags?
Last week, the Dogfish played without many of their starters, including Beau Kittredge, Mac Taylor, Nick Schlag, and Ashlin Joye. That's a lot of firepower that could return this week (all were inactive, not injured). They'll need another big performance from Evan Boucher, who finished with three assists, a goal, and a block.
Portland only fielded 13 players last week, but got huge performances from Timmy Perston (8 goals, 2 blocks) and Cody Bjorklund (4 goals, 2 assists, 1 block). This counts for something extra:
[youtube NlLwbjnyGpY 600 377]
Portland desperately needs a win to have any hope of making the playoffs. With just six games to go, they may be playing more for pride than a shot at the postseason. The Dogfish will be looking to extend their Western Conference lead and move closer to clinching a playoff spot.
Vancouver Nighthawks @ Seattle Rainmakers
The Nighthawks return to Seattle for the second game of their four game season series. It couldn't come at a more pivotal time, as Vancouver trails Seattle by a half game in the Western Conference. A Nighthawks road win would put them in sole possession of second place and over .500 for the first time this season.
Seattle owned Vancouver in the first meeting, but gave up a late 5-0 run to make the 4th quarter interesting. Seattle has never lost at home to Vancouver in a single game format.
Seattle will need some of their stars to shoulder more load now that they will play the rest of the season without Seth Wiggins, who broke his hand last week against the Dogfish and will undergo surgery to repair it. Wiggins was the team's leader in blocks.
Mario O'Brien had four assists and two blocks against San Francisco.
Vancouver's Mauro Ortiz dominated last week, with nine assists on 46/48 throwing. Jordan Tessarolo added seven goals for the Nighthawks.
Now that teams have gotten the early season rust off, this game is a bellwether for the state of the Western Conference. Not only is it a rivalry game, it is a critical point in the season as the teams jockey for position in the standings. A 1-1 road split would be an excellent outcome for the Nighthawks, who face Seattle twice more, but both times at home.
EASTERN CONFERENCE
The Rumble (0-3) embark on their first back-to-back game road trip this weekend and badly need to come away with two wins. The team has been competitive in most of its games, but haven't been able to put it together. Two weeks ago, they turfed a disc just yards from the endzone to give away what would have been the game-tying possession late in the fourth quarter against the Spinners.
Last week, the Rumble had 11 drops — that doesn't even include their throwaways. That is not a recipe for wins.
The Current, conversely, are on the upswing after a gritty win in Philadelphia over their rival, the Spinners. Markham Shofner was outstanding for the Spinners, finishing with one goal, three assists, and three blocks.
This will be the first meeting between the Current and the Rumble. The two cities have historically played close games.
The Current look to get to .500 for the first time this season before the hit the road to Boston for a big Sunday game.
New York Rumble @ Philadelphia Spinners
[youtube Qd2Tvrw9Ol4 600 377]
On Sunday, the Rumble get another shot at the Spinners, who they nearly beat at home two weeks ago. The game was a battle, but turnovers (13) plagued the Rumble again, and an errant throw from Chris Mazur with just seconds left sealed the 19-17 win for the Spinners.
The Spinners will be looking to get back on track after a rough second half against the Current last week. Sean Murray was a bright spot for Philly, however, with four goals, three assists, two blocks, and no turnovers. He also made ESPN's SportsCenter's top 10 with a last-ditch effort for a catch.
A big key to this game: how will the Rumble respond to the back-to-back? In the AUDL, we've seen time and time again that teams underperform in the second game of their road trips. Tired legs, long travel times, and little sleep all contribute to poor play.
Realistically, the Rumble need to win both games to feel they have a shot at the playoffs. They will be playing hungry.
DC Current @ Boston Whitecaps
After their game against the Rumble on Saturday, the Current will hit the road to face the Boston Whitecaps. Their last game was one of the most exciting of the year in the MLU, with last second fireworks and a one-point win for the Whitecaps on the road in Washington.
Boston is certainly the favorite heading into this game, especially considering that DC will have to play a big game and then travel seven hours up the Atlantic Coast to face Boston just 16 hours later.
The Current have to find a way to slow down Peter Prial (4G, 5A) and Jeff Graham (4G, 3A, 5B), who hurt them badly in their first matchup. They'll also want another big performance from Tom Doi, who had three goals, three assists, and no turnovers in that game.
This is a big weekend for the Current, who can swing their entire season with two wins (or two losses). They know they have what it takes to beat these teams — can they do it on the road against the best in the East?
Boston will look to keep a hold of their undefeated record and move to 4-0.
RELATED: Week 4 MLU Power Rankings.