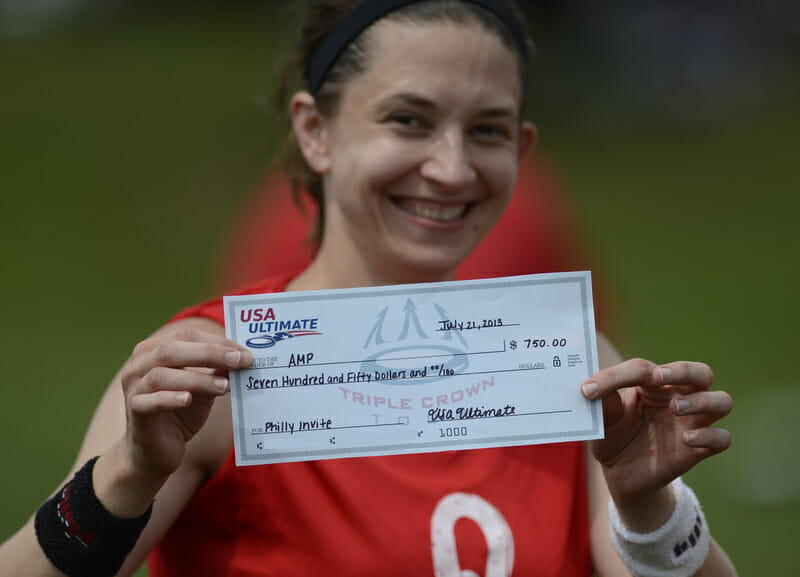 PHILADELPHIA — Playing at home, Philadelphia's AMP avenged a pool play loss in the finals, taking down Iowa's Chad Larson Experience 15-13 to take home the Philly Invite crown.
Chad Larson went up early. After pulling, Dan Brennan sprinted the length of the field to get a layout block on the first throw. With a short field, CLX punched in a score with one throw.
The stylistic difference between the two teams was immediately obvious. CLX was a little bigger and much more comfortable with putting up deep shots. In fact, all of their scores in the first half (except the one generated by Brennan's D) came from or soon after a huck.
In contrast, AMP preferred to work it quickly from side to side and then take advantage of out of position CLX defenders. Their attempts to go deep, more often than not, resulted in turnovers. When the disc was not overthrown, it was usually gobbled up by the tall Chad Larson defenders.
In the first half, AMP's failed deep throws allowed CLX to extend their lead.
When AMP tried to shut down Chad Larson's deep strikes with a zone, CLX showed themselves more than comfortable working it up the field with patience. AMP would not return to playing zone for the rest of the game.
AMP generated their first break off of a throwaway. AMP converted quickly with a long backhand strike pulled down in the end zone. This seemed to open the door for AMP's deep game. Afterwards, they were more confident going deep and less likely to overthrow their receivers. In particular, the AMP women were effective deep receivers. They ran down whatever was put up, bodying out their defenders to make the play.
AMP began generating more Ds soon after. They switched to a straight-up mark and worked hard to force CLX defenders underneath. This change in defensive tactics lead to breaks in more ways than one. It forced CLX to play AMP's game, weakening their ability to go deep. It also made the points significantly longer, wearing down the CLX offensive line. Though Chad Larson held onto a slim lead as the final points approached, the game's long points would come back to haunt them.
After AMP's string of breaks, the teams mostly traded points in the second half until CLX turned a drop by AMP captain Kevin "Bulb" McCormick into a break to make it 13-11.
On the next point, CLX brought their zone, but AMP worked it patiently up the field to score. 13-12.
On CLX's offensive point, an out-of-bounds huck gave the disc back to AMP and they converted quickly to tie the game at 13-13.
An early CLX overthrow would give AMP another chance to score. After calling a timeout on their goal line, AMP turned it over (converting out of time-outs was a real problem for them all weekend. They turned over every single first throw out of timeouts against Boston's Ghosts) and CLX made it all the way to the goal line and called a timeout of their own.
But a turfed disc gave AMP another chance at the break, which they took quickly, giving them their first lead of the game.
On AMP's game point, there was a slight tangle-up between CLX's Melissa Gibbs and AMP's Raha Mozaffari in the end zone. The disc bounced out of Gibbs' hands and she called a foul, but it was overruled by the observer.
AMP looked to end the game quickly with a deep strike to Mozaffari. She ran it down but was just short of the goal line. She dumped it back to a handler and AMP scored on an open side flick past a bidding CLX defender. AMP closed the game with a 4-0 run, using the late comeback to win their home tournament.
A key factor on the weekend was Philly's ability to play with a full roster. While most teams had to leave players at home (most dramatically, Montréal's Odyssée left ten in Canada), AMP was able to spread playing time around and wear out their opponents.
CLX captain Kevin Seiler cited his team's fatigue as a reason AMP was able to make their late-game run.
"Fresher legs have something to do with it," he said. He also compared their inability to stop AMP's comeback with their earlier games against Slow White and Odyssée. He pointed out that their D-line won them games, while their O-line squandered their lead to lose the championship.
"In the Slow White game, the D-line scored the final points of the game to get the win," he said. "Our D-line even got us the 13-11 lead we had in the AMP game that the O-line squandered. The difference in the finals as compared to the Slow White game is that instead of ending with a defensive run, we ended by getting broken on offense three times in a row."
Of course, CLX's offensive line is not filled with slouches; they return four players from their 2010 World Championship team. However, the fatigue was obviously a factor after AMP forced them to play many long points early in the second half. CLX isn't overly concerned with the loss, and they hope to return to defend their Worlds title. Seiler said, "Earning a bid to play in Italy is a major goal of the season this year, along with winning our first national title."
Though they won the tournament, AMP seems a little more conservative about their goals. Patrick Sherlock said, "Several of us had the opportunity to play at Prague in 2010 and we would love the opportunity to return to Worlds next year." He also noted that they started their campaign early this year, solidifying their goals in December and January.
Whether or not their leadership wants to come out and say it, AMP is clearly serious about earning a top spot at Nationals, maybe even winning it all. They'll get another crack at top competition at the Emerald City Classic in August.