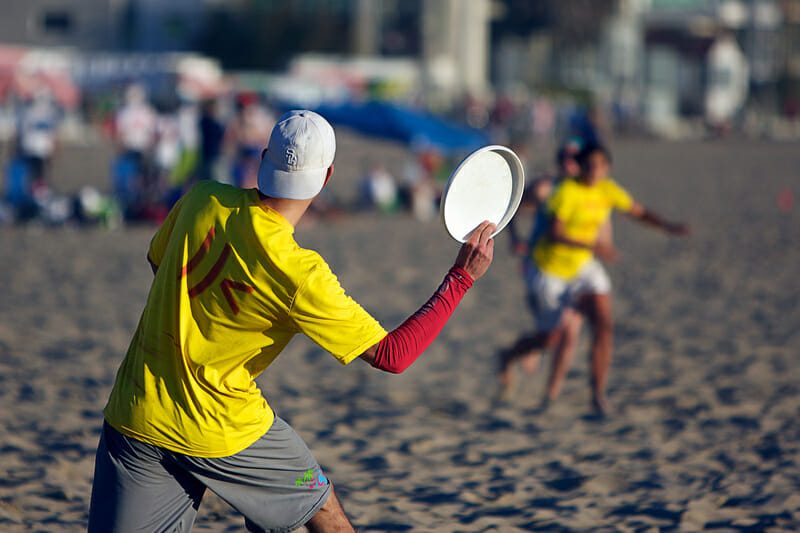 As the East Coast unwinds from another outstanding Wildwood weekend, beach ultimate has been on the mind. Although most participants play for fun, more competitive options are set to become available in the near future.
According to USA Ultimate board meeting minutes, a beach national tournament is on the horizon, with a "strong possibility" of it coming next year.
Many of the details of what the tournament would look like are still up in the air. There are many logistical decisions to make, including whether USA Ultimate operates their own event or they tie in to an existing beach tournament like Wildwood, Lei Out, or Sandblast.
The USAU Beach Committee, one of the newest in Boulder, has been considering how to structure the tournament. In January, they presented their goals: hosting a National Championship tournament, establishing media outreach, and coordinating with existing beach tournaments. Their longer term goals include hosting a playoff series, a less competitive division, and generally making USAU "the go-to place for all things Beach."
How close is this process to forming a National Championship?
"Between the college season, Triple Crown Tour, determining the optimal spot on the calendar is an ongoing process and we are currently working with WFDF on those kinds of details," said USAU Director of Marketing and Communications Andy Lee. "Not much more to report, but the simple answer is yes, USA Ultimate will be organizing a beach event in the future."
There is likely a long way to go. But USA Ultimate is committed to expanding the Beach Division, which they see as highly marketable. It draws immediate comparisons to volleyball's two forms: floor and beach. Beach volleyball has become one of the hottest sports of the last few years, finding popularity at the Olympics and now being classified as an NCAA sport. Some have suggested that beach ultimate could be a pathway for the sport's inclusion at the Olympics.
For now, USAU will be doing market research to find out who plays beach, and what they want out of their playing time. It does some like a natural addition to the calendar — it offers competitive players an opportunity to play mixed ultimate in a fun, summer atmosphere.