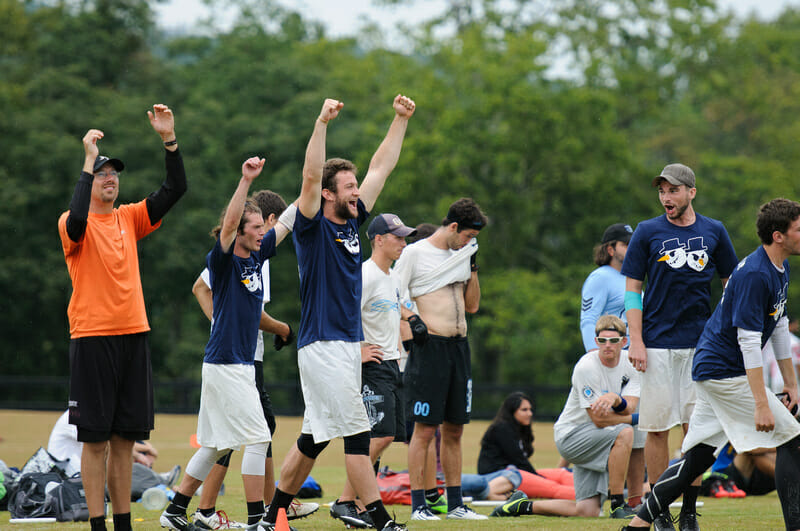 WASHINGTON — In a wild weekend of upsets and drama at the Chesapeake Invite, Minneapolis Sub Zero finished with the biggest stunner: a pair of victories over top seeded and #2 ranked Boston Ironside to secure the Chesapeake Invite title, their first elite tournament win in years.
It was a dominant finals performance: the Sub Zero offensive line was only broken twice as their excellent defense used a quick attack after turnovers to pile up six breaks against a Boston offense that rarely gave up breaks the rest of the weekend.
Ironside's defense was largely unable to generate pressure, especially towards the end of the game as a long weekend of games to 15 caught up to them.
"Today, they just had more legs and energy," said Ironside coach Josh McCarthy. "I mean, they outplayed us, but I think you could see us running out of gas."
Sub Zero's advisor and Carleton CUT coach Phil Bowen agreed that the wider margin of victory in the finals as compared to their pool play double game point finish was due to legs, not strategy.
Minneapolis opened the game with back to back scores, getting their first break after a layout block at the front corner of the end zone stifled an Ironside drive. Logan Weiss punctuated his score with a huge kick spike as Sub Zero took a 2-0 lead.
Ironside would respond after a series of offensive holds with two quick breaks to give them their first lead of the game at 4-3. The first break came after a rare missed look to Nick Stuart, who was dominant downfield for Sub Zero all weekend.
Sub captain Grant Lindsley and Bowen both singled out Stuart as a big reason for their success this weekend as compared to their 1-5 performance at Terminus last month. "He had a really good Saturday that kept us in games and allowed us to finish the day undefeated," said Bowen.
Stuart's contributions were significant, but the defense was the real key to Sub Zero's success. After Ironside's pair of breaks, Sub responded with a run through block from Danny Miesen and a huge hammer from Ben Feldman to retake the lead.
Three points later, Feldman would connect with Miesen in the endzone to extend the lead to two after Ironside's Jake Taylor threw away a swing pass.
Boston's Josh "Cricket" Markette did his best to fire up the offense on the ensuing point after catching a tipped disc in the back of the endzone, turning to UltiPhotos photographer Kevin Leclaire, and yelling, "I hope you got that, baby!" and spiking the disc.
It would prove to be too little, too late as Sub Zero broke out of halftime to take a 9-6 lead. The Ironside offense would give up two more breaks down the stretch as they ran out of gas to lose 15-10, their worst loss since falling to Revolver 15-10 in the 2011 Club Championship finals.
Notably, George Stubbs, Ironside's best player, did not play a point for them this weekend and they were missing starting offensive cutter Alex Kapinos. Peter Prial missed some points on Saturday with illness.
Defensively, Will Neff is still recovering from a broken wrist suffered during the Major League Ultimate season.
Sub Zero, on the other hand, was operating closer to full strength than any time previously this season. Lindsley, playing at the handler position with the absences of Simon Montague and Justin Lim, made their offensive flow significantly better than it was at Terminus.
"The handler motion was a lot better and the deep shots – I don't know if they were better, but we caught them," he said.
Lindsley may even consider staying in a handler role for the offense after the success of this weekend, although he said that part of the reason he was handling was that his "legs weren't ready to cut" after not playing much ultimate in the past two months.
He was excited about their performance in the finals. "It was the first game where we consistently shut a team down," he said.
"They're young and athletic and they have some really good team chemistry," said McCarthy.
Bowen attributed a lot of Sub's success to fiery defense. He pointed out Drew Mahowald, Nick Young, and Feldman as guys who really stepped up at Chesapeake. In the finals, recognizing that Ironside was looking tired, he said, "We decided, "Let's just play hard man and outwork these guys.'" The strategy paid off.
Now, Sub Zero heads to Chicago Heavyweights next weekend as Ironside looks ahead to the Pro Flight Finale in Davis, California.
Lindsley knows there is still work to do.
"I'm half super pumped," he said, "half a little bit worried we're going to get complacent."