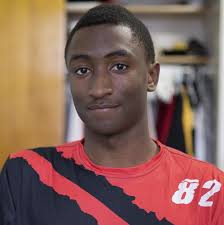 Quick, name the most famous YouTube star that plays ultimate.
You probably said Brodie Smith. However, a 19 year old college player named Marques Brownlee has quietly gathered a larger and perhaps more devoted following. His secret? It's not trick shots, it's tech specs.
***
Brownlee is not your typical YouTube celebrity. With a calm demeanor that cuts against the often grandiose characters on the site, he does a simple but immensely valuable service: he reviews technology products, offering insight into their features, their strengths and weaknesses, and their importance (or lack thereof) in the market.
Not sure what to think about the latest cell phone offering from Motorola, Apple, or Samsung? MKBHD, as he's known on YouTube, will tell you exactly what you need to know with no fluff or hype.
"For tech stuff, a lot of the hype builds itself," he told Ultiworld. "I prefer to let the video do the talking."
That approach has taken him from finding a way to kill time on his new laptop by making software tutorial videos in early 2009 to 460,000 subscribers (Brodie has 347,000 on his main account) and a high profile in the tech review community.
"I kept making videos for the same small group of people who were asking for different tutorials," he said. As the demand grew, he started getting more outreach from corporations. "A company would reach out and say, 'Hey, we'll send you our mouse if you'll review it,'" he explained.
***
A Columbia high school graduate, Brownlee burst onto the East Coast ultimate scene after his outstanding play with the AUDL's New Jersey Hammerheads this season. The team's points leader, he was also frequently their biggest playmaker. Additionally, he has been a big part of Stevens Tech's recent success at the college DIII level.
He puts his passion for ultimate on display in his videos in a subtle way: he almost always wears a jersey.
"I had an ultimate jersey on in my first video," he said, explaining that he is rarely caught without some sort of synthetic shirt on. "I get a lot of comments about it, because a lot of tech people don't know anything about ultimate."
He has started to expand his brand on Twitter (52.866 followers) and on YouTube with more insights into who he is. His popularity and subscriber base has grown gradually and organically, he said.
His work ethic, like Brodie's, has propelled him into the elite community of YouTubers. "The amount of time I put into it is equivalent to a full-time job," he said. He makes around three videos a week. He also thinks his attention to detail – he is always striving to improve his videos — is a plus in tech circles.
Given his viewership, he is able to make some serious money, but he says school is still his top priority. He understands, though, that it could be his full-time job after school, like it is for many of his "colleagues" on YouTube.
"The way it is now, it looks like it will be a really promising thing," he said.
He travels to big technology showcases like CES and is frequently using multiple brand new cell phones. Right now? His main phone is the Moto X, which he "didn't expect to be this nice." He also uses the Lumia 1020, but "just for the camera." He is an android user, because he likes the customization options (unlike what is available on Windows phones or iOS).
His fame on YouTube may well begin to bleed into his name recognition in ultimate. He lacks the hype of many star college players because he plays at the DIII level, but his Hammerheads performance should start to change that.
He could also end up getting a boost from a planned video with Brodie.
"We're trying to find a way to collaborate on something," he said. "It's obviously difficult to merge tech and ultimate into one bad-ass video."