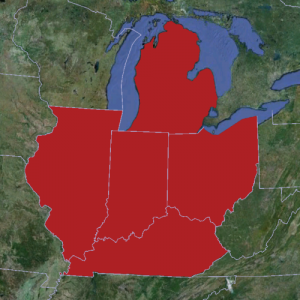 Since the Regional redraw, Great Lakes Regionals has been a relatively sleepy affair. The only seriously competitive game last year came in the finals between Chicago Machine and Columbus Madcow, the region's two stalwarts, but Machine, long the better team, came out on top 15-11 in a predictable victory.
This year, a young upstart team out of Michigan has breathed new energy into the region by playing crisp, exciting ultimate all season long and earning a second bid. High Five, which rose from the ashes of Overhaul, former Michigan elite Mixed team, really got noticed after an impressive performance at the Chesapeake Invite, which included wins over Raleigh Ring of Fire and Washington DC Truck Stop.
Despite High Five's successes, Machine is still the class of the Great Lakes region. Ranked #2 in the end-of-season rankings by USA Ultimate and #5 in Ultiworld's Power Rankings, Machine has continued to silence critics with big wins while playing their gritty, defense-first style.
After a dominant performance at hometown tournament Heavyweights (their closest game was a 4 point win over High Five in the teams' only meeting of the season), Machine headed out to Davis, California, for the Pro Flight Finale. While many called for their #2 ranking to drop precipitously after playing against the country's top teams, Machine put up one of the overall best performances of the weekend, notching wins over Austin Doublewide, Seattle Sockeye, and Atlanta Chain Lightning.
They would eventually fall to Doublewide in the semifinals, but they were only one of three teams to finish the tournament with just two losses (San Francisco Revolver and Toronto GOAT were the others).
Machine will come into Regionals as the strong favorite to earn the first bid to Frisco. With a handler-driven offense led by break magician Bob Liu out of the center, Machine has opened up their deep game with strong cutters including AJ Nelson and Jonathan "Goose" Helton. They are most dangerous when they are able to change angles on swings, catching deep defenders out of position.
Defensively, the team is adaptive, but, in Chicago style, likes to run an aggressive man.
In many ways, Machine is just fundamentally solid — they don't amaze you with superior athleticism or clever offensive schemes. They just play the right way and take advantage of your mistakes. That bodes well for them in their potential finals matchup with High Five.
High Five comes into the tournament seeded second after a thrilling comeback victory against Madcow in the Sectional final earned them the spot. They are a blend of veteran talent (including holdovers from Big Ass Truck, the former Michigan elite men's team) and rising young stars from the local college programs. True to the nature of a young team, they love to run and gun. Sam Greenwood. a junior at the University of Michigan, was one of the most impressive deep receivers at the Chesapeake Invite.
High Five is dangerous when they get into a rhythm, and their athletic defense gets fired up. But we saw at Chesapeake how the pressure of big moments is still a challenge for them. They had a late lead against Boston Ironside in the last round of pool play, but the offensive line yielded to the pressure and gave up a string of breaks that cost them the victory. It's a common challenge for a young team like High Five, but one they'll need to surpass at Regionals, where the pressure will be the greatest it's been all season.
They will likely face Columbus Madcow in the game-to-go. In the Sectionals finals, High Five trailed Madcow 12-9 before going on a 5-1 run to get the 14-13, hard-cap win. Back in late July, the two teams faced off in the finals of Motown Throwdown — High Five won that game 11-10. Their Regionals matchup is likely to be similarly tight.
On paper, Madcow is the weaker team. They went 0-7 at the Chesapeake Invite and are 0-2 against High Five. But they bring a wealth of experience and some big time playmakers, including 2013 Callahan nominee Mitch Cihon, a captain for Madcow, to the table.
The Columbus team has always been just a step below Machine and hasn't made Nationals since 2010, when they beat Sub Zero 12-10 in the game-to-go in the pre-redraw Central Region. Thanks to High Five's great regular season, however, they have their best shot at a return to the Club Championships.
A handful of other Chicago teams hope to play spoiler, including Haymaker, Chicago Club, and Beachfront Property. While Chicago Club may be the best known of the three thanks to their appearance at the US Open in July, Haymaker has been the better team and, with the Central Plains Sectionals win, comes in as the four seed.
Indianapolis' Brickyard, the five seed, may be the only other team with a shot at taking down one of the big three. They got some quality wins over mid-level Regionals competition at Heavyweights, though they did lose to High Five 13-8.