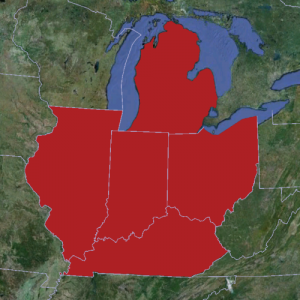 One of the features of the Mixed Division is its tendency to get a bit strange at the end of the season. Many mixed teams don't practice (or travel) with the same regularity as their men's and women's division counterparts. As Blackbird has proven two years in a row, winning a National Championship doesn't require a great regular season performance.
That could make for some fireworks in the Great Lakes. Indianapolis' Interrobang‽ is the clear favorite heading into Regionals. With just one loss on the season and some good wins over Minnesota Star Power and Cincinnati Steamboat, they have played well enough to creep all the way up to #13 in the USA Ultimate Rankings. Ultiworld's Power Rankings have them at #24, largely because they haven't played any top end competition.
Interrobang is a sign of the growth of Indianapolis ultimate, which has been accelerated by the AUDL franchise in town, the Alleycats. A handful of Alleycats, including offensive star Keenan Plew, play on Interrobang. They've been clamoring for attention this season with win after win, but they'll have their work cut out for them at Regionals.
Columbus Santa Maria comes in as the two seed. Last year, they were dispatched from the semifinals at Regionals by Interrobang in a nailbiter 13-12 contest. This season, the two teams haven't met, but Interrobang holds the clear advantage against common opponents. Santa Maria ran the table at Sectionals, notching wins over Michigan's Underhaul and Steamboat.
As the pools are currently put together*, Interrobang may face one of its toughest challenges in pool play. Underhaul, the two seed in their pool, has risen from the ashes of Overhaul, the former elite Mixed team out of Michigan that tended to dominate at Regionals. Last year, Overhaul beat Interrobang in the finals 15-3.
Underhaul is not the same team, to be clear. A number of Overhaul's men have joined High Five, the upstart Men's Division team that will be competing for a spot at the Club Championships this weekend as well. But Underhaul is still packed with veteran talent and won't be an easy out.
Interobang is still the favorite this weekend, but they haven't exactly had to face stiff competition throughout a weekend anytime this year. As we can see from their Regionals results last year, they are susceptible to energy fluctuations (which led them from a big 13-12 win over Santa Maria into a major letdown against Overhaul). Can they maintain a high level of play all weekend?
*This may change, since Underhaul beat Steamboat at Sectionals in the second place game. That should earn them the higher seed at Regionals, which would make them the three seed and put them in Pool B with Santa Maria.