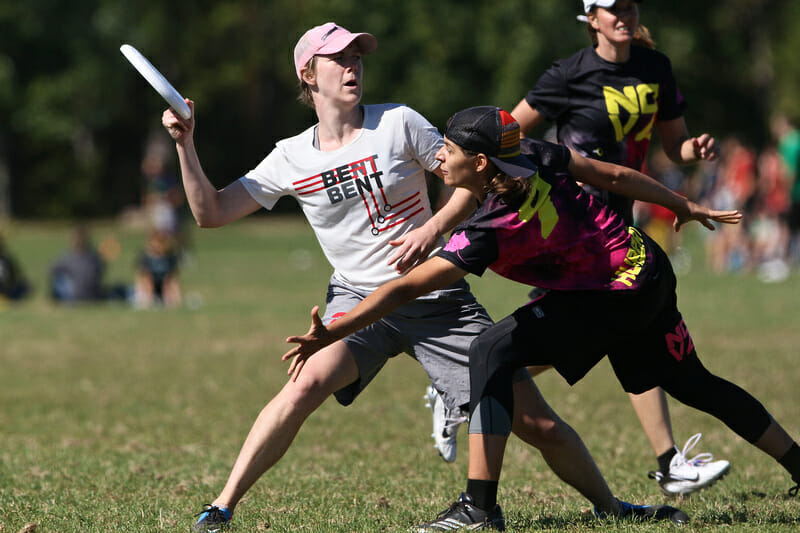 PoNY, Bent, and 7Express — the top-seeded New York teams in each division — all advanced to the Club Championships this weekend at Northeast Regionals.
PoNY's path was by far the most hair-raising, as they had to overcome a 13-10 deficit against Boston Garuda to claim the third and final bid to Frisco. Read the game story here.
***
Bent, the overall three seed in the Women's Division, was hoping for an upset over Toronto's Capitals on Saturday to claim the pool and a chance to face Boston Brute Squad in the finals. Unfortunately, Bent got in their own way, making too many mistakes to challenge Capitals and fell 13-8 to hold seed in their pool.
They easily defeated Quebéc's Nova, the #4 seed, 15-9 in a game-to-go before falling again to the Capitals in the 2/3 game, 15-10.
They should be facing a low three seed in pool play at the Club Championships.
***
After 13 years as a team, 7 Express finally punches their ticket to the big show!

— 7expressNY (@7expressNY) September 29, 2013
7 Express qualified for the Club Championships for the first time in team history, taking fourth place in a five bid region. They defeated the Boston Lions 12-8 in one of the many games-to-go, advancing to face Boston Wild Card for a chance to play in the 2/3 game.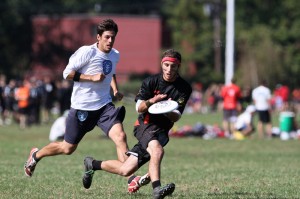 Having already claimed a bid, 7X's energy was low and they lost 15-5. A day before, they took Wild Card to 13-12 in the quarterfinals.
Ultimately, 7X needed two quality wins — one over a surprising Darkwing and the other against the Lions — to advance to the Club Championships.
SHUYAMOUF, the other New York-based Mixed team (and the team that earned the Northeast a fifth bid), came up short against Wild Card 14-15, a game that would have sent them to Nationals (and to face 7X in the 3/4 game). That bounced them down to the fifth place bracket, where they fell 15-14 to Pleasure Town, who went on to lose to Odyssée 15-6 in the game-to-go.
SHUYAMOUF had beaten Odyssée 15-12 in the first round on Sunday. It was a disappointing finish for the team after playing well all weekend long.