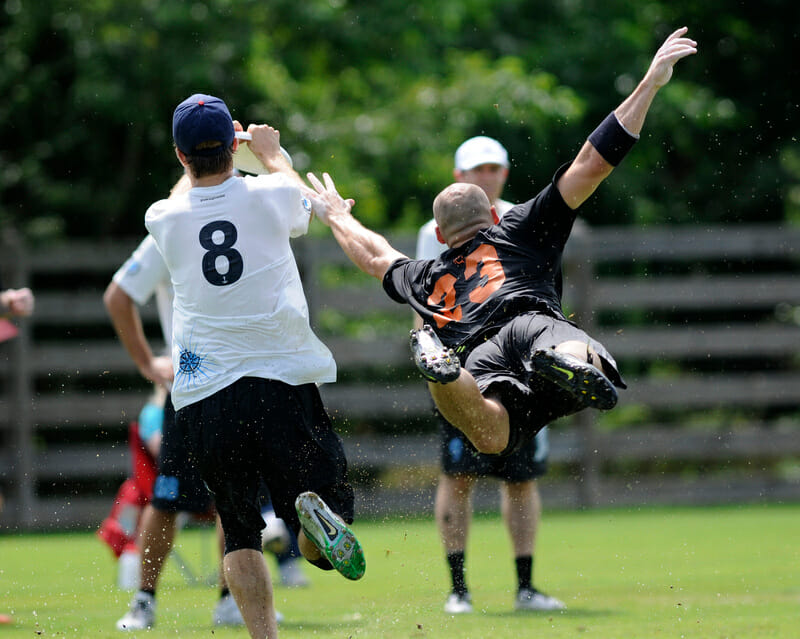 It may be easy to declare Pool D the infamous "pool of death" this year, particularly with the new reverse snake format placing seeds 4, 5, and 9 together. But if you want to watch any pool at Club Nationals this year, you may want to keep at least one eye on Pool C. Pool C has something that no other pool can come even close to claiming.
Pool C is the only pool in the tournament that has three teams that have appeared in semifinals within the last eight years. Oh, and Ironside, Doublewide, and Ring of Fire all made it to semis last year. You have to go all the way back to 2006 for another pool to meet that requirement. Chain and Johnny Bravo have both been to semis in the last five years and Furious George met Sockeye in finals in 2006.
So, while results thus far this season might not have looked superb for Boston and Raleigh, history dictates that Doublewide is far from a lock for winning its pool.
Doublewide Begins Their Title Defense In Deep Pool
The only team in elite Ultimate with the courage to be the Miami Heat, pulling any and all stars from wherever they can and acknowledging that raw talent very well may be enough to win the National Championship. That acknowledgment may be the best thing that happened to Austin's club. They are, after all, the reigning champs. No doubt that if Alex Thorne and Tyler Degirolamo have done enough to help Doublewide earn a three seed overall, then something must be working.
There are the same old staples for Doublewide in Mike Natenberg, Jeff Loskorn, Max Cook, Kiran Thomas, Dalton Smith, Kurt Gibson (who looked healthy and dangerous at the Pro Flight Finale), and a patient, disciplined vertical stack but new additions Thorne and Degirolamo will be important, especially in this shortened format. In Thorne, Doublewide's offense has a potent thrower to complement Loskorn's dangerous lefty throws and take advantage of Thomas and others' downfield athleticism. In Degirolamo, Doublewide's defense has yet another shutdown defender to complement Gibson and Smith who can also stretch the field to receive a patented Gibson bomb.
Will Ironside Shake Off Their Worst-Ever Regular Season?
The Buffalo Bills of the early '90s don't have anything on Boston's Ironside of the late '00s to early '10s. Year in and year out, it seems like the "always the bridesmaid, never the bride" cliché just can't get any older but, unfortunately for Ironside, they simply haven't been able to get to the top just yet yet despite years of excellence.
Surely, with this being Ironside's lowest seed at Nationals since…well… since they became Ironside in 2008, that storyline is out the window. Seeding-wise, they don't even appear to be a bridesmaid this season. Don't let seedings fool you though. Ironside has already marked victories against every team seeded above them with the exception of Johnny Bravo, whom Boston has yet to face this season.
Ironside is most likely only a regional victory away from finding itself in the top four seeds of the tournament yet again. While Boston's seeding could create some interesting early matchups, don't count on not seeing this team around late in the tournament.
Will Neff returning to the defensive line at Regionals made their post-turnover offense considerably more potent, and George Stubbs and the offense are looking more and more comfortable.
GOAT, who beat Ironside in the Regional final, conceded that Ironside may have even played the better game. The fundamentals of this team haven't changed: at full strength, they will be one of the tournament's best.
Will 'October' Ring Show Up Again?
Ring shocked just about every pundit out there with a semifinals appearance in 2012 and, after a strong US Open, they were one of the early season favorites to make a run at the title this season. However, with a less than subpar Chesapeake Invite (losses to Britain's Clapham United and Michigan's High Five, who didn't manage to qualify for Nationals), a strongly mediocre Pro Flight Finale (final record 3-3), and a disappointing Regional Championship loss to Atlanta's Chain Lightning (to give Chain the season series victory 2-1), Raleigh has fallen out of the national conversation and into the bottom half of the field coming in to Frisco.
However, there is more to this team than immediately meets the eye. With most of its roster returning from last year, bolstered by some recruits from UNC-Chapel Hill which performed admirably during the 2013 College Season, there shouldn't be much doubt that this a similar Ring to what you saw last year. Regionals saw Ring slice through all competition but Chain, winning all games 15-8 or better, including a 15-8 victory over first time qualifier Florida United.
Ring of Fire did it the same way they've always done it, with strong, aggressive and, particularly this season, intelligent defense, alongside an athletic offense that will take whatever defenses give and sometimes a little bit more. Certainly Raleigh doesn't lack in athleticism and individual talent either, three of Ring's younger members represented the United States on the U-23 World Championships team earlier this summer.
Note: The Ring defensive player pictured above, Micah Hood, is out for Nationals with a knee injury.
The Condors Return With Mystery On Their Side
Historically a team with power, speed, and know-how, the Condors have struggled to stay on the scene at USA Ultimate's highest level of competition. However, this year, Santa Barbara's best will be back at Nationals. This team has been flying under the radar for most of the season, not even truly in the conversation for the Southwest Region's second bid until they took it.
However, take it they did, with a decisive victory over San Diego Streetgang 15-8 (the Condors second win over Streetgang of the weekend, the first coming 14-10) in the game-to-go. But with the Condors coming on so late in the season, there isn't much information available about them other than what can be found on Score Reporter and their Facebook page. Perhaps most importantly, Steve Dugan is coaching this year's iteration, an addition that most likely has added volumes of knowledge to what is a pretty young sideline.
Santa Barbara has not fared well against elite competition so far this season, losing to Revolver 15-8, Madcow 13-8, and PoNY 13-10. However, the Condors did notch a victory over Florida United at the Colorado Cup, 13-11.
Pool Predictions
More than any, this pool might experience some upsets. Ironside is 1-1 against both Doublewide and Ring of Fire this season. Doublewide is 1-0 against Ring of Fire but that win came in a far from decisive 15-12 victory at the US Open. Each of the top three teams in this pool has the pedigree to pull off a win of the pool and there are going to be a 2 and a 3 seed from Pool B that will be disappointed that their prequarters matchup is with Pool C. These three games are far too tough to call with any semblance of certainty.
Unfortunately for the Condors, it just doesn't look like Santa Barbara has the horses to match up with the top three seeds in this pool. Santa Barbara has struggled with elite competition this season and, looking at the Condors sectional finals tape, the team struggled to win 50/50 shots against LA Renegade. It doesn't take a preview to show you that if you aren't matching up with LA Renegade athletically, you won't be fairing much better against Doublewide, Ring of Fire, and Ironside.