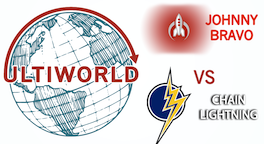 There will not be a matchup on Thursday in Frisco with two more storied teams squaring off than Atlanta's Chain Ligntning vs. Boulder's Johnny Bravo. Chain was founded in 1982 and has typically been a staple of semifinals (at least) for the last five years. Bravo was founded much later but has the second-longest active Nationals qualifying streak (second only to Ring of Fire); they have qualified every year since 2000.
However, Chain Lightning captain Mark Poole isn't going to be much concerned with history when these two historically titanic squads meet in Frisco on Thursday. As a matter of fact, there's a likely chance that he won't be concerned with the two teams' earlier meeting this season, which ended 13-9 in Chain's favor.
"[That game] was early. It was hot. It was in Atlanta," Poole said. "My memory is a little fuzzy but both teams were missing players with U23, World Games, and injuries so there isn't a lot of information that we can rely on three months later."
Bravo captain Ryan Farrell, on the other hand, took some lessons away from that first and only meeting of the season and from meetings in the past. "We had a pretty tough time slowing their offensive flow down," Farrell said.
Anyone who follows Atlanta closely can read between the lines of Farrell's comments, he's talking about the one thing that Atlanta is known for. That's right, the long ball. Or, to put it lightly, as Farrell did: "They're probably a little more risk tolerant than we are."
When asked about the persona that Chain seems to relish in, Poole had little to say to confirm or deny that Chain likes to huck more than your average Nationals team. "Gotta give the ladies what they want right?" he said.
Farrell and Bravo aren't fooled though, they know what they need to do in order to keep the game under their control. The boys from Boulder will be looking to their defense to make things difficult on the gunslinging Atlantans.
"We want to stop them off the pull," Farrell said. "Our priority is going to be to muck things up and make the game a little bit messier and slower and see if we can get them out of their rhythm."
A key cog in that "mucking" will be Bravo's newly acquired Nick Lance. Lance, a Callahan winner and member of Chain from 2009 – 2012, has been spending a lot of time on defense for Bravo. In college he was often featured in zone sets designed specifically to give him freedom to roam and use his athleticism and field awareness to make plays. Poole and Chain are acutely aware of Lance's capabilities both defensively and once the disc is in his hands; they will be looking to minimize his impact on the game.
"His anticipation and field vision are top notch so we'll have to work hard to keep him occupied and not let him poach," Poole said. "We know all too well about his offensive firepower so trying to take him out of the plays is going to be important, if that's even possible."
While each team has reviewed tape, scouted matchups, and discussed strategies, both know full and well that this game will transcend preparation to a degree. Chain and Bravo have similar styles of play that come along with being a group of experienced veterans backed by young athleticism. They played a very similar style of game last year in the Club Championships — lots of big hucks and huge, athletic plays.
That game — a 15-12 win for Chain — ended Bravo's hopes of reaching the quarterfinals and set Bravo on a new path
Poole did not say anything to discredit the idea that history will repeat itself. As a matter of fact, it seems that Chain Lightning is anything but worried about squaring off against the No. 4 overall seed in what could be a pivotal game for seeding into bracket play.
"The games [between Johnny Bravo and Chain] are always physical, athletic matchups but we respect those guys a lot and its the type of game we love playing," Poole said. "Thursday's matchup should be a great game and we are looking forward to it."
Watch the game LIVE and FREE on Ultiworld on Thursday at 1:30 PM Central, presented by Spin Ultimate. Follow all of the action — and the streamed games — on our Club Championships tournament page.