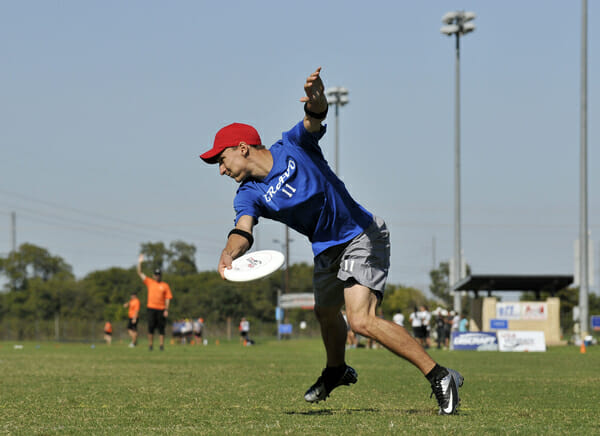 If winning the Club Championships is just a matter of getting hot at the right time, then it could be a very good weekend lying ahead for Johnny Bravo.  The Colorado-based club has been rolling over opponents in Frisco, in part behind a look-deep-first NexGen-driven play style.  Another part is that their NexGen pieces — like Jimmy Mickle, Eric Johnson, and Nick Lance — are executing creative deep throws and opening up space for the Bravo offense everywhere on the field.
Yet, as hot as Bravo is, they're still being perceived by most here in Frisco as the underdog heading into their semifinal matchup against the tournament's overall #1 seed, San Francisco Revolver. Upsets to #2 seed GOAT and #3 seed Doublewide (at Bravo's hands in the quarterfinals) means that the Revolver and Bravo matchup will feature the two highest seeds remaining.
The last time these two teams played, at the West Coast Cup, Revolver won 15-12 over Bravo.  But this is a new look Bravo team for a number of reasons: They have their offense flowing — key handler Josh Ackley is playing extremely well and throwing deep —  plus they've brought back some important pieces that were missing at that tournament (like Johnson).
The improvement is reflected in the scorelines at the Club Championships. While Bravo barely squeaked out wins at the West Coast Cup, they've won six games here by an average of six points per game.
Revolver Maintaing Possession as Well as Anyone at the Championships
Revolver has been equally dominant in Frisco, but has generated less buzz because of a slightly easier path into the semifinals.  Revolver was vulnerable at times the regular season, but the top of their roster is playing extraordinarily well at the Club Championships as Ashlin Joye and Beau Kittredge have been able to get the yardage and touches they want against teams here.  And while they might not admit it, they have to feel good knowing the other top two seeds are off the board.
Cassidy Rasmussen and Josh Wiseman have also been excellent, with Wiseman leading the team in goals scored while maintaing a completion percentage over 95%.  One of the interesting subtexts of the semis is that those Revolver veterans are going up against their former Worlds teammate, Bart Watson, who is now playing in a pivotal handler position for Bravo.
The expectations for the Joye-Kittredge duo is so high that ultimate fans expect them to take over, but those two have been accurate throwing the disc as well.  Each has completed over 93% overall, but, maybe more scary for opponents, they're both around 75% on deep shots at the Championships.
The long ball may be an interesting thing to watch for during the semifinal matchup. Overall, both Revolver and Bravo's offenses have been lethal all across the field.  But Bravo has preferred to play a bit bigger, both attempting more hucks per game and having their opponents match that huck-first style (which only plays to Bravo's athletic strength).  Could turning the game into one focused on possession play to Revolver's strength as the more experienced team?
| | Johnny Bravo | Revolver |
| --- | --- | --- |
| Pass Attempts per Game | 118 | 125 |
| Huck (>30 yard throw) Attempts per Game | 12.2 | 10.8 |
| Completed Hucks per Game | 9.2 | 7.4 |
| Opponent Completed Hucks per Game | 7 | 5 |
| Completion Percentage | 94.20% | 94.10% |
| Average Yardage per Completion | 9.3 | 8.2 |
**Stats in the above table courtesy of our group of volunteer stat trackers and presented by VC Ultimate. 
Some of the talk in Frisco is that, amidst all the regular season parity, we are still seeing lots of the same teams moving into the semifinals round.  That trend would seem to favor Revolver, the steady team with a pedigree and a history of being here.  But, even if they are the most consistent team in mens ultimate, Revolver isn't invulnerable.  The history of beating them (what little there is) suggests that a Bravo style team — who can win on speed and athleticism — will have a chance to capture the momentum and take control in the semifinal.