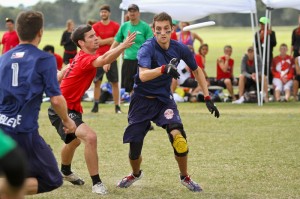 The AUDL's San Jose Spiders continued their run as the semiprofessional Ultimate team with the most impressive off-season this morning, as news broke that they were on the verge of completing the signing of Doublewide's Kurt Gibson.  Gibson, a national champion at both the college and club level, will give the Spiders three of Ultiworld's seven All-Club players from the 2013 Club season.  The Spiders will be one of the most top-end talented Ultimate teams in the world, either club or semiprofessional.
Ultiworld has now learned that the contract is official and Gibson will indeed be playing with San Jose this summer.
Beau Kittredge broke the news on his AUDL-sponsored blog at Skyd:
There are two reasons for [Kurt] joining this wonderful team:

One, he is a great player and he beat me last year in the Club Championships finals. (I do blame our coach Dutchy for this, he invited Kurt to play with Revolver at Worlds in Japan. In the third game, Kurt broke his knee in half getting a sick D and then slunk around our sidelines stealing all our secrets and learning our one weakness while making us listen to One Direction, which I am pretty sure is some sort of hypnotic mind ripper, cause it certainly ain't music)

Two, Kurt destroyed cancer and is now on the board of E.R.I.C., a fine cancer-fighting organization that is run by an outstanding group of folks. Luckily for the Spiders, E.R.I.C. is one of our major sponsors. The fit is perfect and my only hope is that the whole One Direction thing was a phase of adolescent rebellion.
Spiders owner Andrew Zill confirmed to Ultiworld that negotiations with Gibson were underway and expressed optimism that the sides were "close" to an agreement.  "This all started with a text message after Leiout from one of our non-profit partners asking if we'd be interested in Kurt playing with the Spiders.  I immediately said "heck yeah" and we worked out how to make it work logistically."
**An earlier version of this article was published before the signing was complete.  The article has been updated to reflect changes.