USA Ultimate has blocked Major League Ultimate from sponsoring team jerseys that will be used in USAU Championship events like the College Series, Ultiworld has learned.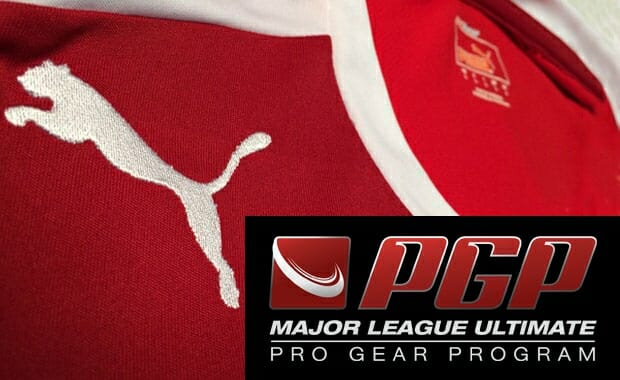 Earlier this month, Major League Ultimate announced a new jersey purchasing program through their gear supplier, Puma, that included discounted uniforms for high school and college teams in exchange for accepting a small MLU logo on the sleeve of the jersey.
But that sponsorship opportunity may be dead before it ever really got off the ground, as USA Ultimate has blocked MLU as a jersey sponsor for any Championship events, which includes the College Series, high school state tournaments, and more.
Immediately upon hearing about the MLU's jersey sponsorship deal, USA Ultimate sent out an email to teams reminding them that all potential sponsors with logos on any of the team's apparel would have to be approved by USA Ultimate.
George Mason, the first school to sign up for the MLU's Pro Gear Program sponsorship, contacted USAU about the MLU sleeve logo. They were told that the MLU was not an approved sponsor.
"We reserve the right to prohibit the promotion of any brand that is in conflict with USA Ultimate's programs, sponsors, or our mission," said USA Ultimate Director of Communications Andy Lee. "We will not spend any of our resources on the MLU or any other brand that is in conflict with USA Ultimate's Triple Crown Tour."
USA Ultimate's official jersey guidelines read:
[quote]USA Ultimate reserves the right to alter, or require a team to alter, a team name, player or coach nickname, team logo, jersey graphic, or uniform and/or suggest alternatives at or in conjunction with a USA Ultimate program or event should USA Ultimate personnel determine that the existing name, logo, graphic, or uniform might hinder the mission of the organization or the goals of a specific USA Ultimate program or event. This includes, but is not limited to, sexual references, profanity, drug references, and any discriminatory language or graphics. Alterations must meet with the approval of USA Ultimate personnel.[/quote]
MLU is upset about the decision, though multiple officials said they weren't entirely surprised.
"We are very committed to supporting young ultimate players," said MLU Vice President Nic Darling. "The Pro Gear Program was one of our first forays into that…We're disappointed that USA Ultimate has decided to disallow this sponsorship that we set up."
USA Ultimate clearly sees the MLU as a direct competitor for athletes, events, and overall ultimate branding. Lee called the USAU decision "simple marketing."
"We're not going to actively promote a brand that conflicts with our Triple Crown Tour," he said.
MLU officials downplayed any competition between the organizations and said the products are entirely different, and that blocking teams from MLU sponsorship seems antithetical to USA Ultimate's mission of supporting its athletes.
"We're doing pro ultimate, and they're doing club ultimate and the Triple Crown Tour," said MLU Commissioner Jeff Snader. "And to think that they would deny us making jerseys cheaper for high school and college kids just doesn't really make sense to me."
USA Ultimate emphasized that they are entirely supportive of Puma's involvement and their decision to offer discounted pricing to teams.
"If they [MLU] want to do programs that support ultimate players, that's good too," said Lee. "What we're talking about here is whether or not we're going to allow teams to promote the MLU at our Championship events."
MLU plans to continue offering teams the same sponsorship deal, or potentially one that foregoes that sleeve logo and instead asks teams to wear an MLU armband or headband when they are playing outside of USAU Championship events.
For the teams that have already ordered jerseys with MLU sleeve logos, USA Ultimate is working to find a solution. Snader said that they suggested just covering up the sleeve logo when necessary, but that USA Ultimate said that wasn't an acceptable arrangement.
Snader said that, despite being told that USAU events wouldn't allow the sleeve logo, some teams have asked them to place it there anyway.
"More than half have said, 'Screw it. Put it on there. You're supporting us,'" said Snader.
USA Ultimate hopes to find a solution that doesn't require teams to purchase a new set of jerseys.