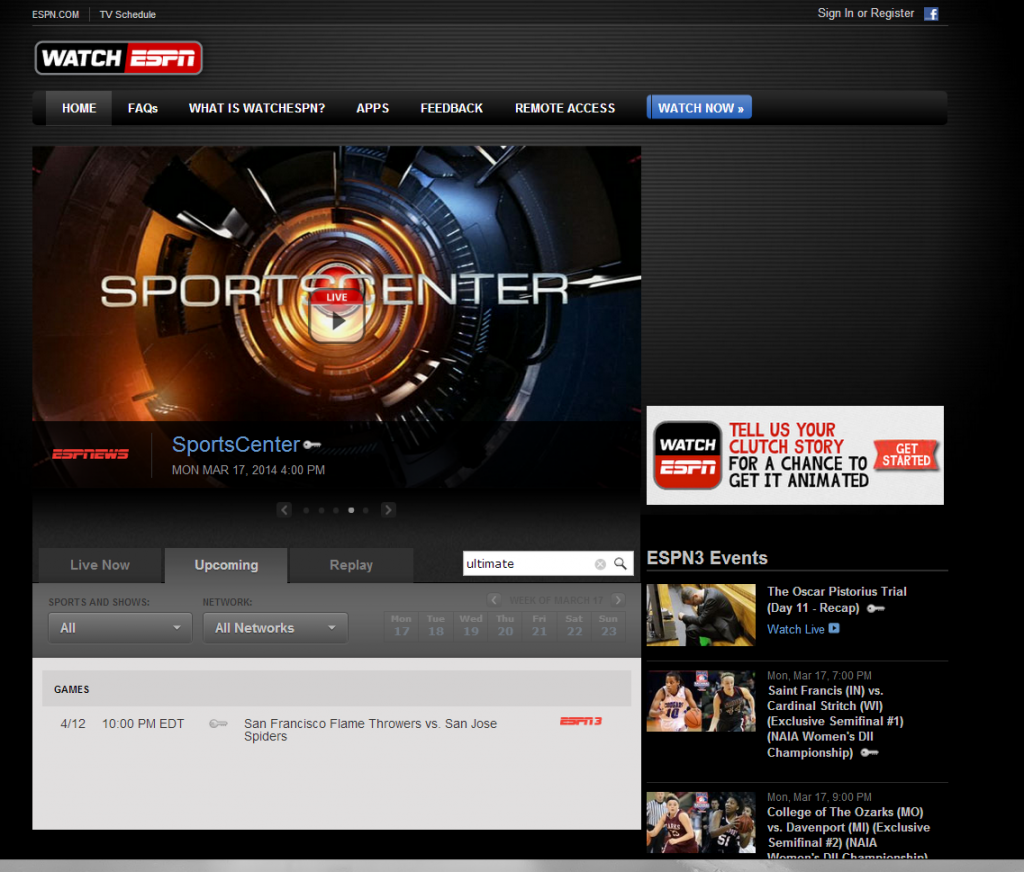 According to screenshots on ESPN3.com, the American Ultimate Disc League (AUDL) will have its April 12th game between the San Francisco Flame Throwers and the San Jose Spiders broadcasted on ESPN3, the online streaming platform for the world wide leader in sports.
The move comes almost exactly one year after USA Ultimate announced its own partnership with ESPN3. During that time, ESPN has provided live coverage of the USAU College Championships, the US Open, and the USAU Club Championships. The April game between the Flame Throwers and the Spiders is the only AUDL game currently listed in the upcoming section of ESPN3.com, but Ultiworld expects that a finalized deal will include regular broadcasts.
When reached, the AUDL said it had no comment on the screenshot and would neither confirm nor deny an ESPN contract, potentially suggestive of a sitaution where the deal or deal specifics are still awaiting finalization.
The AUDL's semi-professional league rival, Major League Ultimate (MLU), had significantly more exposure during its inagural season last year on both the ESPN family (mainly through highlight plays) and through a broadcast parternship with the Comcast regional network in Philadelphia, where the MLU is headquartered. While the extent of the AUDL and ESPN parternship is as of yet unclear, any deal with the sports megagiant has the potential to shift the Ultimate landscape for the players, leagues, and fans.
Stay tuned to Ultiworld for more coverage and analysis of this breaking news.