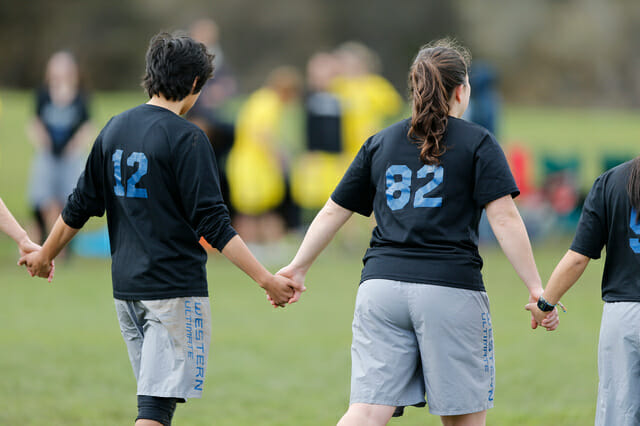 Western Washington's run to the finals of Stanford Invite started in an unlikely place: the Stanford Open. WWU Chaos spent 40 hours in the car to beat out ten other teams hoping to win an opportunity to play in the Invite. Chaos tore through opposing teams, coming out of the weekend with a 7-0 record and eager to take on another level of competition.
At the Stanford Invite, Chaos didn't lose a step, relying on their self-described scrappiness and ability to keep the mood light. Their only losses came from two top teams in the nation, Central Florida and Oregon. Even in those games, Western Washington maintained their intensity, and proved their staying power against elite powerhouses.
Now, seemingly out of nowhere, Western will be headed to one of the nation's most competitive tournaments as a favorite, the #4 ranked team in the Ultiworld Power Rankings.
They Make Chaos
Callie Mah and Abbie Abramovich lead a squad of dedicated players with Seattle youth and junior worlds experience. Mah's time playing with Riot, Abramovich's with Mental Toss Flycoons, and Jessie Thoreson and Tiffany Phan's training with the Junior Worlds Team lends a diversity of ultimate experience to Chaos' roster. Mah — the team's Callahan nominee — has seen her star rise with her team's, vaulting her into the award conversation. The "Calliehan" campaign is already well underway on Twitter.
Bringing these players together with a cohesive strategy is the job of an experienced group of coaches: Alyssa Weatherford, Bren Byerley, and Pauline Lauterbach. Abramovich says that the coaching staff does "a great job keeping us focused and excited, no matter the score." Weatherford in particular has provided guidance since her graduation from WWU. She draws from her years as a Chaos player to ground the team in tradition, and her years playing on Seattle's Riot for advanced strategy and techniques. The team's leadership gives her the credit for bringing "a very wide range of talent and turn[ing] it into a scrappy defense, and an even scrappier offense."
"[Coach Weatherford] constantly tells us to keep playing until the disc hits the ground or the point is over," said Abramovich of how the team hones the undefinable scrappiness. "We also start most of our practices with flutterguts and end throwing blades at each other."
Northwest Challengers
Teams from the Northwest may travel far to find competition, but Regionals brings toughest games of the season to their doorstep. This year, we get a preview of these matchups at the Northwest Challenge, held in Seattle and Puyallup, WA.
The tournament will be played in a different style with scheduled games instead of pool and bracket play. Western Washington will play seven elite teams, four of which they have previously beaten this season. They won't have the chance to come in as the underdog, but Chaos has shown an ability to keep cool under pressure. Teams like Washington and Stanford will be gunning to take down Chaos to get revenge for upsets at Stanford Invite, so this tournament will be essential for the upstart team to show they can sustain their success.
Two of Chaos' three losses this season are to the reigning champions, Oregon Fugue. Chaos captain Abbie Abramovich acknowledges Fugue's physical dominance, calling them "the most athletic team in the nation." There is no championship bracket at Northwest Challenge, so Western Washington won't get the chance to play Oregon this weekend and see how the matchup has progressed.
The Showcase Game on Friday night will be between Oregon and Washington, the 2013 and 2012 national champions. Chaos' Saturday morning game against Washington Element will give Western Washington the chance to prove they belong in the showcase game next year.
Raising The Bar
The Northwest has the strength to qualify for as many as six bids to Nationals. As the second ranked team in the region, Western Washington is in a great spot to earn one of these bids. Northwest Challenge sits in between the frenzy of Stanford Invite and the intense competition of Regionals, as the perfect opportunity to prepare and work out the kinks. Chaos will get the chance to see competition like Stanford and Washington, who they beat at Stanford Invite, but were missing key players due to injuries, as well as new competition like Ohio State. Abramovich says that Chaos is preparing like they would for any other tournament, and using the games to get ready for the series.
Western Washington has built their success on playing athletic ultimate that's imbued with hustle, while keeping the mood light and fun. They have the elements of success in stars like Callie Mah and Abbie Abramovich, a team that plays with a high degree of trust, and an accomplished coaching staff. Their wins against elite teams have raised expectations, and Northwest Challenge gives them a perfect opportunity to fulfill their potential. It will be an exciting thing to watch.
Watch Western Washington LIVE this weekend at the Northwest Challenge on Ultiworld.