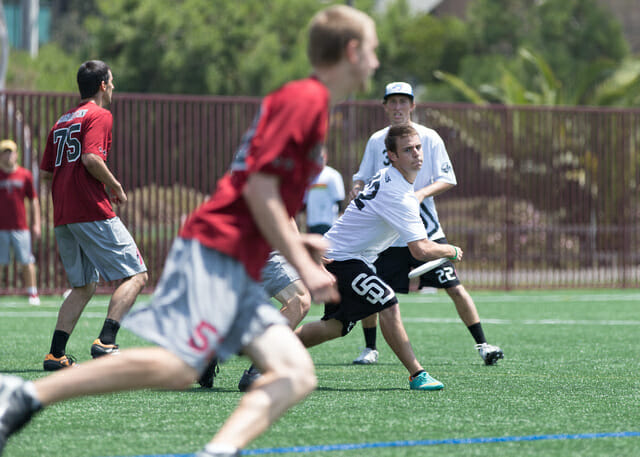 It's that time again for the college series to start up, which means that as per usual a handful of Southwest teams will have to grind it out to earn one of the region's precious bids to Nationals. The only thing that's different about this year is the fact that just one team will make it.
For the first time since 2007, when a Colorado team took the sole spot and fell only to Wisconsin in the finals of the College Championships, the Southwest Region earned just a single bid to Nationals this year.
Though the rankings have yet to be finalized, with only UC San Diego (#12) in the top 20 and Arizona State (#22) dangling a precarious few spots away from earning another strength bid, unless some teams get disqualified or some sanctioned tournaments pop up out of nowhere, the region looks to be in for a bloodbath at Long Beach come the May 3-4 weekend.
Sure, UCSD looks to be the easy call, particularly since they have yet to lose to a team within their region this season, but as Michigan's recent stunning upset at Easterns once again shows: nobody is safe. The Air Squids will have to fight their way through a host of teams that have had their sights on UCSD all season long. And it may not be as surprising as one would think if any of the five or so teams that have a legitimate shot at taking them down find themselves with a ticket to Ohio by the end of that Sunday.
The Southwest Region has six teams in the top 35, including the Air Squids, and each one of them has shown throughout the season that they have the talent and grit to give any opponent a tough game. This may seem a bit curious, maybe even suspicious or unfair, but as history indicates, it's pretty much par for the course.
Just about every year, walking around the sidelines of regionals and talking with various players and coaches, one is bound to hear the same general talk of how the region got screwed out of its due respect. If there's two bids, they speak about how the loser of the backdoor could put up a fight against anybody. If there's three, then there's talk of how the team that finished fourth could've easily qualified if the rankings weren't so messed up. Four? Should've been five. And so on.
Which is not to say the region is just some pouting child, always crying for more but never working to earn it. Every year, a crop of Southwest teams rack up their fair share of wins against tough squads in other parts of the country. The best teams may change every year, but the top competition in the region is always strong.
To be fair, though, with the exception of a few choice runs in the last few years by Stanford, UCSD, and Cal, the Southwest often just doesn't match up that well against the powerhouses of the nation: the Mamabirds, the Hodags, and the CUTs. The region's teams may be able to snag a few wins here and there against some elite programs, but most years, they honestly just don't have too much of a case for more than a squad or two breaking into the top 15 or so, whether you use USA Ultimate's algorithm or have a group of analysts devise a set of power rankings.
That doesn't mean they don't routinely have somewhere between 2-8 teams in the top 35. Just that most of them are hovering in the 15-30 range, which may qualify them as damn good teams in their own right, just not good enough to earn them extra spots at Nationals. Especially if they're just going to wind up finishing in the bottom half, as they often do.
All of which is to say that, although it may be unfortunate that the Southwest habitually finds itself in a similar situation as it does now, with a number of quality teams fighting for a few spots — or spot, in this case — it would be tough to make a solid argument that the region got shafted out of its proper due.
Sure, maybe teams like ASU, Stanford (#25), Cal (#28), Las Positas (#32), and UC Davis (#34) are as good or better than some of the shakier teams that made the top 20 like Brown (#13), Massachusetts (#17), or Tufts (#20). (Particularly in the case of, say, Brown, who only went to two low-level tournaments, played only one team in the top 40(!) in Luther (#23) and got spanked by them 8-15, and somehow gets ranked 13th.) But couldn't the same be said for other teams that missed the top 20, like Luther, LSU (#35) and UBC (#24)?
With the exception of maybe Stanford, none of those Southwest teams has put forth enough strong performances against top competition to prove they deserve to be thought of as among the nation's elite.
ASU went 5-4 at Warm Up: A Florida Affair with most of their wins coming courtesy of lower bracket teams like Georgia Tech (#56) and South Florida (#77) Prime also had a somewhat disappointing 15th place finish at Centex despite beating Wisconsin (#15), due to losses to LSU, Iowa State (#31) and Cal. UGMO fared slightly better with a 12th place finish in spite of only winning two games, though one of these victories was against Minnesota (#5). Yet, this was something of a letdown after the growth they showed at Pres Day and Stanford Open, particularly in the wake of their lukewarm 3-4 showing at Stanford Invite.
And despite Las Positas and UC Davis' strong performances at Stanford Invite, where the former got off to a slow start but then nabbed Sunday wins against Central Florida (#18), Harvard (#9) and Texas (#3) and the latter won their pool and made it to semis after besting region rival Stanford in quarters, neither has attended a follow-up tournament to prove that such performances were no fluke.
For, this mixed bag of occasional victories over elite teams and curious losses to less dominant squads doesn't make too strong of a statement.
Stanford, on the other hand, has done their best since their sluggish start to earn the region some respect. After getting knocked out by UC Davis in their unexpected trip to quarters at Stanford Invite, Bloodthirsty cleared out the fifth place bracket with surprising wins over Colorado (#1) and Wisconsin. And, despite their lower finish, improved upon this at Easterns with quality victories over Florida (#11) and Central Florida to take ninth, due to a rough loss to UNC-Wilmington (#10) in prequarters.
Not to blame the region's unfortunate situation on a single match, but if Stanford had succeeded in securing that game against the Seamen — and maybe even sneak some additional wins in the fifth place bracket should they got knocked out in quarters — then the Southwest could very well be looking at two bids right now.
Perhaps more than that game, however, Stanford was hurt by their poor Santa Barbara Invite record, where they went 2-5, dropping to teams like UC Santa Cruz (#75) and UCLA (#104). Bloodthirsty generally uses that tournament as a way to get their younger players more experience early in the season, which has traditionally helped them in the past. They're the kind of program that always seems to maintain steady growth throughout the season.
But the damage was nevertheless done. In the end, despite all the great experience and notable victories they amassed, Stanford just ran out of time and tournaments to prove that they're as good a team as they know they are.
Considering these Southwest teams' underwhelming individual overall results, they have only shown that they are all good teams, capable of high-level play when they manage to execute. While they might deserve higher ranks, their current ones don't necessarily qualify as injustices. Particularly with so little collective (positive) experience against out-of-region-teams.
And so, once again, as spring unfolds and Regionals looms, the teams of the Southwest find themselves having to suck it up and leave it all on the field, hoping all their work over the past months will peak at the right time. And that this peak will extend higher than those of their Regional brothers. Just one team will top the mountain.