Time to thaw out and warm up.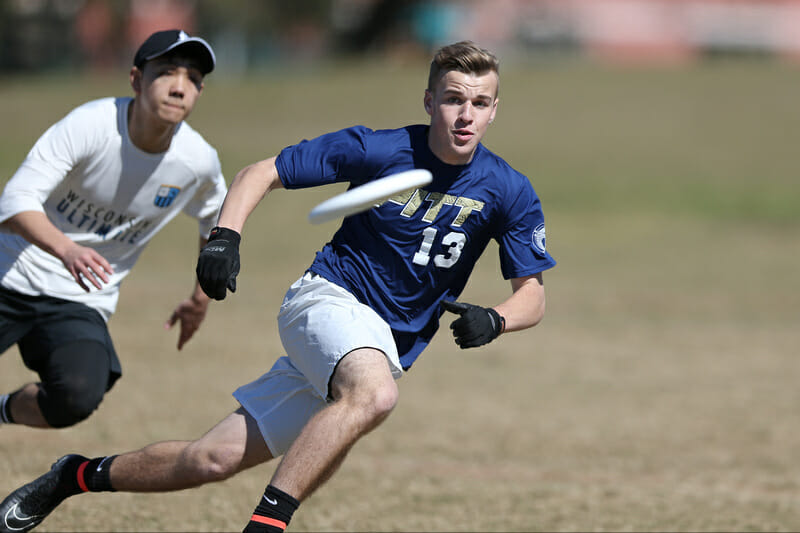 The article is presented by Nike Ultimate Camps; all opinions are those of the author. Please support the brands that make Ultiworld possible and participate in Nike Ultimate Camps!
Warm Up has long served as a fair weather bellwether tournament for the top college men's teams. Featuring a diverse slate of teams from nine of the ten regions around the country, Warm Up has carved out a spot as February's most compelling tournament, featuring unique round robin play and exciting matchups rarely found at other tournaments.
13 of the 17 teams attending are ranked in the top 25. The storylines build themselves: The first meeting between UCF and Pittsburgh since the Dogs of War embarrassed En Sabah Nur in the quarterfinals of Nationals last year. The yearly Florida v. Wisconsin battle with both teams looking to prove they have realistic title ambitions. A chance for a middle of the pack team — UConn? Virginia Tech? Illinois? — to rise above the fray and establish themselves as more than a Regionals threat.
Tournament Profile
Date: February 12-14, 2016
Location: Tampa, FL
Weather: Sunny, highs near 70, 10-15 mph winds
Top 25 Teams: 13
A Word On The Format
Much like at other tournaments, there are four "pools" of four1. As usual, all of the teams within each pool play against each other. However, the similarities with traditional tournaments end there. Teams also play four games against opponents hand-picked by the tournament organizers close to their perceived level.
So a team like Pittsburgh gets Texas, Illinois, and USF in their pool, plus Wisconsin, UCF, Minnesota, and Texas A&M. A lower level team like UConn gets UCF, Carleton, and Auburn in their pool, plus an easier out-of-pool schedule against BYU, USF, Northwestern, and Arizona State.
At the end of two days of play, the top two teams — based on overall record2 — advance straight to semifinals. The four teams with the next best records are sent into a wild card round, which effectively serves as a quarterfinal round.3
Pitt and Wisconsin Look To Stake Their Claim
The favorites heading into this weekend are no strangers to success at Warm Up. Pittsburgh and Wisconsin, ranked #3 and #4 in the country, respectively, have each won this tournament in recent years. Pitt took home the crown last year with their brilliant offensive display that kickstarted their tremendous regular season. Wisconsin won it back in 2013, thanks in large part to the individual performance of Brian Hart, the best player at the tournament.
This season, the teams have taken different paths to their preseason buzz and top tier rankings. Pittsburgh remains a star-powered roster featuring Max Thorne and Trent Dillon. (Pat Earles will not play at Warm Up as he continues to recover from hip surgery). The question mark? Defense. Wisconsin is almost the inverse, a defense-oriented team of grinders with few standout star players. The question mark? Offense.
Both teams, though, have reason to believe they will improve upon their shortcomings from a year ago. Pittsburgh brings in five-star rookie Mike Ing, who brings instant sizzle to the defense. They've also altered their general approach to the season, foregoing coaching in the fall and focusing on fun and a light-hearted attitude.
Wisconsin brings back essentially their entire offensive unit from a year ago. That kind of continuity is a huge plus for offense, of course, and Avery Johnson and Craig Cox should start to climb into the national consciousness.
Certainly both teams have to be eager to prove that they belong in the conversation for the country's best team, one that was dominated by UNC Wilmington and UMass last weekend in Charlotte.
Expectations for Pittsburgh will be tempered a bit because of the missing Earles, leaving all eyes on Wisconsin to see if they can match their impressive fall season punctuated by a comfortable win at Missouri Loves Company.
The Southern Powerhouses
Central Florida and Texas A&M will look to establish themselves as frontrunners in their respective regions with a strong performance in Tampa. UCF is still figuring out roles after the departure of Jeremy Langdon, Brawley Adams, and Alex Bullock, but still seem — on paper — like the favorites in the Southeast. Michael Fairley, 2015 Breakout Player of the Year runner up Stuart Little, and Andrew McKelvey will headline for the team this year, but the Dogs still need to figure out who will deliver the disc to that strong cutting corps.
Texas A&M won the South Central last year before flaming out at Nationals. Can they stay on top of the region behind the electric play of Dalton Smith? The team had a strong fall, but faces a tough schedule (Pittsburgh, Northwestern, Carleton, Florida State, Auburn, Florida, Minnesota).
Bounce Back Year For Former Champs?
Six years ago, Florida and Carleton battled in an infamous National Championship game with programs at the pinnacle of college ultimate. Last year, both missed out on Nationals entirely.
The motivation to return to the top of the Division couldn't be stronger for the two teams this season. Florida already has a spring tournament victory under their belt at T-Town Throwdown, and Bobby Ley returns as one of the country's premier throwers. The supporting cast that surrounds him — highlighted by Tanner Repasky and Billy O'Bryan — is impressive enough that you could make the case right now that Florida — not UCF — is the team to beat in the Southeast.
Carleton feels young again this year, but features perhaps the country's best sophomore class. Sol Yanuck, Henry Fisher, and the rest of the class of 2018 will be among the on-field leaders for CUT this season. While it may be a year too soon for this team to be back in the semis conversation, there are lots of reasons to be bullish about their future and young core.
A Crowded Middle
Beyond the top six, there is a glut of ranked teams that have yet to separate themselves from the pack. Texas, Northwestern, Illinois, Minnesota, Auburn, Virginia Tech, and UConn were all impressive in some way in the fall and currently sit in the top 25, but each has a lot to prove this weekend.
Texas lost their best player in 2015 — Chase Cunningham — to graduation. Northwestern has flashed regular season success, but hasn't come up big in the postseason. Illinois lost a large crop of seniors. Minnesota lost their best player — Josh Klane — to graduation. Auburn snuck in to Nationals last year after the Tulane disqualification. Virginia Tech and UConn? Forever on the bubble.
But put aside the question marks and focus on the big opportunity each of these teams has to establish themselves in the national conversation. Each team has realistic hopes of a Nationals berth this year; they can plant the seeds this weekend.
Redrawing State Lines
Florida State and Arizona State enter Warm Up with doubts swirling around them. No other teams at the tournament felt the kind of personnel losses that FSU and ASU did this offseason.
Florida State enters a new era after the offseason departure of Chris LaRocque, the 2015 College Player of the Year. He, along with Andrew Roney4, leave huge shoes to fill for the FSU squad. The team struggled out of the gate at CCC in November, as Connor Holcombe was forced into a handler role. Still, there's a lot of time for FSU to find their way. It will be a relative rebuilding year, for sure, but there is plenty of young talent that just needs to figure out its place on the team.
Arizona State scuffled to start the year out at Santa Barbara and their continued presence at top-tier national events reportedly has some other Southwest teams fuming. Simply put: this team is a long way from where they were a year ago. At Warm Up in 2015, they were one of the biggest surprises of the tournament as Nate Bridges and Danny Bellissimo lit up the USF fields. But both players have graduated; ASU looked lost at times offensively two weeks ago in California. Can they get their groove back? The competition only stiffens here on the east coast. We'll see if they can figure out who will shoulder the load.
What To Watch For
Pittsburgh v. Wisconsin (Sat. 4 PM) — In what could be the most anticipated game of the season so far, the two buzziest teams at the tournament go head to head late on Sunday in a measuring stick game. They played a phenomenal game last year that highlighted Wisconsin's tremendous defense.
Central Florida v. Pittsburgh (Sat. 6 PM) — Let's be honest: there's no love lost between these teams. After a contentious meeting in quarterfinals last year in which UCF smashed Pittsburgh to pieces in the first half, they meet again in the Saturday showcase game at Warm Up. Revenge game? Check. Bitter rivalry? Check. Get pumped!
Auburn v. Texas A&M (Sat. 11:10 AM) — Auburn's Ryan Landry and Texas A&M's Dalton Smith might just host an old fashioned shootout on Saturday morning. Two of the most exciting athletes at the tournament, Landry and Smith each have the type of game-breaking talent that can make a game a blast to watch.
All three of the above games — plus a whole lot more — will be filmed and available to Ultiworld subscribers after the tournament.
---