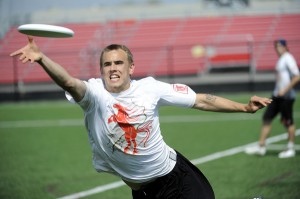 Last weekend, the Puget Sound Postmen flipped the script on DIII Nation by electing to take the Division I path for the Series. The Postmen were, at worst, a top three team in the country, and possessed the ability to take down any DIII team in a head-to-head match-up. Though an admirable and worthwhile endeavor, their definite absence from Nationals will leave a hard-to-fill hole on the national scene.
Still, despite their relative dominance, Puget Sound was far from a lock to make Nationals in one of the tougher top-end regions in the country. Whether or not the Postmen participated, the Northwest would have earned just one bid to Nationals- Lewis and Clark Bacchus just missing the cut ranked 15th in the country. The Postmen will still need to participate in (and finish 2nd or better at) DIII conferences to qualify for DI regionals.
Lewis and Clark has had a very impressive season. They went 5-3 at DIII Warmup including an untelling blowout loss to GOP in their final game on Sunday. Aside from this loss, they fell to Claremont (USAU #6) 13-14 and St. Olaf (USAU #4) 11-13. At PLU BBQ, they finished 4-2 but more importantly, showed an ability to match up with one of the country's best in Puget Sound. Bacchus fell to the Postmen 9-10 in a gritty battle in bad conditions. They would fall to Western Washington in the third place game.
Captain Kyle Barton reflected on the season and looked ahead to what's next: "Those third place losses hurt, but we've shown that we can put together strong performances deep into tournaments. The meat of our season is upcoming though. Our eyes are on nationals."
It will be interesting to see how Lewis and Clark chooses to handle their matchup against Puget Sound. If they beat the Postmen, they will surely increase their seeding at Nationals, however they risk tiring themselves out for their other games.
Bacchus' biggest challenger for the region's one bid is now Pacific Lutheran Reign. Bacchus took down Reign 13-8 at PLU BBQ but PLU has established themselves as a fierce competitor and real threat to L&C. Barton explained, "PLU is a good team. We aren't going to take them for granted, but our focus has been on ourselves. We believe that if we are in the right mindset, we can beat anybody in our region, including PLU."
Lewis and Clark has one of the more talented veteran rosters in the DIII country. Senior defenders Harrison Chase and Sam Franer anchor the Bacchus D-line while Will Shaw commands the offense. Lewis and Clark would prefer to outwork teams underneath but aren't afraid to stretch the field with the likes of the athletic Ben Whitenack.
Tested and well-coached, keep an eye on Bacchus going forward.
Pacific Lutheran is up for the challenge of taking down Lewis and Clark and Puget Sound. After a disappointing end to their 2013 season, Reign is excited to get back on the field for another shot at their region.
Captain Clayton Bracht explained, "In the past few years, we've played our best in late February and early March. I think this year, we haven't hit our peak yet. We're still getting better and are excited to play our best ultimate of the year this coming weekend."
With an even-keeled approach, Reign believes they can play with anyone in their region. Bracht continues, "Everyone on the team is working for the other six on the line and that shows with our balanced attack of deep shots and ability to work the disc up slowly. Couple that with some good, physical man D and a solid zone, and we have 18 guys who know their roles and are able to fill those roles for us."
Riley Swanson should generate key blocks for Reign and along with Bracht, Elliot Cohen and Jacob Burger will play a big role for the team.
Their game to go will likely be against Lewis and Clark. "Against LC, I think we just need to play our game…We're going to have to come out with fire and try to zap them. We are excited to stop thinking about what the game might be like and take the field with them this weekend," Bracht told me.
"We are all focused on this next weekend and trying to play our best ultimate of the season," said captain Clayton Bracht. "On Monday, I hope to be able to say that we did accomplish our goal of reaching Nationals, and that we played our best weekend of the year."
Unless Whitworth Bangarang can pull a big upset or two like they did last season, expect the disparity between the top and bottom three teams in the region to be noticeable. Whitworth, Portland, and Reed are not on the same level as their competitors. They should be fighting it out for fourth place in the region.
Despite the loss of Puget Sound from the DIII series, Northwest conferences should be a good one. Lewis and Clark will look to defend their status as one of the serious national contenders while Pacific Lutheran will try to throw a wrench into their plans. Will the veteran Bacchus hold off a hungry and athletic Reign?