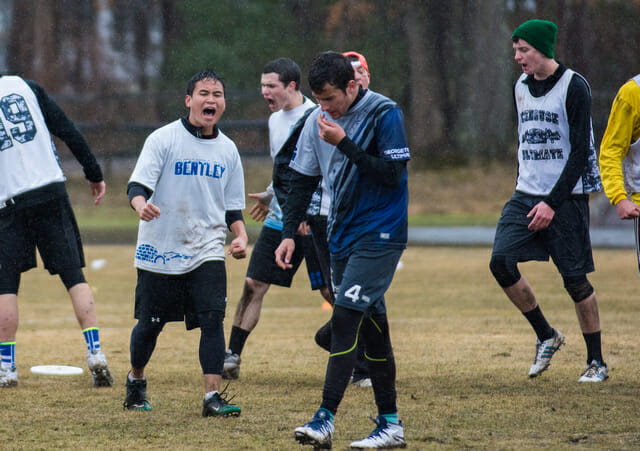 Though the New England Division III region holds three bids to DIII Nationals this year, it is difficult to speculate which teams will claim those bids. It would seem on paper that Bentley is the clear favorite to take one, but the other two bids are up for grabs in what will surely be a wild weekend.
Here is what is in store for Regionals.
Favorites
Bentley
Icehouse had a great regular season as they finished with a 10-1 record – good enough to claim the top spot in USA Ultimate's DIII rankings. Their lone loss came against Division I bid-earner, Brown, and they notched quality wins over Georgetown and Stevens Tech.
Though Bentley's top core includes Alex Foo, Kevin Sparacino, and Max Rick, it is their depth that has fueled their success this season and it will likely be the reason they qualify for Nationals again this year.
Still, Foo acknowledged that should they falter this weekend it would be a result of poor fundamentals. "If we stay disciplined and stick to our structure we will not have an issue qualifying for Nationals again," Foo said. "The factor that would kill us would be self-inflicted turnovers and lack of execution on fundamentals."
Always a physical, high-energy group, Icehouse is able to take opponents out of games early. Their ability to run a big, aggressive zone should force some quick turnovers and keep some wear off of their legs.
Icehouse seems to be a step above the rest of the region this year and should grab the first bid to Nationals.
Amherst
The final two bids will likely go to the two teams with the soundest fundamental play, best conditioning, and necessary depth. One team that could fit those criteria is Amherst.
Army of Darkness has had an up-and-down season, going 4-4 at DIII Warmup but 7-0 at their Conference tournament. They had a decisive 13-6 victory over Worcester Polytech Institute and beat Bryant twice at South New England Conferences. Andrew Edelman has led the squad in recent years on the defensive side but has been able to make an impact on the offense this year as well.
Amherst, like a number of New England teams, has a number of players injured heading into Regionals. Captain Charlie McAllister said that even though "five of our top fourteen guys are currently hurting in some way or another," the team still has confidence going into the weekend due to their depth in quality players.
"Having some of our most experienced players missing [or] hurting is not preferable, but we have a deep team," McAllister said. "I think our depth and willingness to work hard on defense will be two of the biggest reasons we qualify for Nationals. On the flip side, if we stop working hard with our legs it may cause us problems this weekend." Amherst should have the necessary depth to make a serious run at one of the bids to Nationals.
Contenders
WPI
A team with a lot of talent and a lot to prove is WPI. Though they secured a bid for the region, they were not especially tested during the regular season.
Ryan Turner and Louie Mistretta lead the squad that went 9-0 during the season, but saw two key losses at the conference level. In addition to losing to Amherst at conferences, the Bullets also fell to Bryant 12-11 in a tight match.
Turner is one of the more underrated players in the region. With a great combination of size and speed, the long Turner presents serious problems for defenses. While he has the ability to shred defenses underneath and throw solid hucks, you'll more likely find him in the end-zone snatching discs out of the air. There are only a select few defenders at regionals that will be able to match Turner's deep game.
WPI has a chance to finally prove itself to all of their doubters against the best competition the region has to offer this weekend.
Looking to steal WPI's bid is Brandeis. TRON endured mixed results at DIII Warmup and DIII Easterns, going a combined 8-8 throughout both tournaments. However, Brandeis gained experience playing against some of the top DIII teams in the country at those tournaments, notching quality wins over North Park, Oberlin, SUNY Fredonia and St. John's.
Captain Clarence Lee said that experiencing these mixed results should help the team at regionals. "Ultimate is a sport of runs and often you find yourself in a hole or having a comfortable lead," Lee said. "Playing at Warmup and Easterns helped us to get exposure to those kinds of situations against the top teams in the nation, and I think we'll deal with adversity well and also know to not get too caught up in the moment. I think that's really important in a deep region like ours, where every single game will be a challenge."
TRON suffered a blow this past weekend at conferences when captain and handler Max Zaslove broke his wrist, an injury that will sideline him for the remainder of the series. With two handlers already missing due to holiday conflicts, Brandeis was unable to overcome the impact of the injury as they lost to Bentley in the championship game 11-7, and then again to Wentworth 15-7.
Though Zaslove was a major cog in Brandeis' style of play, Lee and captain Nadav Pearl will look to pick up the slack and lead TRON both offensively and defensively.
Middlebury
The defending D-III champions, the Middlebury Pranksters, did not have the best results during the regular season, but have a history of picking up their play during the series. That has held true thus far as Middlebury only had three wins during the regular season, but four during their conference tournament.
Captains Jeff Hetzel and Patrick Adelstein anchor the O-line and D-line, respectively, and Oliver Sutro and Asa Julien have been consistent threats throughout the year.
It seems that Middlebury has struggled this year to overcome the amount of players they lost to graduation. Still, they have shown flashes of greatness, defeating Bowdoin at Conferences 13-8 as well as Bates 12-8. should not be taken lightly at regionals and will be a force to be reckoned with against any team.
With a handful of players who have the experience of grinding through Nationals, a deep tournament like New England regionals should be nothing new. The Pranksters should not be taken lightly and will be a force to be reckoned with against any team they face.
Bryant
Don't sleep on Bryant – a team that could very well surprise some opponents this weekend. Behind the leadership of Joe Scully, Craze has a few quality victories over the likes of Middlebury and WPI, and narrowly lost to Amherst twice at Conferences. They went 5-2 at their conference tournament and might have an opportunity to steal the last bid should they get a favorable schedule.
Bryant hasn't made a ton of noise on the regional scene in the past few seasons, but they're a strong all-around team. They move the disc quickly on offense and often rely on a cup-style zone on D. Though their marks have a tendency to get broken, the pressure zone can generate turnovers and lead to transition opportunities.
Bowdoin
Bowdoin quietly had a solid season, finishing 14th in USA Ultimate's DIII rankings and just narrowly missing out on getting the region another bid. Stoned Clown had to deal with a number of weather-related issues throughout the season that affected their play. Though they lost handily early on to Lehigh and Brown, they got better as the season went on, highlighted by a win over Stevens Tech.
Like many other teams in New England, Bowdoin's strength is their depth, says captain Zach Morrison. "Our team runs very deep," he said. "It's a good mix of handlers that have been playing since before they had braces, and ex-varsity athletes that recently learned the rules of the game." Morrison, as well as fellow captain Salem Harry will look to provide a spark for this Bowdoin squad who is coached by Portland Red Tide captain Toby Jacobs.
Keep an eye on freshman Aidan Penn. Penn has tons of youth experience to go along with elite club experience in New York.
Wildcards
Another team that could make a mark at Regionals is Wentworth. Though Concrete Jungle did not have a great regular season record-wise, they proved they could play high-level ultimate with a convincing win over Brandeis at Conferences.
Wentworth seemed to struggle early on while adjusting to playing without 2013 NE Freshman of the Year Jeff Babbitt. However, Neil Franklin, Matt Silverman and Mack Kirby have all stepped up their games this season, according to coach Kyle Lapatain. "We really had to spread the responsibility to fill the void that [Babbitt] left," Lapatin said. "But I think we accomplished it well. Rather than playing with one outstanding star we play more with a team."
Playing important games on Sunday will come down to how disciplined and focused this talented team will be.
Bates comes into Regionals with quality wins over Wentworth and Central Connecticut State. Peter Kreig and Chris Fox are the standouts for this relatively young squad, who will have to limit their unforced turnovers to succeed at Regionals. Orange Whip may not be the most experienced team at Regionals, but they could surprise some teams if they are able to play a complete game.
Merrimack did not attend any sanctioned regular season tournaments but did squeak out of Conferences with two close victories over Army and Olin by a combined four points. They may not qualify for Nationals but could play spoiler for teams that take them too lightly.
The Division III New England region has a number of teams that are qualified for Nationals this year. With only three spots available and a number of teams that are capable of earning the bids, this weekend is sure be filled with competitive games as every team vies for a trip to Ohio.