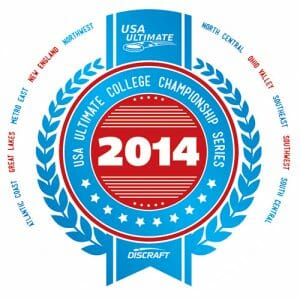 Here is a quick look at this weekend's action. We have recaps coming in later today from many of the regions; this is simply a results thread. See anything interesting? Surprising? Let us know in the comments.
ATLANTIC COAST
DIII Men's: Richmond took home the Regional title with a 15-12 victory over Elon, who beat Davidson 15-11 in the game-to-go.
GREAT LAKES
D-I Men's: A very exciting tournament concluded with a narrow Michigan victory over Northwestern 10-9 in a very windy game. Northwestern dropped down to face Eastern Michigan, who battled through exhausted legs to pull out a 12-8 victory and take the second bid.
D-I Women's: Michigan, as expected, came away with the title in a 14-7 win over Purdue in the finals. They had a tough first half battle with Illinois in the semis, but pulled away late.
DIII Men's: Olivet Nazarene obliterated all challengers on Sunday en route to a dominant Regional victory, surprising analysts who hadn't really even pegged them as a contender. They won the finals 15-6 over Wheaton.
METRO EAST
D-I Women's: Long-time Metro East qualifier Ottawa fell in the semifinals to Cornell, who went on to beat Columbia 9-8 in the finals.
DIII Men's: SUNY-Geneseo had an amazing run through Regionals leaving no question about who the best team in the region is this year. They pounded Stevens Tech 13-7 in the finals, and their offensive line only gave up three breaks — on the weekend.
DIII Women's: Hamilton qualified convincingly, beating #1 seed SUNY-Oneonta by six in pool play.
NEW ENGLAND
DIII Men's: Bentley, Bryant, and Brandeis all advanced out of New England. Bentley is looking very good and should be considered one of the top contenders for a DIII title this season.
DIII Women's: Williams beat Bowdoin, last year's DIII Champion, 10-9 to advance. Bowdoin defeated Smith in the game-to-go.
NORTH CENTRAL
D-I Women's: Carleton stood above the pack and rolled to another Regional victory, beating Iowa State 15-11 in the finals.
DIII Men's: Established DIII programs St. John's and Carleton GOP advance to Nationals.
NORTHWEST
No games this weekend.
OHIO VALLEY
D-I Men's: Pittsburgh had little trouble dispatching the field at Regionals. They faced conference rival Penn State in the finals, where they won 15-4.
D-I Women's: More chalk on the women's side, where Ohio State crushed everyone. They beat West Virginia 15-3 in the finals.
DIII Men's: Lehigh, one of the country's top DIII teams, had little trouble taking home the title. Second place finisher Cedarville (read a profile of the team) had already qualfiied by beating Franciscan in the semifinals. Kenyon took the third bid with a 14-13 win over Ohio Wesleyan in the game-to-go.
DIII Women's: Haverford rolled to an impressive Regional victory, beating Wooster 15-3 in the finals. Wooster went on to take down Kenyon 15-8 in the game to go.
SOUTH CENTRAL
DIII Men's: John Brown took down #1 seed Truman State 15-13 in the finals to head back to DIII Nationals for the second straight year.
SOUTHEAST
D-I Men's: A wild tournament got even wilder when a huge lightning delay (~3 hours) threw a wrench into the weekend. After the delay, they only had time for one round, as many Florida teams had very long drives (up to 10 hours) and finals first thing this morning. Florida defeated Georgia (who upset Central Florida in the semifinals) 13-12 in the finals, breaking on the final point to win.
The rest of the tournament will be rescheduled for next weekend, where Georgia will take on Florida State in the 2nd place game. The loser will drop down to the third place game, where they will face the winner of Georgia Tech and Central Florida.
D-I Women's: Central Florida beat Florida State 15-6 in the finals to take the bid everyone expected them to take.
SOUTHWEST
No games this weekend.