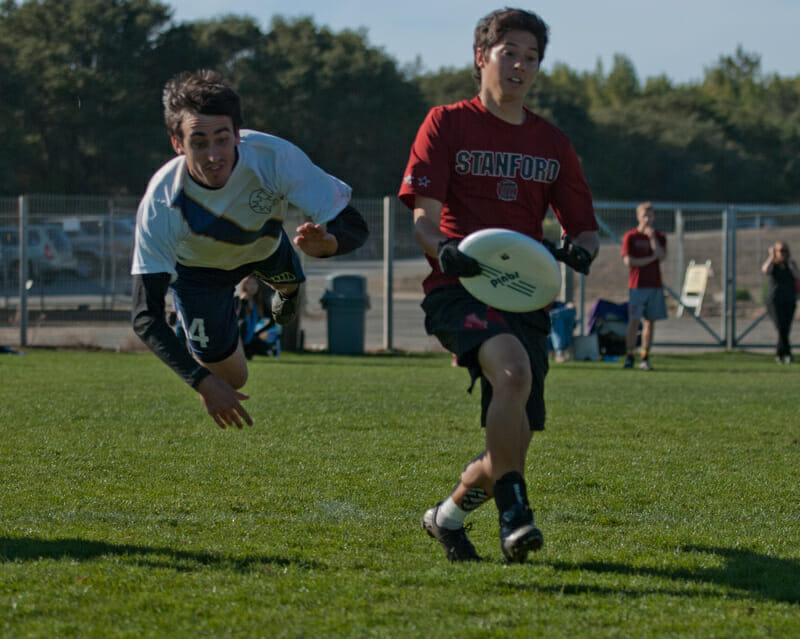 With only one bid to Nationals and at least six teams marked by a very real chance of taking the top spot, this year's Southwest Regionals are sure to live up to their reputation of being a grueling grind.
Even if UC San Diego, the frontrunner and favorite since their Sean Ryan victory back in November, does indeed find themselves as the only team left standing, such an occurrence could still be considered a surprise and would surely come only after some tough tests and close calls.
Set to take place in Long Beach, California, on May 3-4, the tournament will feature eight teams ranked in the USAU top 40. Perhaps no other region in the country has quite the same level of parity as the Southwest, and few, if any, have a similar level of unpredictability.
Nearly all of the teams in this year's contest have shown that they have what it takes to beat squads they should have seemingly been crushed by and, conversely, have also displayed a legitimate vulnerability to those they should have walked all over. With the exception of the Air Squids, each of the teams in the Southwest has had trouble dispatching a handful, if not most, of their regional rivals.
The eventual champion will most definitely have earned it by the end of Sunday, and it will likely be difficult to refrain from comparing their approach over the course of the season to that of their surrounding brethren and wonder which might be the best strategy.
Is it the early promise and sustained excellence of UCSD? The gradual and steady growth of Stanford? The late season explosion and experience of UC Davis? Or the flat out athleticism and skill of Las Positas? Tough to say.
One thing for certain is that the team that finally earns their spot in Mason, Ohio, will have worked damn hard for it and just plain executed better than their opponents. Because as much fun as the talks about which team is really better and who deserved how many bids might be, the better team generally proves it on the field.
Here's a look at the top contenders:
UC San Diego
Placed at 13th in the rankings of USA Ultimate and 12th by Ultiworld, UC San Diego has been the lone consistently strong team in the Southwest. Two tournament titles in Sean Ryan and Santa Barbara Invite showed their early potential, and while their results since have been less than perfect, they still remain the team to beat. Their only losses during the regular season were to Oregon, Colorado, Florida State, and Wisconsin, all elite programs, and their only loss within the region came to UC Santa Barbara at Conferences in 30+ mph wind.
UCSD's O line, led by James "Tulio" Lai, has emerged as one of the most reliable in the country, due in great part to its core playing for years together in the same program. They move with great fluidity, utilizing consistent breaks, throwing plenty of give-and-gos, and showcasing the kind of chemistry where well-timed continuation cuts are the norm.
Complementing this is their often suffocating defense, which also excels at converting breaks, with Nick "Alamo" Smith and Paul "Tinker" Morimoto leading a D line always prime to pick up and go after a turnover. As they'll most likely come into the tournament as the one seed, the Air Squids might have a fairly light ride Saturday, but they'll still need to bring their best Sunday if they expect to make it to Ohio.
UC Davis
The story of the Dogs this season has been a curious one. And if their recent surprising NorCal Conferences victory is any indication, it will likely continue get even more interesting come May.
As defending Regionals champions and the only team in the Southwest to make Nationals twice in the last few years, UC Davis (#33 in USAU, #19 in Ultiworld) are something akin to that quiet veteran team that may have had a shaky regular season but still walk into the playoffs with the dangerous swagger of a squad that's been there many times and knows what it takes to win.
Though they had mediocre finishes at Santa Barbara Invite and Pres Day Invite, going .500 at both with no impressive wins against tough teams, their most recent significant tournament, Stanford Invite, found them navigating the wind and earning a spot in semis.
Such success will have been two months away by the time they make the trek down to Long Beach, but given their experience, steady growth over the season, and solid roster featuring Eli Kerns (NexGen), Nathan White (Revolver), and rising stars like 2013 Freshman of the Year Ben Souvey, David Hwang, and Nicholas Helms, the Dogs' upset at Conferences may not seem so surprising by the time that Sunday evening rolls around.
Stanford
If the Southwest had one argument for a second bid, Stanford was it. After a slow start to the season, common to a program that likes to play its rookies early, Stanford (#25 in USAU, #13 in Ultiworld) stepped up with a surprise performance at their home tournament, Stanford Invite. Though they fell to UC Davis in quarters, they cleaned up the consolation bracket with impressive wins over Colorado and Wisconsin in the heavy wind, finishing fifth.
Bloodthirsty then racked up more quality wins over Florida, Carleton, and Central Florida at Easterns, placing ninth. No other teams in the region can boast such an impressive record against top programs across the country — not even UCSD. Had Stanford not slipped up and lost their prequarters game to North Carolina-Wilmington, the Southwest could have been looking at two bids right now.
Nevertheless, with their solid core of veterans in Jordan Marcy (Revolver), Cody Mills (Dogfish), Peter Maraccini, and Kellen Asercion, along with a quietly talented cast of young support, chief among them promising freshman Sam Kunz, Stanford has a good chance of taking down the other top programs and making it to the show.
Cal
Cal's season has been a tough one to read. Some of UGMO's (#26 in USAU) tournaments, like SB Invite and Stanford Invite, have produced mixed results, either beating the teams they basically should and falling to the ones ranked above them. Others, like Stanford Open and Pres Day, the former of which they won with a victory over Las Positas in the finals and the latter culminating in a quietly impressive fifth place finish, tell a different story.
Their disappointing 2-5 Centex record, where Cal lost to Texas, UBC, and Cincinnati by one, bested Arizona State, and split their games against Minnesota, make the picture of their overall season somewhat clouded.
At NorCal Sectionals, Ugmo found themselves in a three-way tie for second in their pool on Saturday, sneaking into the semis based on point differential. Yet, once they made it there, they upset Stanford and only fell to UC Davis in the finals 13-15.
Though they lost to Stanford shortly after in the second place game, Cal will most likely get a quality seed at Regionals, which should help them carve out a good position for themselves on Sunday. They certainly have the talent and capability to make it to the game-to-go, particularly with Flamethrowers standouts Chuck Cao and Zane Rankin at the helm. But they'll most likely have to play their best ultimate of the season if they expect it to continue another few weeks.
Arizona State
Though they've definitely enjoyed their share of successes, with six losses decided by two points or fewer so far this year, Arizona State's season has also felt like one of just missing a stellar breakout. After their exceptional showing at SB Invite, Prime (#22 in USAU) elected to travel to two high-level tournaments, perhaps hoping to defeat strong out-of-region competition and bring the Southwest some much-needed respect — and bids.
Their 5-4 Warm Up: A Florida Affair performance earned them quality wins against teams like Carleton and Georgia Tech, but they fell to higher tier squads like Central Florida and Minnesota. Similarly, though notching an impressive victory over Wisconsin, ASU's 3-4 record at Centex, wherein they lost to LSU, Iowa State, and Cal, damaged their rankings and pushed them out of the top 20.
To make matters worse, their razor thin 15-14 wins over Arizona and Northern Arizona, two teams who have struggled all year, at Desert Conferences doesn't inspire much confidence in the idea of a reinvigorated Prime ready to prove that all those close losses were flukes of poor execution.
Nevertheless, given their talent and leadership from Danny Bellissimo and Nathan Bridges on D and Travis Dunn and Zak Semerad on O, it would be foolish to underestimate an Arizona State team that's playing their best game. If their defense can dictate like it did in earlier months and the O line can establish the efficient breakside and handler domination game it often excels at, Prime has a very real chance of realizing the swaths of potential they've shown flashes of all season.
Las Positas
It seems like almost no matter how Las Positas (#32 in USAU, #21 in Ultiworld) finishes in a game or tournament it makes sense.
They have losses to San Diego State and Cal, and have rarely beat opponents in the top 20? Of course, they have a small roster and are often burned out by Sunday afternoon. They go 0-3 on Saturday at Stanford Invite when they have nine players, then get another six and beat Central Florida, Harvard, and Texas on Sunday to take ninth? Well, what do you expect, they have three different guys who played in Club Nationals title games in 2013 alone and a handful of other experienced club players.
All season, the Hawks have asserted their imposing presence at full strength and been taken advantage of when their top-heavy squad begins to run out of gas. Rarely have they gotten blown out, but rarely have they also bested elite programs in decent conditions.
With one of the best handlers in Sonny Zaccaro (Spiders) and two of the best deep threats in Simon Higgins (Spiders) and Marcelo Sanchez (Revolver) in the region, along with a strong supporting cast including Sean Ham (Mischief) and Bob Madden (BW Ultimate), there's no doubt that they have the skills and athleticism to dominate. The question will be whether or not LPC can utilize their whole team the entire tournament, beat the lower seeds quickly and efficiently, and save their energy for when they need it on Sunday. And hope that it's enough.
Longshots
While it's pretty unlikely that a team other than the above six will sneak their way into the finals, it's not entirely impossible. UC Santa Barbara is coming off an excellent SoCal Conferences, where they finished second and handed UC San Diego their only intra-region loss of the season, a 13-5 smashing in severely windy pool play. The Air Squids may have avenged that loss with a 15-3 stomping in the finals, but with Black Tide's solid roster filled with numerous Condors players they remain a squad not to be taken lightly.
Though they've had a pretty underwhelming season, UC Santa Cruz have shown flashes of brilliance at various points in the year. Brett Petersen and Greg Cohen, both valuable contributors on the Spiders, lead a team of humble role players that look scary when everything clicks. Similarly, San Diego State, with Lucas Dillow and Beeman Rabut, and Arizona, with 2013 Southwest Player of the Year Brice Dixon, are more than capable of surprising a few teams that underestimate them.
If anything, most of the teams at this year's Regionals have the potential to pull out some upsets and complicate matters, making it that much more difficult to figure out just who was better in 2014 until the dust settles and the cleats come off.