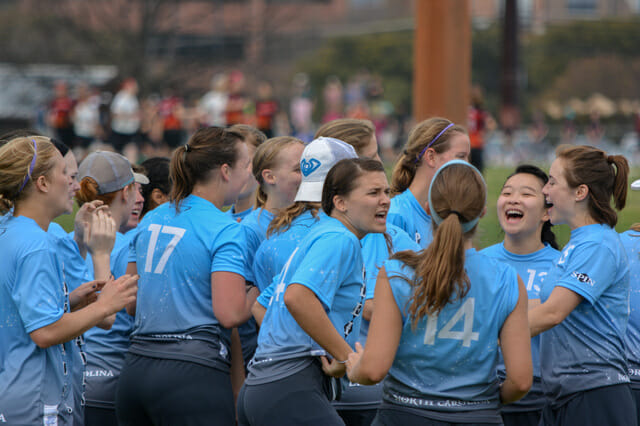 For the second year in a row, the Atlantic Coast has failed to pull the USAU algorithm in their favor, leaving them to compete over one ticket to Nationals. Both Virginia Hydra and North Carolina Pleiades had underwhelming results at Centex, coming out 4-3 and 3-4 respectively. The numbers held off UNC's run at a strength bid for the region. However, both are smart teams stocked with standout players. UVA and UNC will face off against an upset hungry Maryland, a developing James Madison, and a gritty UNC-Wilmington trying to climb back to the top at Atlantic Coast Regionals in Axton, VA.
Virginia Hydra Following Johnston's Lead
Virginia Hydra comes into Regionals weekend ranked first, but nowhere near a lock for the bid to Cincinnati. According to captain Alika Johnston, Hydra has been focusing on individual player development, and "making a concerted effort to increase depth across the board."
Proof of this focus is evident in the team's roster of solid players, but their game is elevated to the top level by Johnston's play. Regional opponents say that Hydra is affected by Johnston's mental and physical intensity, and raise their performance to match hers. Johnston's time on Scandal during their ascension to the top of the Women's Division has given her more experience than her 20 years would suggest. Co-captain Michele DeRieux is a talented and athletic cutter who will get many touches in key games, and bring down scores along with Sarah Hansen, Theresa Hackett, Nada Tramonte.
Hydra's strength is their quick movement and fast paced offense, with Johnston distributing the disc to her cutters and then regaining possession quickly. In preparation for Regionals, Hydra has been using small sided scrimmages to give everyone touches and keep their fitness up, which they hope will translate into a strong and confident team this weekend.
Hydra has a record of close games with their regional rivals. They went 1-1 against UNC at Centex, and have two wins over Maryland that were decided by a single point each. They played a solid weekend at Conferences, and beat out fourth ranked JMU by a good margin. However, it will take incredible focus and leadership to win the bid over a polished UNC.
North Carolina's Cohen & Company
Hopefully for UNC Pleiades, they aren't having flashbacks to 2013. They ended their season at Regionals at the hands of UVA and a single bid region, which is a story they would prefer not to relive.
U-23 Worlds player and Callahan nominee Shellie Cohen leads a skilled team that has been working all year to make sure their season doesn't meet an untimely end. The loss of Cohen's U-23 teammate Lisa Couper to an ACL injury was a blow to the team and the duo's unstoppable offense, but didn't lower the Pleiades team goals for the season. Elena Wong and Diana Lam will be important receivers in Couper's absence, and are touted by Cohen as  two of "the most intimidating defenders in the Region."
Pleiades scheduled a challenging season for themselves, playing back to back weekends at Queen City and President's Day. A trio of one and two point losses to Michigan, UCLA, and Texas at Pres Day showed a team working to sustain their elite level, but thwarted by their schedule and new starting lineup.
The Pleiades style of play is driven by Cohen's sailing hucks, and the athleticism of her cutters to run them down under pressure. The coaching expertise of Lindsay Hack and Raj Prasad is a pillar for the team, helping to anchor their system and provide stability. Returners remember last year's Regionals well, so Pleiades will enter this weekend hungry for a trip back to the Championships, and with the personnel and fire to pull off a win.
Maryland Capable of Changing the Narrative
Maryland Helpful Corn is the wildcard to challenge the hotly contested AC Region. They haven't made Nationals since Callahan nominee Jessie O'Connor's freshman year. This year, O'Connor headlines a group that has worked on developing their team back to national contention. O'Connor's calm handling and fierce defense pumps up her team, and were enhanced by her time playing with DC's Scandal this past club season.
Helpful Corn's 1-6 record at Centex included a lone win against UCSD, a tight game against Texas, and a one point loss to Virginia. Maryland knows that they can keep up with Virginia, and will use the experience of their two single point losses to UVA to try and produce a different result. Meghan O'Lone will control the disc with O'Connor and look for speedy cutters like Charlotte Francoeur to initiate movement against the strong defense they'll see this weekend. It would be surprising if they came out on top, but Helpful Corn could be just the interesting spice that complicates the UVA-UNC rivalry expected to play out this weekend.
James Madison Not to Be Overlooked
James Madison University started this year with high hopes for their program. In the past few years, they have steadily climbed to be a regional contender, and bested Maryland and UNCW to end 2013 ranked third in the AC. However, challenges such as multiple ACL/MCL injuries and coaching turnover somewhat stalled what many thought would be their breakout year.
JMU uses a quick offense based on taking deep shots and utilizing their speedy cutters like 2013 2nd Team All-Region Hannah Elledge and 2013 All Freshman Allie Wallace. Their skilled core of handlers are products of the YHB program in Virginia, including 2013 2nd Team All Region Claudia Dimick, as well as Julia Petro and Liv Kirk. JMU is still learning to play nationally diverse teams and struggling to close out games. They played in Centex Division II and finished with an 2-5 record, although their losses were all competitive. This up and coming team has improved on their end of season results every year, and no team should look past them this weekend.
UNC-Wilmington Counting on Talent and History
UNC-Wilmington Seaweed is ranked fifth in the one bid AC region, yet hasn't lost sight of Nationals. Captain Jana Hollis says that the team's main goal for the weekend is to "get the bid to Nationals" with a "focus on good, fundamental ultimate." Seaweed is self admittedly smaller than regional rivals UNC and UVA, but Hollis says that whatever they are lacking in numbers, they "make up in passion."
Junior Sadie Gosselin will have a huge role on the field, and will use her collection of precise throws to work with the commanding  Zoe Dorian, Jana Hollis, and standout freshman Klara Calderon-Guthe. Seaweed's early season results, like their 1-6 Queen City record, and an 0-2 Conferences performance against UNC don't portray the level that they hope to play up to this weekend.  The good news for this team is that they have a legacy of dominating the AC Region, but the bad is that they will have a steep hill to climb to win the sole bid this weekend.
Slim Margins
The 16 team tournament will also showcase an up and coming Clemson, a Virginia Tech squad that bested JMU at conferences, and other perennial regional contenders such as Towson, Delaware, and Georgetown. One bid regions punish teams for mistakes, and every squad will be looking for any advantage they can find.
Look out for #eastcoastbeastcoast to come out strong and get ready to meet the #evilempire and their other national rivals in Cincinnati.