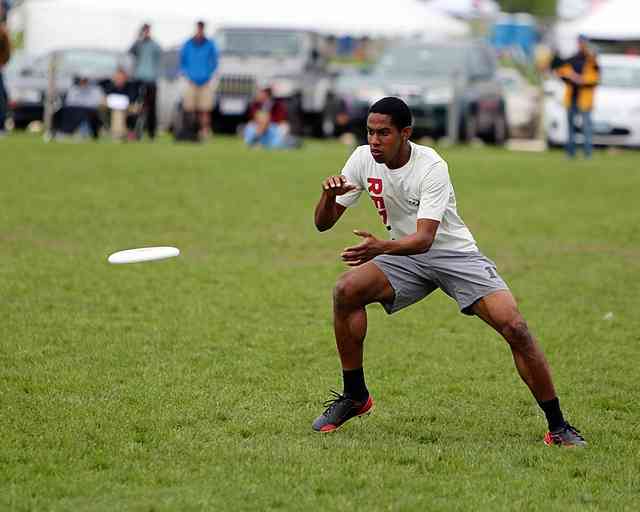 While the four favorites this year — Colorado, Pittsburgh, Texas, and UNC — have stood out over the course of the regular season, the six teams below are in the hunt for a spot in the semifinals.
Each of these six have had some shining moments, but also some rough patches, perfectly encapsulating the muddy middle of this year's College Championships. Here is a look at those teams that expect to make quarters and just might make a deep run.
Wisconsin (21-11 Overall; 6-8 v. Nationals Qualifiers)
Key Wins: Texas, Texas A&M, Carleton, UC San Diego
Key Losses: Colorado, Pittsburgh, Texas, Florida, Oregon
Last season, Wisconsin came into the spring with a roar. They killed everyone at Florida Warm Up in mid-February and shot to the top of the Power Rankings. But a lackluster Stanford Invite foreshadowed a stunning prequarters exit at the College Championships on home turf at the hands of an upstart UC Davis. Had the always steady Wisconsin peaked too early?
This season, the team certainly hasn't done that. Star cutter Colin Camp was practicing for weeks before taking the field at Centex, just as a precaution about reinjuring his knee. The team had somewhat more typical North Central results during the regular season — some wins, some losses, nothing special.
The team has really looked sharp in the Series. They handled a tough Luther team with poise in the semifinals at Regionals, rallying back from a deficit to win 10-8 before crushing Carleton 15-5 in the finals.
The Hodags will head into Nationals with confidence and optimism. But they will have their work cut out for them.
Camp was unbelievable at last year's College Championships, a real bright spot on a team that suffered a tough defeat in prequarters and the loss of their Callahan nominee Brian Hart to injury early in the weekend.
Wisconsin will need him to shine again, along side less well-known players like Ben Rehmann and Danny Stuligross, who have been steady contributors all season long.
The Hodags are always very deep, both a factor of their excellent coaching and preparation as well as their talent pipeline that comes with being a perennial contender. They will absolutely need that depth in a very tough Pool A.
POOL ANALYSIS
Wisconsin will face Colorado, Harvard, UC San Diego, and Eastern Michigan in pool play.
Wisco's semis hopes may lie with a pool win, and almost certainly with a relatively easy dispatching of Harvard, UCSD, and EMU. That's not out of the question. Wisconsin has shown glimpses of excellence this year, and they are always well prepared. A relative lack of game film on the Hodags this year may also give them an edge.
Colorado presents a tough matchup for Wisconsin, because the team doesn't really have a defensive answer for Mamabird's biggest threats, including Jimmy Mickle and Tim Morrissy. At Centex, Wisconsin lost 15-7 to Colorado.
Really, Wisconsin hasn't proven they can beat the country's best teams. Their most impressive win came against Texas at Stanford in the prequarters, but it was a strange, low-energy game highlighted by limited playing time for Will Driscoll and no Colin Camp.
Can Wisconsin make quarters? Certainly, they should expect to. Semis may be a stretch.
Michigan (20-3 Overall; 6-3 v. Nationals Qualfiers)
Key Wins: Pittsburgh, Harvard, UNC Wilmington, Carleton
Key Losses: Massachusetts, North Carolina, Harvard
One of the best stories of this year's College Championships, Michigan comes into the tournament riding a 13 game win streak that included a Sunday sweep at Easterns to win the title and a Great Lakes Regional title.
Considering the team's record and success against top teams, an 11 seed seems low. Not that they care. "We're beast when we face adversity," Michigan captain Yonatan Rafael told Ultiworld's Henry McKenna for a team profile.
They have embraced their "outsider" role as a contender, as Ultiworld analysts (including me) have said that Michigan is unlikely to repeat their Easterns performance.
But could they? While they may not have the buttery offense of many of the more established contenders, they do have something many teams lack: a sharp focus on mental preparation. Just browse the quotes from the profile linked above — it's all about the beating the first opponent, then the second, then the third. And the team doesn't implode on itself when it gets down, like it did last year.
Many teams would throw in the towel down 11-7 in a semifinal game. Michigan rallied all the way back to win against Minnesota.
And it's not like they don't have some great players. Rafael isn't polished as a thrower, but absolutely gets the job done and always finds room to get the disc. Eli Leonard is fearless and consistent as a handler. Sam Greenwood can take over a point at any moment. And the 6'9″ Jesse Buchsbaum is there as a pressure release valve; it's effective.
While they may not do it in the style most associate with greatness, wins are wins. The team has an outside shot at the semis and, this time, it wouldn't come as a total shock.
POOL ANALYSIS
Michigan will face Pittsburgh, Texas A&M, Central Florida, and Dartmouth in pool play.
Michigan no longer has the element of surprise. And with ample Easterns footage for teams to break down, their opponents will have better game plans than they did earlier in the Spring.
That said, you have to like Michigan's chances to come out of this pool with a prequarters slot. It's hard to imagine Pittsburgh losing to Michigan again, not with the preparation the Pitt coaching staff will have done for the game.
Both the A&M and UCF games have great potential to be exciting mid-tier games. A&M and Michigan have such similar styles — grinding offenses, big explosive athletes — and UCF's individual matchups with Michigan should be fun to watch. Those games could really break either way, but I like Michigan's mental game vs. A&M and toughness v. Central Florida.
Among the rest of this list, Michigan is no doubt a long shot for semis, but if they can get going early in the tournament, they could bring a sprinkle of that Easterns magic to Cincinnati.
Harvard (20-5 Overall; 6-5 v. Nationals Qualifiers)
Key Wins: UNC Wilmington, Florida State, Central Florida, Tufts
Key Losses: UNC, Texas, UNC Wilmington, Central Florida 
Harvard, the New England Regional champion, is the archetype of this year's "muddy middle." A team that could had a case for a seed anywhere from four to eight, it won all the games it needed to win, but never truly impressed.
After running through the bracket at Queen City, they again fell to UNC on Sunday, losing 15-12 but never really challenging for the win. They played all close games at the very windy Stanford and finished with a forgettable 2-2 record.
Then, Easterns. A spectacular Saturday left them sitting 3-0 with good wins over UCF and UNC-Wilmington. But a double game point loss to Michigan and a later loss to UNCW meant a weekend that could have been stellar was merely above average.
Harvard's inconsistency resulted in a brutal seeding — 8th — that landed them in perhaps the trickiest pool for any of the two seeds. With two Regional champions — Wisconsin and UCSD — below them, they have work to do just to make prequarters.
We know how good Harvard can be when they're on. Mark Vandenberg controls the offensive tempo and does all the little things right. Jeremy Nixon is a versatile threat, able to jumpstart the offense with a big underneath gainer on most possessions because of how threatening he is deep. Nixon, perhaps the favorite for New England's Player of the Year award, will need to be at his best in this pool packed with good defenders and elite deeps.
Freshman phenom John Stubbs has been an important contributor since the start of the season and has only grown in his role. Expect some big defensive plays out of the Paideia product.
POOL ANALYSIS
Harvard will face Colorado, Wisconsin, UC San Diego, and Eastern Michigan in pool play.
If that looks like a tough draw, that's because it is. Four Regional champions and a scrappy upstart who may eye Harvard as a target for an upset.
Harvard hasn't played any of these teams this season, which may emphasize the importance of coaching in each of the contests. Mike MacKenzie is up for the challenge and has been a steady presence for the team.
You can definitely argue that Harvard is underseeded — we liked them to go around four or five. Unfortunately for Redline, Wisconsin is better than their seed, and UC San Diego is a bigger threat than many may realize, especially if the weather stays pleasant.
Harvard will need to control the disc on offense and avoid some of the spacing problems that plagued them against top competition earlier this season. If they can do that, they have a chance to finish #2 in the pool, but a loss to Wisconsin would not come as a surprise.
Oregon (37-6 Overall; 4-5 v. Nationals Qualifiers)
Key Wins: Wisconsin, UC San Diego, Tufts
Key Losses: Colorado, UNC, Texas, Texas A&M, Florida State
In 2012 and 2013, Oregon was the undisputed #1 seed at the College Championships. The team was brilliant in the regular season from start to finish, dropping just a smattering of games over two years. Their strong seasons culminated in back-to-back trips to the semifinals.
The inability to reach a final and challenge for a Championship has been a bit of a monkey on the back of Ego, and there have long been whispers about 2013 Callahan winner Dylan Freechild's ability to play his best in the postseason. Indeed, he was quiet for a long stretch of last year's semis loss to Pittsburgh.
This season, Oregon still ended up with a pool one seed, coming in seeded fourth overall. That really is a generous seed for a team whose best quality win is over the 12th seeded Wisconsin. They've taken losses to the #1, #3, #6, #7, and #10 seeds.
But perhaps the lackluster regular season is a blessing in disguise for Oregon. The past two seasons, expectations have been immense for the Ducks. This year they'll be playing as a bit of an underdog, perhaps even in their own pool.
Dylan Freechild is back as a senior, but the supporting cast looks a lot different this season. Gone are stalwarts like Camden Allison-Hall, and rising star Aaron Honn is away this year studying abroad.
Brian Penner and Gabe Fruchter are the big threats this season and the team, as always, has a well-conditioned and skilled set of role players.
Handicapping this year's Oregon team is difficult. They struggled at the windy Stanford Invite and looked much more raw and youthful than last season at the same tournament. They played better at Centex, but still came away with two losses in their big games against Texas and Texas A&M.
They looked sharper at Regionals, where they didn't face a challenge and they easily dispatched Washington 15-6 in the finals to take the Northwest's lone bid.
POOL ANALYSIS
Oregon will face UNC Wilmington, Florida, Carleton, and Rutgers in pool play.
On paper, Oregon looks like easily the most vulnerable one seed. Sitting in a pool with a red hot Wilmington team, a Florida team coming off of a big Regional win, and an always dangerous Carleton team, they will not have a smooth ride through pool play as they have in previous years.
Wilmington is well-coached and is sure to have defenses designed specifically to limit Freechild (much as they did against Jimmy Mickle and Colorado in prequarters last year). If Wilmington's offense plays close to as well as it did at Atlantic Coast Regionals, Wilmington will win that matchup.
Florida and Oregon seem like teams that will be very even — both teams are fairly reliant on a handful of top players, though they have different offensive systems; Florida works from downfield early, Oregon likes to keep the disc in the handler set.
Could any game be more unknown than Carleton v. Oregon? Both teams have had relative down years so far; who is ready to rise to the occasion?
Oregon will surely expect to make quarters, and will be in the hunt for semis yet again. As they may not have the talent to make a run to the Championship this season, semis would have to be considered an achievement.
Florida (32-9 Overall; 8-7 v. Nationals Qualifiers)
Key Wins: Texas A&M, Central Florida, Florida State, Wisconsin, Carleton
Key Losses: Pittsburgh, UNC, Texas, UNC Wilmington
Most teams spend the early part of their season worrying about building depth and getting reps for the team's rookies and underclassmen. Not Florida. Even back in the fall, the team has been built around winning now with their top personnel on the field. Bobby Ley, James Dahl, and Jason Silverman have already played hundreds of points over the course of the season as they've developed stamina and leadership ability.
This, of course, is a long-standing theme for Florida: trot your best players out every point and gun for the Championship. It worked in the years when the team was blessed with Callahan-quality talent: Brodie Smith, Kurt Gibson, Tim Gehret. Ley, Dahl, and Silverman may be good, but they're no Gibson, Smith, and Gehret.
Still, Florida has high expectations. They've played up and down this season, but have generally struggled to beat the deep teams seeded above them and only have a few quality wins outside of their region.
Florida has already seen two of the teams in their pool — Carleton and UNC Wilmington. UNCW absolutely embarrassed them at Easterns, ripping apart the Florida offense and putting up a 15-7 scoreline. Notable, though, was that Florida had just come off of a heartbreaking double game point loss to Pittsburgh, 15-14, in the quarterfinals.
Florida's success flows directly from the ability of their big three to get up and down the field. When Ley can get his backhand going, he can do serious damage with the speedy Florida cutters just finding some space down field.
POOL ANALYSIS
Florida will face Oregon, UNC Wilmington, Carleton, and Rutgers in Pool D.
Florida has to be most worried about UNC Wilmington, a team that really had their number at Easterns and has defensive schemes that will continuously challenge their offensive flow. Oregon's defense has been suspect so far this year, which is a good sign for Florida. When the Gators score efficiently, they are hard to beat. Opposing teams absolutely must break down their offense and force their top players to work extra hard to put the disc in the endzone.
Florida and Carleton should be a great battle as it always is. The two teams faced off at Warm Up; Florida won 14-12. Another close game should be expected.
Florida is the kind of team that could finish anywhere in the pool. It will come down to how efficient they can play, especially on Friday, and how well they bounce back from defeats.
UNC Wilmington (32-9 Overall; 3-9 v. Nationals Qualifiers)
Key Wins: North Carolina, Harvard, Florida
Key Losses: North Carolina, Harvard, Central Florida, Florida State
Despite a 3-9 record against Nationals teams, UNC Wilmington comes into the Championships seeded fifth overall, thanks largely to their big upset win over UNC in the finals of the Atlantic Coast Regional.
No team has been quite as hot and cold as UNC-W this season. Even discounting a slow (and perhaps premature) start at QCTU, the team has been all over the place. They took care of the teams they needed to at Tally Classic before losing to Florida State in the finals. At Easterns, they were mediocre on Saturday, losing to UCF and Harvard. Then after a quarters loss to UNC, they got nice wins over Florida and Harvard.
Nowhere were they better, though, than Regionals, where their offense was untouchable. Against UNC, the O line did not turn the disc over in the first half, and did not give up a single break in the game. You can chalk some of that up to a flat performance from UNC, who hadn't figured out quality rotations on defense with Ben Snell out, but, really, UNC-W was just on.
The team is quietly very optimistic heading into the Championships. With the steady improvement they have made over the course of the season, and how tantalizingly close they were to a semis berth last year, you can see why.
Robert Goode has grown immensely from his smaller role last season into an athletic wrecking ball offensively this year. He is a very tough cover, because he plays above his height, has superior quickness to break down taller defenders, and great speed to find room both underneath and over the top.
Xavier Maxstadt is playing better than ever, and has absorbed the loss of Mark Evans nicely. Luke Hancock and Charlie Lian have also been steady contributors.
POOL ANALYSIS
UNC Wilmington will face Oregon, Florida, Carleton, and Rutgers in Pool D.
Notice a theme on this semis hopefuls list? A lot of them are lurking here in Pool D. More than almost any other pool, the teams emerging from Pool D will want to be as unscathed as possible. Wilmington has to like their chances.
They have the most sophisticated and tough defense in the pool, and coach Greg Vassar will have extensive game plans for how to take each of their opponents out of rhythm.
But Wilmington cannot afford the uneven performance that they've showed throughout the season. A loss or two could banish them to a quarters game against a team with a talent overload they may not be able to match. Winning this pool has to be at the forefront of the team's goals if they want to find a way to semis.