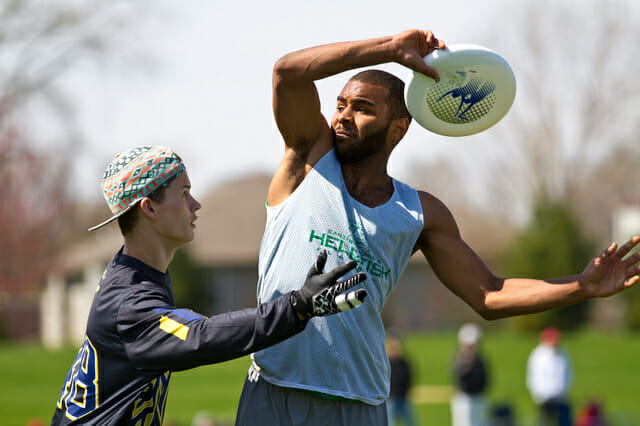 Grit won it for the two Michigan teams. While Eastern Michigan and University of Michigan have many differences, the Michigan brand of smashmouth ultimate helped the state's ultimate teams earn two bids to nationals for the second time in three years.
"The real Magnum team this year is a grind it out team," Michigan captain and Callahan nominee Yonatan Rafael said. "And in the end, we're beast when we face adversity."
EMU Fighting Hellfish star James Highsmith noted that his team exhibited finesse for much of the season. However, it was their ability to bear down and fight, he said, that earned them a trip to Nationals.
"[At Regionals,] we had to resort to a more gritty style of ultimate," Highsmith said. "We focused almost exclusively on playing hard man-to-man defense, and patient offense when we had the disc."
The two teams met in the semifinals of the Great Lakes D-I Regionals and MagnUM (18-3) won 15-12. While their similar style of play may have earned both a bid, UM's win demonstrated the team's biggest difference: their resumes.
UM burst onto the National radar with a tournament title at Easterns, defeating Luther, Harvard, Minnesota, and Pittsburgh on the way.
EMU (27-5) is 0-3 against Nationals-bound teams. With such different seasons, their mentalities are quite different.
"The first goal is to win our first game," Michigan's Rafael said. "The next three goals are pretty obvious after that: win the next three games. When the next day strikes and the format changes, we will set new goals after that. Our team's going to focus on the first game, the first opponent."
Highsmith, however, relished the under-the-radar nature of EMU's Nationals bid. They will bring an intensity and urgency that directly opposes MagnUM's level-headed and conservative mentality.
"We always plays with a chip on our shoulder. We have a 15-man roster, but one of our principles is to run our opponents into the ground. We like to use our legs to win games despite the small roster," Highsmith said. "We're well aware that Nationals is a different beast. Everyone at the tournament is going to be more focused than ever, and games are going to be grueling. At the same time, we play very well on Sunday at a traditional tournament. On Sunday, usually our lines are a bit tighter and we're also extremely focused and intense. Everyday at Nationals represents a traditional tournament Sunday for us."
Highsmith and EMU captain Austin Engel both emphasized the limited knowledge their opponents will have on the wily EMU team. And it's hard to know what to expect out of them, as Engel explained he is the only true handler on the team. Players feed off chemistry stemming from their short roster. The result is a seemingly positionless offense and intuitive defense.
"Most teams do not have footage or scouting on us, when we have film on each one of the opponents in our pool," Engel said. "Ideally we do the improbable and win our pool and save ourselves a game and get more rest."
There's no middle ground for EMU. Their short roster requires early success. Michigan's Rafael is less focused on opponents and is content with his team's steady-on approach.
"We are where we want to be. We're in contention for a national tournament. That's all we can ask for. That's all we really want. The rankings and the hype, it's all words on paper," UM's Rafael said. "Our team can beat any team. Our team can lose to any team. There are a bunch of great teams out there and we think we can match up with them. And we think they can match up with us as well."