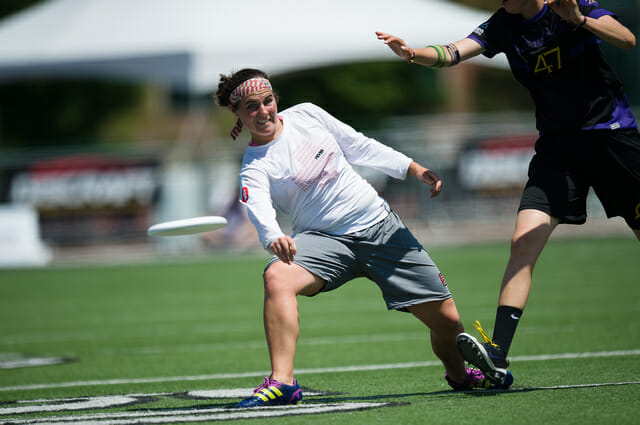 When the semifinal between Ohio State and Washington was announced, one number flashed to mind: 15-2. That was the score of Washington and Ohio State's last clash at the Northwest Challenge. It was the scar Element had to bare, a live streamed game at their home tournament.
That seemed so long ago as Washington punched in the first point of their national semifinal against Fever. Barbara Hoover released a backhand destined for the hands of Alysia Letourneau, past a bidding Paige Soper of Ohio State. Soper and Letourneau would see a lot of each other throughout the rest of the game.
Ohio State settled in on offense in their second point after a freak drop early in the point prior, spacing the field well to eat up an Element zone. They wouldn't stop there, pushing the pace on the next three points and generating two breaks to go up 3-1 and force a Washington TO. The Northwest team loaded the line with stars and still couldn't prevent another Fever break.
One issue for Washington once their line was stacked was the absence of breakout athlete Molly Boyd. Boyd had been pivotal for their success, racking up goals, taking on tough matchups, and playing a bevy of points. Without her, Coach Kyle Weisbrod and his staff were forced to reach deeper into their bench early and often after Boyd slipped and exited the game on the third point.
After a Washington score, the Ohio Valley champs were able to tack on an additional break, trading the rest of the half. Washington struggled with the deep game, turning it over four times on hucks, often because they were given too much hangtime. Sarah Edwards bricked on a flick a wide open Alysia Letourneau, either a sign of nerves, being affected by the wind, or both. Ohio State took half 8-4.
The second half was a much better showing from Washington's offensive group. Their offense began to build some forward momentum, eliminating some of the silly turns and bad decisions that plagued them in the first. Their defense, however, was not as composed and Ohio State exploited that. Washington poaches and help defense implied distrust in defenders – an example jumps to mind of upline help for Sarah Edwards, who is one of the best defenders on their roster, coming against a Cassie Swafford cut – and a team still trying to figure out how defend their opposition.
The trailing squad generated only one break, after Katie Backus dropped a wide open huck near midfield. Barbara Hoover took a knee injury, putting a comeback further from Washington's reach. While they finally got the disc moving at a good pace, there was just not enough ability to dictate the pace of the game.
The final score was 15-9, another impressive showing in Ohio State's run. Fever made another talented and top team look average and never let up, punishing Element mistakes. By the second point, it was no longer Washington's game. Ohio State staked their claim early and refused to give it up.
Jenna Galletta, Paige Soper, Kristi Steva, and Cassie Swafford were all excellent, especially in the second half. Galletta had a hammer block on Hoover, and was strong in the backfield when Soper and Swafford were pressured.
"I think in a game where [Soper & Swafford] were defended really hard, she knew she needed to bring a lot of [her talent] out," said OSU Coach DeAnna Ball.
Steva used her speed to be an important defensive piece for OSU, putting her on Washington center handler Amanda Kostic and running her after the turn. The senior stepped up at an important moment for her team.
It seemed like Ohio State was going after Kostic when they caught her on defense, attacking her in the deep space and isolating her from help. It was a concrete element of their dictating the game. Fever moved the disc quickly, but with patience, against Washington junks and were disciplined around the red zone. They also did a great job helping on Element's isolation sets and deep looks.
"We've been working really hard on help defense, so even though we had one on one matchups going deep, we had eyes on what was going on," said Ball, "We were able to get another defender or two on it."
Washington refused to quit and turned in an admirable performance for a team with setbacks. A deep hole and various injuries can bury a team, but Element was resilient. Shira Stern, the team's Callahan nominee, has struggled with heat issues and didn't play as lot. Boyd and Hoover had to exit the game. Kostic, Lucy Williams, Alysia Letourneau, and Sarah Edwards shouldered a heavy load and the bench was asked to step up.
Ohio State didn't fall victim to Washington's ploys and that was the big difference in the game. Fever's execution pushed their opponents' backs up against the wall early and put pressure on them. Ohio State fed off that and now can carry that momentum into the national championship game.