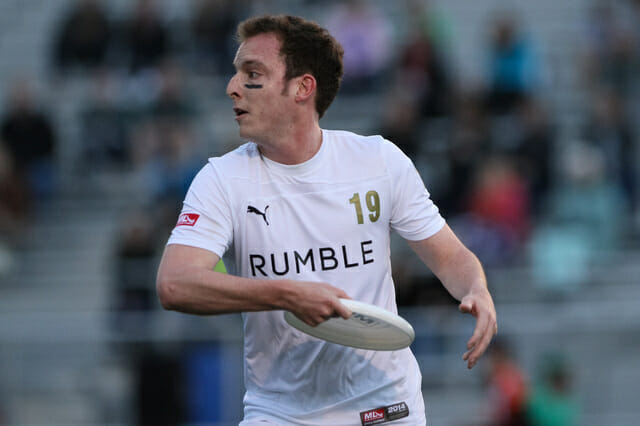 Isaac Saul, former college champion with Pittsburgh and handler for MLU's New York Rumble, will join the AUDL's New York Empire at the conclusion of the Rumble season in the first move of its kind in semi-professional ultimate.
Saul is listed on the Empire's finalized roster, which was due to the league's front office on June 1st.
Saul will become the first player to play for both the MLU and the AUDL during the same season. He made clear that this wasn't a defection, and that he cleared the decision with the MLU brass.
"I'm incredibly grateful to the Rumble organization, Jeff Snader, and the MLU for giving me support in this endeavor," he said, "and glad they understand this is about my love for Ultimate, a desire to win, and the opportunity to ball out with my brother [Noah], Kevin Venose, Matt Bode, and the rest of the Empire guys."
Noah Saul has been a vital contributor for the Empire this year after joining the team in the offseason. He leads the team in assists and touches.
Isaac will join the team in three weeks, as the Rumble will conclude their season on June 21st. They were eliminated from playoff contention after this weekend's loss to the Philadelphia Spinners.
The New York Empire declined to comment on the roster move.
"My loyalty is with the MLU now and in the future," said Isaac. "This Rumble season has been a tremendous experience and I'm looking forward to trying to take down D.C. and Boston in the coming weeks. Once our season is complete I'll shift my focus to the AUDL. Until then, nothing is on my mind but bettering myself on the field and batting with my Rumble teammates."