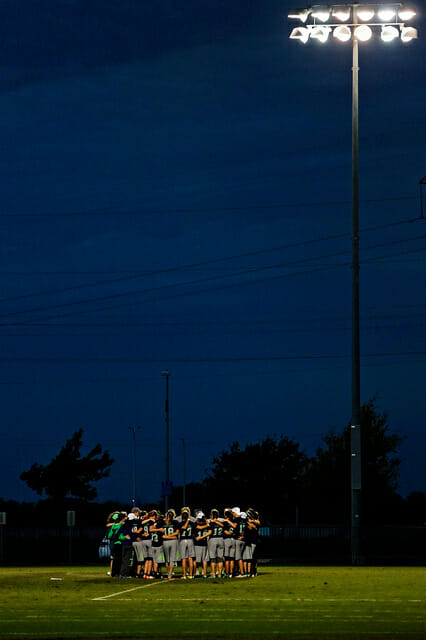 By now, Boston Brute Squad's roster shuffle is no secret. Their lineup has been turned on its end, with nine new players coming on board for the 2014 season.
Having to quickly develop chemistry is a repeat experience for Brute Squad; last year they brought on seven new players and improved to a 6th place finish at Nationals (up from 12th in 2012).
Yes, weaving that many new faces into the team fabric is not trivial. But Brute 2014 brings together a strong team culture, a storied history, and an incoming group of athletically impressive women.
Essentially, Brute Squad will be a serious threat to any team in the country in 2014. On talent alone, they're probably the most likely of the quarterfinalists to make the jump and break into the semis.
Looking at most of the key positions on the field, Brute is arguably stronger than they were last year:
Offensive cutters? Yes, turnover means the O Line cutters will need to quickly step up and fill in for their veteran losses. But adding Lien Hoffman and Chelsea Witte-Garcia into the mix with Laura Bitterman and co-captain Becky Malinowski—a 2013 Ultiworld All-Club 2nd Team selection—will make for one of the fastest, most reliable cutter sets in the country.
In contrast, the defensive cutting line sees almost no turnover. Betsy Calkins, Christie Kim and Sara Jacobi have played together since 2007; watch out for Kami Groom to be an explosive addition to this unit.
Behind the disc, the O-line keeps Leila Tunnell and Dory Ziperstein, and adding the reliable Paula Seville can only mean good things.
If Brute has an obvious weakness or challenge, it could be developing defensive handler sets. Claudia Tajima, a stellar player in the youth division in recent years has an impressive throwing arsenal and seems primed to step up. She'll likely combine with Shira Klane and look for a rookie to fill in and form a solid trio.
Of course, the 2014 roster loses some major impact players from last year.  Offensively, the absence of V.Y. Chow (appearing on Fury's 2014 roster) and Kelly Tidwell leave big cutter slots open. The return of Witte-Garcia should mitigate that somewhat, but Chow and Tidwell together contributed nearly a fifth of Brute Squad's goals at the 2013 Club Championships.
The D-line loses 9-year veteran handler Amber Sinicrope (playing with The Ghosts) and the experienced Shelly Peyton, which will be a tough pill to swallow. Sinicrope was a very strong individual defensive presence, and she and Peyton together have been anchoring Brute Squad's defensive line for years.  Even with younger players stepping up, developing a new handler set to fill their shoes will be a formidable task.
This doesn't concern Brute Squad.  Regarding the non-returners, co-captain Blake Spitz notes, "Their roles were on [the 2013] team and they do not necessarily leave 'holes' on this team. Our pick-ups are also strong, and we are excited to see all of the potential of this roster."
Indeed, the potential of the incoming players should worry other teams. Here are the 2014 additions:
Angela Zhu – Dartmouth
Becca Ludford – Nemesis
Chelsea Murphy – Ozone, Bucket
Chelsea Witte-Garcia – returning to Brute Squad
Kami Groom – Nemesis
Kirsten Unfried – Scandal
Lien Hoffmann – Nemesis
Molly Hallweaver – UC Santa Cruz
Paula Seville – Nemesis
Qxhna Titcomb – Tufts
Vicki Chang – Slow White
Most of these names need no introduction as individuals. This list packed with star power: two Ultiworld 1st Team All-Club picks (Hoffmann and Groom), a Callahan winner (Seville), as well as players with youth and adult national team experience. In addition, Brute Squad's incoming players have histories intertwined with each other and current team members. They should integrate seamlessly with the returning players.
The obvious grouping is the four from Nemesis: Hoffmann, Seville, Ludford, and Groom. Nemesis edged Brute Squad, 14-12, in the 5th place game at Nationals last year, with each member of the foursome playing a significant role.
There are more connections. From the collegiate scene, Qxhna Titcomb joins Tufts teammates Tajima and Mia Greenwald. Seville, Vicki Chang and Malinowski all played together for University of Michigan Flywheel. Chelsea Murphy and Angela Zhu add to the contingent of Amherst Regional High School (ARHS) alumnae, and both have Junior Worlds experience—Zhu this year, and Murphy in 2006, alongside Ziperstein and Tunnell.
Brute Squad's roster is a major shake-up from last year, and they will have to work quickly to develop a cohesive team. Previous connections with incoming players might accelerate this process. However, much like last year, Brute Squad is not interested in the past.
"Roster turnover is just a fact, and no matter the number of people departing or being added, the dynamic changes each season,"  Spitz points out. Rather than viewing 2014 as a rebuilding year, she explains that, "[Brute Squad] considers every year a 'building' year."
That approach produced mixed success in 2013. At the start of that season, Brute Squad seemed to be a team ready to shake off its cobwebs and return to the top ranks. Looking for a fresh start, they had new players, new coaches, and even a captain that was new to the team. At the outset, a good showing at Terminus and a first place finish at the Colorado Cup (Elite-Select Challenge) showed promise. Their season ended, however, with a 2-4 record at Nationals. The 6th place finish was enough to earn them a Pro Flight spot and an invitation to the US Open this year, but certainly fell short of some expectations.
This year's story has slight variations. Instead of seeking a clean slate, Brute Squad looks to be going with the tried and true. Last year's coach, Mike Zalisk, is joined by Mike Lawler, who coached Brute Squad to a 2nd place finish in 2009. Lawler has been most recently working with Seattle Riot and brings a studious, analytical perspective to the table. Longtime Brute Squad athlete Sarah Cook, unable to play this year due to injury, will remain involved with the team leadership. Spitz joined the team in 2003 and last captained in 2008. She joins last year's captains—Malinowski, Emily Baecher, and Courtney Kiewsow—and brings with her the mentality of Brute Squad's previous success.
There's plenty of buzz around Brute Squad's incoming class, and rightfully so. The individual talent that they bring is formidable. Finding talent, though, has never been Brute Squad's problem. To be their best in October, Brute Squad will have to clean up the late-game execution errors that plagued them last year. Joining the Pro Flight will certainly help, pitting them against more challenging teams and exposing weaknesses early.
The stars have aligned for Brute Squad's 2014 team to be its best in many years. On paper, they have the all the pieces in place to battle with the best. Once they figure out their team ethos, a return to the Club Championship semifinals should surprise no one, and a finals appearance is within reach. Boston women's ultimate has a successful history on the national scene. It may be time for history to repeat itself.
Tournament Schedule
Boston Invite (June 21-22)
US Open (July 3-6)
Chesapeake Invite (July 12-13)
Pro Flight Finale (August 30-31)