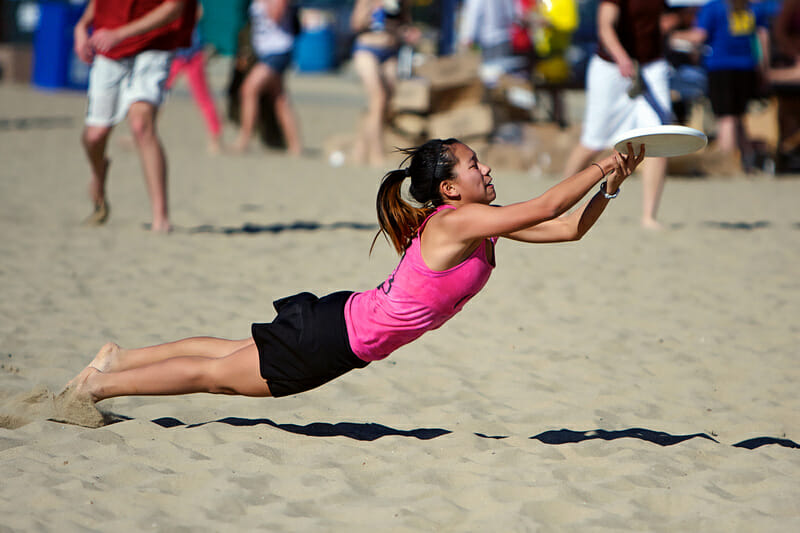 NEW YORK — Beach ultimate will be included on the program at the World Beach Games, a new international competition being organized by SportAccord and the Association of National Olympic Committees (ANOC), Ultiworld has learned.
"[The World Flying Disc Federation] has received confirmation that Beach Ultimate will be included in the inaugural World Beach Games which are expected to be held in 2016," said WFDF President Robert "Nob" Rauch.
News broke late last year that SportAccord — the umbrella organization for both Olympic and non-Olympic international sports federations — was preparing to launch the World Beach Games in 2015. From Inside The Games:
With relatively low expenditure due to the temporary venues and natural resources of sand and sea already in place, coupled with high potential for tourism and promotion, the hope is that the Beach Games will attract worldwide attention and quickly establish itself as a fixture on the international calendar.
"It was a great honor for me, as President of SportAccord, to be present in Kuwait during the Association of National Olympic Committees Executive Council meeting; a highly important event for the Olympic Movement and for sport in general," SportAccord President Marius Vizer told Inside The Games. "I had the privilege of participating, together with the ANOC leaders, in a joint meeting, where one of the subjects discussed was the World Beach Games.
"In the past the World Beach Games, a SportAccord brand and multi-sports games event, was just an idea. Today, with the concept registered and finalised by SportAccord and the International Federations, it has become a tangible project."
More details are expected to emerge after the International Olympic Committee Executive Board meeting on July 8th and 9th. Early reports suggest that Brazil, the United Arab Emirates, and the United States are among the top contenders for hosting the event.
There has been some speculation that beach ultimate could be the quickest route for ultimate to reach the Summer Olympics, because the team sizes are smaller, there are already facilities in place for other beach sports, and it is a spectator-friendly iteration of the game.
WFDF has been a member of SportAccord since 1995.
RELATED: What does USOC recognition mean for possible Olympic inclusion?