The two early season favorites -- Revolver and Johnny Bravo -- are set for their first high-pressure battle in the finals of the US Open. Bravo dominated Revolver in pool play, but Revolver always seems to be sharp when it counts.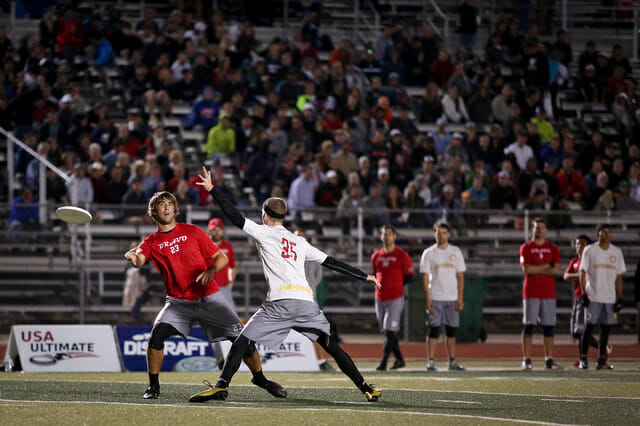 MINNEAPOLIS — It's the match-up everyone has been waiting for since the announcement of final club rosters earlier this year — only unlike their early pool play game from Thursday, this one promises to be much more hotly contested.
Defending champion San Francisco Revolver will clash with Denver Johnny Bravo in the finals of the 2014 U.S. Open in Blaine, Minnesota. It will be a rematch of last year's engrossing semifinals contest at Nationals, which easily could have been the finals had the bracket played out differently.
Bravo gave Revolver their best game at the 2013 Club Championships, playing them to 14-11 in a match that was much closer than even the three-point margin might indicate. There's no reason to think Denver won't do the same again.
Though given Bravo's outstanding performance all weekend, and Revolver's somewhat streaky play, perhaps the advantage should be viewed from the opposite perspective.
Denver rolled through most of their opponents this tournament, including a 15-8 drubbing of San Francisco on the first day. The only two squads to have bested Bravo so far this weekend are Vancouver Furious George during the final round in a game that counted for essentially nothing and Seattle Sockeye, in perhaps the latter's best match of the tournament and surely Denver's worst.
In their pool play match on Thursday against Revolver, however, Bravo committed just four turnovers, only one of which came from their offensive line. The game was tied at 6s until Denver went on a 9-2 run, helped in large part by a string of poor throws by San Francisco.
It wasn't that they were bad looks. The cutters were open on pretty much all of their failed shots. They just couldn't hit them. And Bravo capitalized nearly every time.
But Revolver are who they are.
Now that they've had a whole weekend's worth of play under their belt—that is, a full eight games worth of opportunities to gel as a team and grow together—there's no question that with their experience and leadership they'll be a much different team this time around.
As Bravo Captain Ryan Farrell noted on day one after their victory, there's no telling how the next meeting between these two behemoths could play out.
"They're too good to get beaten the same way twice," Farrell said.
Indeed, a veteran program like Revolver knows how to adjust and change their approach with new information. It's a big part of how they beat Ironside in the semifinals on Saturday: they went back and watched the footage to see what they could improve.
Captain Cassidy Rasmussen said they realized that Boston relied a lot on stretching the field vertically. So San Francisco clamped down on the vertical lanes, forced cutters to the sidelines, and put flatter marks on Ironside's main huckers.
The result was a neutralized Boston offense and a 15-11 win for San Francisco.
Rasmussen said his team already watched footage of Thursday's match against Bravo. While certain aspects like errant hucks to open receivers can't really be altered by anything but better execution, that shouldn't be a problem for a squad like Revolver, as they almost always seem to play better under more pressure anyway.
What can be changed is their defensive approach.
It's tough to speculate just how San Francisco will adjust to a team like Denver with so many different weapons, but one can be sure that the modifications will be implemented.
Whether it's trying to back them and force them into a more disciplined offense than Bravo might be used to, or flashing in the throwing lanes to disrupt their rhythm, or just plain attempting to stay closer to them on defense and dictating more, it surely won't be the same approach as Thursday.
With the rising heat, potentially calmer winds, and maybe even a touch of rain, coupled with the higher stakes, it's going to be a constant battle to see which team can best weather the symbolic and quite possibly literal storm and take home their first tournament victory of the season.
Much of the ultimate world will be watching to see who's looking like the new top powerhouse — and the de facto favorite to take home the gold on the international stage next month.