San Francisco Revolver avenged a pool play loss to Boston Ironside in the semifinals of the US Open. They will face Denver Johnny Bravo in the finals.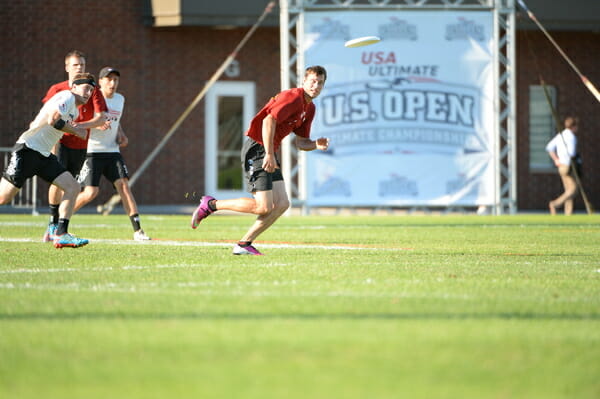 MINNEAPOLIS — If upon witnessing their early pool play this weekend one might be wondering what happened to the kind of veteran domination commonly associated with San Francisco's Revolver, one need look no further than their convincing 15-11 victory over Ironside in the semifinals of the U.S. Open.
It wasn't anywhere near the offensive shootout of Friday, but that only played right into the hands of the disciplined defending champs.
This time, turnovers came if not in abundance then at least in healthy doses, leaving plenty of room for either team to wonder what could have been. In the end, though, it was the disciplined Revolver advancing to Sunday's final on the backs of their spread offense and break conversions.
Revolver Captain Cassidy Rasmussen said his team went back and watched footage of how Ironside beat them on Friday, looking for new approaches.
"We worked at making them beat us laterally and stopping their vertical movement," Rasmussen said.
Additionally, he said that Revolver wanted to try to contain Ironside's big throwers, namely Josh Markette, George Stubbs, and Brandon Malecek.
"We made sure we had flat marks so that if those hucks went up they wouldn't be perfect, and we'd have a chance to make a play," Rasmussen said.
It worked.
The nearly perfect Boston offense from Friday consistently ran into problems trying to break through the stingier San Francisco defense this time around. Despite a similar amount of wind as their previous meeting in pool play, Ironside turned it over seven times in the second half, a far cry from their two-turnover performance in the second half just a day before.
Ironside Captain George Stubbs attributed part of the newfound difficulty encountered by the offense to his squad falling out of their game from time to time and being a bit too predictable.
"We played tight. We weren't quite loose or confident," Stubbs said. "We got stuck on the sideline. We took the bait."
Some of the turnovers were simply miscues, however, such as Piers MacNaughton's drop on the third point. Revolver immediately took advantage of that mistake with a big rip from Sam Kanner to Lucas Dallmann, who continued for the upwind score and San Francisco's first break of the game to put them up 2-1.
Other times, Boston could hardly be blamed for occurrences such as Greg Cohen's flying layout D—after he had just dropped an easy catch from a nice inside-out from Dallmann—that led to Nathan White finding Alex Evangelides in the endzone for San Francisco's second break, giving them a 5-2 lead.
Though Ironside would earn a break back at 5-4 after a Revolver throw popped up, a similar occurrence near Boston's own endzone would give San Francisco the easy break to take an 8-5 half.
Both teams played better defense than they generally had earlier in the tournament, and how points were decided often came down to who showed more patience and moved the disc better to open up new angles. Often Ironside would stay looking downfield for longer in the count than they had earlier in the weekend, and it sometimes cost them, particularly when they were near the sideline.
As Rasmussen said, Revolver focused more on trying to force Ironside players to the sidelines, protecting the middle, while seeking to not get beat deep quite as much.
Though both teams certainly got in their fair share of deep shots, Boston's offense hit more snags than it did on Friday. Even a number of the points where they scored featured a more bit-by-bit working up the field, in contrast to their previous match against San Francisco, where many of their scores came from continuous flow and easier huck looks.
Yet, even Revolver frequently struggled to establish their own flow. Just as in their earlier games, they missed a lot of open looks, including unders, through poor execution.
What it often came down to was just San Francisco putting it together at the right time. Whenever it seemed like Boston might make a run, their counterparts would punch in a decisive score and push Ironside back on their heels.
Sometimes, though, it just came down to luck.
After Russell Wallack made a nasty layout catch block near Revolver's endzone and continued for the upwind break at 12-10, the two teams traded smooth O points. At 13-11, Jack Hatchett came out of nowhere with a mammoth layout D to make an endzone stop, but it bounced right into a San Francisco player's hands and was thrown in for a score right after, making it 14-11 and all but a certain victory for Revolver.
Stubbs noted that he didn't want to take anything away from Revolver and their performance, and indeed such a sentiment rings true.
Ironside may have shown more flaws than they did on Friday, but, to be fair, it would be hard to play as well as they did that day. Whether it came down to better defense, a handful of miscues, or just a few things that didn't swing in Boston's way, when it came down to it, Ironside played well but Revolver just turned in a better performance.
After the game, as his team prepared to watch the second semifinals match unfold, Rasmussen speculated on who Revolver might play in the finals tomorrow.
"We'd love for it to be [Denver Johnny] Bravo and get some revenge and erase both of our losses," he said.
Wish granted.