Chesapeake Invite plays host to this year's Pro-Elite Challenge, outside DC in Virginia. "Home town" Scandal, last year's winner, returns, but faces stiff tests, including a Brute Squad team that just beat them at US Open. Many teams are making debuts, and the tournament is all about first looks.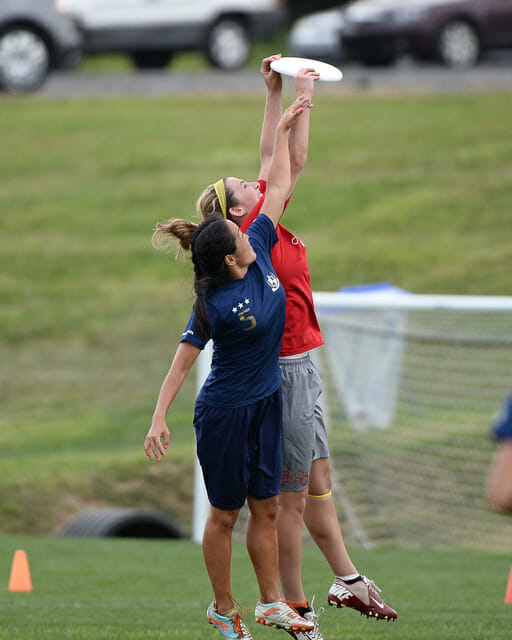 The US Open was more or less the official beginning of the march to the Club Championships, but featured only a few teams vying for the title. Most of the rest of the field was awaiting this weekend, where the Chesapeake Invite plays host to Pro and Elite Flight teams facing off for the first time. While US Open participants Washington DC Scandal and Boston Brute Squad are the early favorites, they are both taking on a back to back.
There are challengers waiting in the wings. Many of the top seeds are dealing with large roster turnover, and that means other teams can make names for themselves, but also that there's a limit to what we'll learn.
Chesapeake, like Atlanta Terminus last year, has drawn a huge and talented women's field that's a far cry from the small round robin they put on in the division the year prior. Virginia will play host to some early season action among a number of teams expecting to make nationals.
Title Defense, Take Two!
So that didn't go as planned.
Scandal stumbled out of the gates on their mission to defend their throne, failing to even make the semifinal elimination bracket at the US Open. Nobody expected DC to bring back almost as many losses as wins or to get steamrolled by Fury in the anticipated title game rematch.
In the champ's defense, there may not have been a team missing more firepower than the Scandal ladies. Their Series roster was short Anne Mercier, Alicia White, and Allison Maddux; their Worlds absences included Jenny Fey, Maddy Frey, and Raha Mozaffari. Even without those players, Scandal felled Showdown and Traffic.
You won't catch the DC women making excuses, though. They were frustrated with themselves following their elimination. The team held practice the next day on site and Coach Ghesquiere seemed to have an idea of what elements needed fixing.
Ghesquiere was confident the team's cutting issues were at the heart of the problem. When they failed to execute the same play on three separate occasions, it seemed like something was off. Scandal's installed some new offensive schemes, players are struggling to get on the same page, and they'll need to figure out how to get past that if they want to avoid the long and turnover filled points that spelled their doom in Minnesota.
A back to back weekend at a home tournament seems just like what the doctor ordered. If the team is hungry for redemption, there's plenty of helpings to be had at Chesapeake. They may even get to wash that down with some revenge, should they matchup with third seeded Brute Squad, who ended their US Open just days ago.
Elite Status on the Line for Boston
Conversely, Brute Squad put on quite a show at the US Open, making it all the way to the final. After their major additions this offseason, they put together an impressive follow up, beating Fury for the first time, as well as outplaying Scandal and Traffic with some pressure on. Coming back against Traffic in the semifinal is the kind of win that provides quite a confidence boost.
After their loss to Riot in the championship game, Brute captain Emily Baecher told Ultiworld that her team was lacking a little trust, and needed that thing to build their trust around. Their semis comeback and other marquee wins might be just those pieces in the long run; Baecher said the team came away with "the knowledge that we can fight back from anything."
Entering the tournament as a favorite to reach the final, Boston is expected to put other teams in the hole. Atlanta Ozone lurks in their pool, an experienced outfit capable of pushing Brute, and a young and feisty Portland Schwa won't go down easy. But Brute already has a lot of valuable experience this season that their opponents cannot replicate.
Brute Squad's talent level makes them a well-rounded pack leader and anything less than final would be a disappointing surprise.
Capitals are Young and Restless
The Toronto Capitals face heavy turnover this year, returning only 10 Capitals players from their roster last year for this summer[1]. Among their losses are key personnel such as Malissa Lundgren and Hadiya Roderique, both playing with Union. And while they aren't attending WUCCs in August, several of their players are competing in Italy with other teams, including one of their captains, Kathryn "KPoh" Pohran.
The Capitals took a rookie-laden roster to Boston Invite several weeks ago as a warm-up, a strategy that many teams adopt early in the season. Yet their young team nevertheless burned through most of their opponents at the tourney, and the Caps took 3rd place over BENT, 15-13.
This weekend the Capitals will look to do more of the same: the Toronto captains say that they're "looking forward to using this tournament to continue to develop connections as well as give our rookie players more experiences to play in high calibre, high pressure situations." Chesapeake Invite will let Toronto test out new offensive structures and different defensive strategies. Late-season tournaments are for polishing and tweaking, but this weekend is for building and transforming.
Their performance at Boston Invite indicates that they can still be dangerous early in the season, and they hope to see Brute Squad and Scandal this weekend to cut their teeth against some of the division's best.
But their biggest weapons may not be firing at 100%: Kathryn Pohran and Darcy Drummond, two of their captains, and Sarah Kidd may struggle with injuries this weekend, so they won't put in the playing time that the Capitals may need. They also won't have veterans like Jordan Meron and Melissa Dunbar for their defensive line. Players like Sarah Bobak and Jessie Wu will have to be on field leaders in their stead.
The Capitals' youth and talent may carry them through some of their pool play – Nightlock presents a very real threat – but their real tests will come in the bracket. They want high-level opponents and experience: they'll have plenty.
Chicago is Younger, More Restless
Many of the big roster pickups for teams this season come at the expense of Chicago Nemesis: they lost Kelly "Vegas" Johnson to Seattle Riot, and they lost Kami Groom, Paula Seville, Liên Hoffmann, and Becca Ludford to Boston Brute Squad. Sometimes when the stars align, they're not in your favor.
Nemesis retains team veterans such as Laura Moore, Emilia Garcia, and Sara Miller, all of whom bring valuable big-game experience to Nemesis. This experience will be badly needed for a young roster of mostly unknown names. Those names have the opportunity to rise to the occasion: Servia Rindflesh, Becky Moore, and Samantha Cain are three among many with that chance.
Chicago is hoping that their new recruits, while lacking in the starpower of last year's rookies or this year's losses, can present some quality to build upon. Sara Scott (Heist, Wisconsin Bella Donna) headlines, but will not be joining the team in Virginia. Risa Umeno (Spicy Tuna) and 18-year old Maggie Kennedy will be working with their legs downfield, while Jessica Sipperly (Overhaul) and Emily DePalma (Minnesota) can make an impact with their throws.
Last year's Nemesis relied heavily on a few players to produce the majority of results and rode their top end. This year's squad will be doing the exact opposite, hoping their depth and chemistry can lead to similar success. They'll need to practice patience and focus on development, with their eyes on the end of the season. Their lengthy journey begins at Chesapeake.
Denver Rising: Molly Brown's a Team to Watch
So many teams are in development mode or trying to rebuild, but Molly Brown may be hitting stride. It is good timing, when quarterfinalist roles seem in flux. Big acquisitions, young and developing studs, and a focused team philosophy could be the winning combination.
It would be presumptuous to say the Colorado ladies aren't going to be focused on development at this early juncture. They've eschewed from the standard coaching recipe, going with a player-led system that accepts contributions from up and down the roster. Their path is not yet clear, as they are forging it day by day. It may lead to the hallmarks of early season tournaments: throwaways, drops, clogged lanes, and defensive miscommunications.
But the talent is there and it buttresses a high ceiling. It is hard to understate the value of adding Claire Chastain from Phoenix, who joins already up and coming pieces like Lindsey Cross and Megan Cousins. Carolyn Matthews and Sally Lambert will be leaned on for veteran leadership. The weapons, however, come from strong athletic legs that can stock the highlight reel on O and grind out points on defense.
Their pool is rife with opportunity, with rebuilding teams above and below them; Nemesis is in full development mode and Phoenix is dealing with key losses, including Chastain, who will be facing her former team for the first time.
Raleigh Phoenix begins their build 
Chesapeake Invite will represent a chance to build for Phoenix as well. They feature new faces as well, and they won't have the experience of captain Michelle Ng this weekend to guide them. "We want to continuously improve throughout the season, as does every team", says her fellow captain Jessi Jones, "and we'll use this as an indicator of our progress".
Phoenix lost college powerhouses like Shellie Cohen and Lisa Couper, as well as Adrianne Soo. But they gained Jinny Eun, Christine Bookhout, and Jenny Wei, all of whom will clock some minutes for them this weekend. Phoenix has the toolkit to put together a tidy record – Jones, for example, continues to trend towards offensive powerhouse – at Chesapeake if they can capitalize on their opportunities and collective talent.
Phoenix wants to become a national contender this season after a 14th place finish last year. So they will work to amp up chemistry early on and scope out competitors that they know they'll see later in the summer. They're building slow, but they'll be ready to burn.
Who Else Can Show Up At Gametime?
The rest of the field has some real potential hits in it, but nobody is sure where to look.
Atlanta Ozone and Bay Area Nightlock sit atop that group, both in seeding and expectation. They were the "first two out" of the Pro Flight and bring a lot of returners back to experienced rosters. Ozone will need their former youngsters and new acquisitions alike to assert themselves: Emily Lloyd seems primed to break out for them and rookie Abbey Hewitt has performed well on D and in the red zone in their early games. Nightlock returns a lot of their top players, and bring in Claire Sharman and Monisha White.
Both Ozone and Nightlock have proven they can beat other top teams with these cores last season. Ozone upset Scandal at Chesapeake last season on their way to losing to the same team in the final. Nightlock notched wins over Molly Brown and Phoenix at nationals.
Heist, Schwa, and Bent are all hoping to make early season marks. Schwa brought in huge college throwers when they acquired Sophie Darch (Oregon Fugue) and Amanda Kostic (Washington Element). Heist is without Georgia Bosscher and Biz Cook, but added Liza Minor and Jen Nowak to the Robyn Wiseman-led roster. Bent will need a replacement for all the goals Ashley Daly racked up for them – perhaps Lexi Zalk or Rebekah Souder-Russo – but they still have skill and grit.
After the top four or five teams, the conversation this season is open to suggestions. Lesser teams will raise their hand and hope to get called upon, but the teams at Chesapeake can snatch the mic and announce their presence.
[1] The Capitals aren't setting their Series roster until after WUCC.