The biggest stories from Wednesday's action at the World Club Ultimate Championships in Lecco, Italy.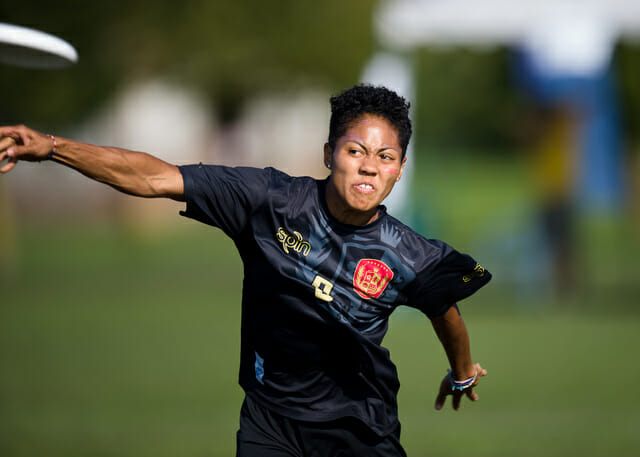 LECCO — Elimination games are set to begin! After three days of pool play, we are ready for prequarters and quarterfinal action at the World Ultimate Club Championships. Let's take a look back at how we got here with a recap of Wednesday's action in Italy.
MEN'S DIVISION
The dust has settled. After three days of pool play, the Championship Bracket has been decided and the round of 16 gets underway tomorrow morning at 11 AM. While most of the top seeds remain in the mix, there were some huge upsets today that have made the bracket much more perilous for some teams.
We can't start without first mentioning the brilliant performance today by Phoenix (CAN). After coming into power pools as a two seed, the Ottawa-based team had an uphill climb, facing off against Japan's #1 team Buzz Bullets and Sweden's #1 team Viksjöfors. They needed at least one win to make it into the round of 16.
They opened their play today against the Buzz Bullets, the tournament's #3 overall seed. They knew they had their work cut out for them.
"We figured the challenge was going to really present itself to our offense, because they play a very relaxed zone, which typically gives us a lot of trouble," said captain Luke Phelan.
The team beat it with a simple strategy: float it up and hope for the best.
"I told the team," said Phelan, "'If we're gonna put it up, let's hang it.'"
Hang it they did, and Phoenix's superior height — Buzz Bullets is at a disadvantage in the height department against nearly every team — paid off. They came down with everything.
Still, it was a tight game. Buzz continued to play their crisp, accurate style, and found the endzone with relative ease. But, like every team, they make mistakes. Phoenix was able to capitalize.
"After the turn, we didn't do anything special," said Phelan. "We chucked it up in the air and came down with it."
With that strategy, Phoenix had the advantage late. They scored to make it 12-11, then Buzz tied it at 12. Japan blew their deep coverage on the following point, opening up an easy huck to Scott Westwell.
Buzz Bullets got it even at 13 with smooth offense and a push pass goal to force double game point.
With the game on the line, Phoenix blinked first. Darren Clark hucked a laser shot into coverage — the kind of hucks that Phoenix was intentionally focused on avoiding — and the deep defender made the block. Buzz came zooming up the field and were within 15 yards of the endzone when a miscommunication caused a simple, open side turnover.
Phoenix wasted no time, picking it up and ripping it high into the air for an in-stride John Snow score. The sideline erupted, celebrating the tournament's biggest upset so far.
But Phoenix wasn't done.
"[This game is] only a feather in the cap if we look at this as an end point," said Phelan. "But really this is just a part of a process of what our goal is going forward."
They kept it going later in the afternoon with a 15-10 blowout win over Viksjöfors, who ran out of steam in the second half after getting to halftime down just one. Phoenix opened up their lines late as they strolled into the #3 spot in the bracket tomorrow.
Don't underestimate just how big that Buzz Bullets win was. Phoenix now has a vastly easier path to quarters and semis; to win a Championship, Buzz Bullets will now likely have to go through all four US teams in succession — Ironside, Johnny Bravo, Revolver, and Sockeye, in that order — if seeds hold.
***
Emo (UK) also scored a major upset today, taking out 2013 European Championship silver medalist Freespeed (SWI) in the game to go to the bracket.
It was really a dominant performance from Emo, this year's #2 UK tour finisher behind Clapham, who opened up a three point lead at the end of the first half with back to back breaks at 6-5 and 7-5. Kris Kerswell brought emo into halftime with some style on a huge, 1-on-1 sky after an endzone turn by Freespeed.
Freespeed's defensive line was given a generous number of opportunities by Emo's offense, especially in the first half, but could never do anything with it. On one point midway through the first half, Freespeed had at least five chances to break, and never completed more than three or four throws before giving it back. They only managed one break in the game.
Tom Fox added a highlight reel layout score to make it 14-10 for Emo, who closed out a 15-11 victory with ease.
***
Colony (AUS) and Ragnarok (DEN) had a high-profile game in the first round this morning. The Doublewide pickups continued to be a boon for the Copenhagen squad, but Colony showed a bit more skill and a lot more depth.
The game was tight in the first half, but Colony's Tom "Cupcake" Tulett had a nice deep block on Kiran Thomas, then Julio Duque fired a falling-down inside flick to the endzone for a break to take a three point lead at 10-7.
That was the start of another unwinding from Ragnarok, who ultimately lost 14-8 as the defensive pressure started forcing more mistakes.
Ragnarok cleaned things up against CUSB (ITA) and got out with a 12-10 win to advance to the round of 16. They will face Johnny Bravo (USA) tomorrow morning.
***
Many of the other top seeds advanced to the round of 16 unscathed. The USA teams (Johnny Bravo, Revolver, Sockeye, and Ironside) and Clapham never faced serious threats.
Furious George (CAN) had to hold off a comeback by Freespeed on the showcase field to remain undefeated, but an early cushion made it easier.
Lucky Grass (RUS), Heidees (GER), Nomadic Tribe (JPN), General Strike (CAN), and Juggernaut (AUS) round out the top 16; with the way those teams have played this week, none is a surprise qualifier.
Looking Ahead
If you haven't seen it already, check out the full bracket here. Tomorrow, teams will play two rounds, setting up semifinals on Friday.
Ironside v. Buzz Bullets is the obvious round of 16 highlight game, looking more like something you might expect to see in the semis, not the prequarters.
Assuming seeds hold, we will also have some big matchups in the quarterfinals, including Ironside v. Johnny Bravo, Revolver v. Clapham, and Sockeye v. Furious George.
Also, let's note just what a glorious path Sockeye has to the finals compared to every team on the other side of the bracket. Can they take advantage?
The really exciting part of the tournament is just getting started…
WOMEN'S DIVISION
Defending US National Champion Scandal had a very slow start on Wednesday morning against Showdown (USA), with a lot of unforced errors. They found themselves in a fair deep hole late into the game, sitting at 10-7 with the cap just minutes away.
After an offensive hold, Kimberly Beach got a handblock near midfield, then found some clear space near the front cone for the bookends score to make it 10-9. The cap — essentially a +1 soft cap — went on, meaning the game was first to 11.
Scandal's pull bricked, and Showdown brought it slowly to the spot. The first throw — a swing pass — sailed over the head of the intended receiver, giving Scandal a short field. But a throw into the endzone was dropped by Sarah Itoh after a nice layout attempt from a defender may have broken her concentration. Showdown promptly gave it back on a turfed backhand around.
Octavia "Opi" Payne punched it in to force double game point.
Showdown was clearly tightened up at this point. On the game's final point, they hucked early to a receiver with steps, but Payne had time to catch up and just get her fingertips on the disc to knock it away.
After a few throws, Payne had the disc and jacked a forehand huck to a pair of receivers. Sandy Jorgensen stayed with it and made the catch to cap a 4-0 Scandal run and the victory.
It was the first really impressive run of play we've seen from Scandal this season. They have looked lackluster at times, struggling on offense and looking less deadly on defense. But they really dialed it in on D in the final moments of that Showdown game and were rewarded with a key victory.
Iceni (UK) also had a very close game against Cosmic Girls (RUS) in the same pool, winning 12-11 on double game point.
Showdown rebounded nicely later in the afternoon, pounding Iceni 15-6. Iceni will need a big performance tomorrow against SCandal if they want to make the bracket.
***
On the showcase field this morning, Sporting Team Box AU (AUS) continued their run of great play after knocking MUD (JPN) out of contention in pool play. They matched up with another Japanese powerhouse, UNO.
STBAU was out in front the entire game, leading by as much as three at 10-7 and then at 14-11. But in a Scandalesque fashion, UNO went on a late tear with three straight breaks on a 4-0 run to win on double game point, 15-14. Saori Mizukami had an excellent game for UNO, finishing with two goals and three assists. Two of those assists came on the game's final two points.
UNO easily defeated U. De Cologne (GER) in their second game of the day, setting up a 1/2 matchup with Fury (USA) — who has dominated all tournament — tomorrow morning.
***
The other two women's pools were more predictable. Traffic (CAN) and Revolution (COL) both went 2-0 today and will advance (with seeding decided tomorrow morning in their match); Riot (USA) and HUCK (JPN) did the same in Pool M.
Traffic had a tough game against well-known foe QUB (CAN), and ended up winning 14-13 on double game point. Revolution had to rally from behind against Woodchicas (GER) late, and also had to overcome an early four point deficit to QUB.
Looking Ahead
It looks likely that there will be at least one USA v. USA quarterfinal — like Riot v. Showdown. But there is still a lot up in the air with the 1/2 matchups coming tomorrow at 11 AM.
Quarters will take place at 3 PM, at the same time as the Open Quarters.
MIXED DIVISION
Although the middle of the Mixed Division pack has been a bit blurry, the top end has proven it has deserved its high seeding. Nine of the top ten seeds reached the round of 16; only Hippo (AUS) missed the cut.
There were plenty of close games, but there were no significant upsets.
Looking Ahead
Poor Northeast USA Mixed teams. Because so many teams from the Northeast United States make it to Nationals, they seem to have a disproportionate number of matchups amongst themselves hundreds of miles from home. Now Wild Card and The Ghosts get to play thousands of miles from home! But that's not all! Four of the other round of 16 games will also feature two teams from the same country!
That's really too bad. Although some teams surely will be happy with an easier game in the first round, it seems plausible that many would rather get a game in against a team they haven't played before — that's part of the fun of Worlds. Food for thought for next time around…