It's a USA West Coast sweep in the finals of the Open and Women's Division at WUCC.
LECCO — 80 teams from all over the world began this week in the top competitive divisions — Open and Women's — with at least a thin hope of achieving glory at the World Club Ultimate Championships. The dust has settled and just four teams remain. Each is from the west coast of the United States.
Two states — and, really, two cities — have defined excellence in ultimate for over a decade. In the last ten years, 16 of 20 USA club champions in the Men's and Women's Divisions have come out of the cities of San Francisco, California, or Seattle, Washington. Now, the two cities will go head to head for international glory.
OPEN FINAL: San Francisco Revolver v. Seattle Sockeye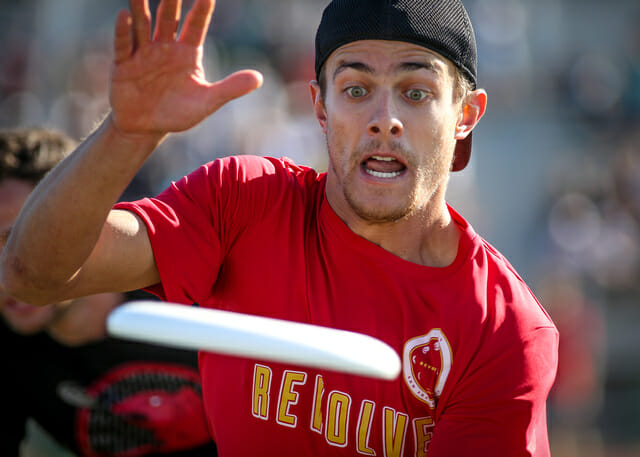 The Open Division final needs no introduction. Four years ago in Prague, Revolver and Sockeye met in the World Club Final. The two powerhouse West Coast teams have also met each other 21 times in USA club play since 2006. By and large, Revolver has dominated the matchup.
Revolver defeated Sockeye in Prague, 17-14, to capture the World title. They beat them 14-10 in last year's USA National Championship final. You really have to go back to 2008 to find the last time Sockeye beat Revolver in a big game: at Northwest Regionals, Sockeye beat Revolver 15-13 in the Regional final. Both teams had already clinched a berth at Nationals.
The history favors Revolver. But that only means so much.
"It's always close," said Revolver coach Mike Payne. "The teams know each other so well."
They've met once this year, at the US Open. Revolver won 16-15 on double game point. Both teams downplayed the meaning of the game; both were just starting their season, and neither was at full strength.
Each team is incredibly excited for the matchup tomorrow. "We're so fired up," said Sockeye captain Tyler Kinley. "If we focus on what we need to do, we'll be in great shape."
Both teams have a unique style: Revolver with its isolation-heavy offense and vicious man defense; Sockeye with its small-ball attack and shifting defenses, from junks to strict man-to-man.
What seems to so often five Revolver the edge is on pure athleticism. Revolver is, top to bottom, bigger and stronger than Sockeye. They play to that strength.
They can send out a lot of players on defense and run deep lines late in the game. And their offense isn't prone to getting broken. "We have our best pure athletes on offense," said Payne. That offensive line stood strong today against Johnny Bravo after a pair of late turnovers.
Revolver always loses some players, but they replace that talent exceptionally well every year. Simon Higgins, who came over from top mixed team Polar Bears this season, has been an outstanding addition to the offensive line. He looks like a seasoned club player already, and was drawing some of Bravo's top defenders by the end of their match today after catching two first half goals.
"He looks like he's been playing ten years with this team," said Payne.
Notably, star handler Ashlin Joye — perhaps the team's best player last season — is not playing Revolver this week, as he has recently started medical school. He will play for the team during the club season stateside. Watching them play so far this week, you'd hardly know he's been away.
Sockeye has been red hot as well, no more so than today in their obliteration of Colony in the semifinals, 17-4.
"This is the most fun Sockeye team I've been on," said Kinley, calling the team "incredibly positive." They feel confident heading into their matchup with Revolver. They have been playing phenomenal defense over their last few games and will give Revolver some trouble.
"I think Sockeye has their defensive O dialed in," said Payne.
The tactical choices in the match shouldn't come as a surprise. Sockeye will mix their defensive looks, and Revolver will look to make Sockeye grind out points.
"The key with Sockeye is not to let them end points early, on offense or defense," Payne said. "They feed off of that emotionally."
He said they will look to limit the upfield progressions from the Sockeye handlers and simply "wear them down."
The historic matchup takes place tomorrow at 5 PM CEST (11 AM Eastern / 8 AM Pacific).
BETTING LINE: Revolver (-3.5) v. Sockeye (+3.5)
WOMEN'S FINAL: San Francisco Fury v. Seattle Riot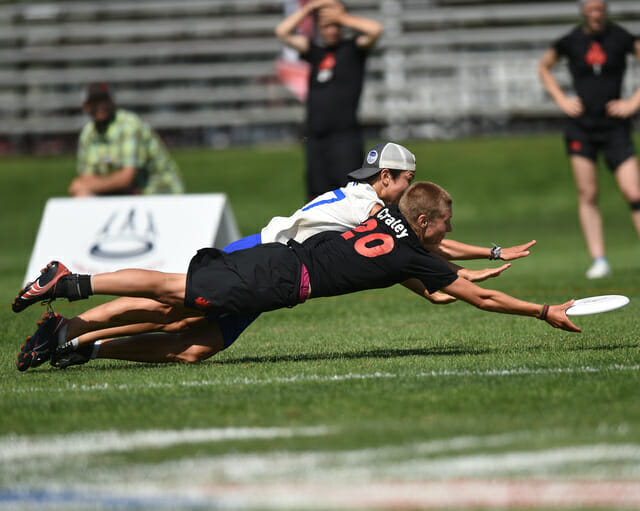 Since 2004, Riot and Fury have faced off in a remarkable 53 games. It is one of the biggest rivalries in all of ultimate.
Yet most rivalries have some semblance of parity, a back-and-forth that keeps the matchup intriguing year after year. For years, the battle between these two was only intriguing because they were the best teams in the world. But it was always Fury coming out on top when it mattered. Fury won seven straight USA national titles from 2006 to 2012.
But change has swirled over the last 12 months. Washington DC Scandal crushed Fury in last year's USA National final, ending an incredible run of dominance. And that has opened up questions about just how good this Fury team is this year.
So far in 2014, Riot has been the star, dominating at the US Open, which included two wins over Fury (15-7 and 13-11). No team has been sharper than Riot.
The Seattle team has benefited greatly from the return of some of their top handlers, including Rohre Titcomb and Alyssa Weatherford, from injury. That has added significant depth to their lines and entirely changed the way they play offense.
"They're actually playing a lot differently," said Fury coach Matty Tsang. "We used to be able to count on them to huck it a lot. But at the US Open, we noticed that they really try to move the disc and break the marks."
Riot coach Andy Lovseth acknowledged the change. "We live and die by getting those breaks to start the offense," he said. But Lovseth also thinks the deep game is still an important part of their arsenal, and that their success against Fury this season has been more about their athleticism than any tactical changes.
"They try to win with their throws and we're going to win with our legs," he said. "We think we're deeper athletically."
That may well be true. But can Riot overcome Fury in a truly meaningful game? It has been many years — really, since 2005, when they won a US title — since Riot beat Fury in an actual big game. And, no, the semifinals of the US Open does not qualify.
Tomorrow could be a turning point not just for Riot, but for the Women's Division. Could a second consecutive major loss for Fury spell the end of their dynasty atop women's ultimate for close to a decade?
Riot will no doubt have to earn it. We'll find out what happens tomorrow at 11:30 AM CEST (5:30 AM Eastern / 2:30 AM Pacific).
BETTING LINE: Seattle Riot (-1.5) v. San Francisco Fury (+1.5)